How to Mix Interior Design Styles to Create a Truly Unique Space
You've found the perfect mid-century modern couch, but your current living room decor reads more traditional. Or, you've spied some gorgeous throw pillows with bright geometric designs, but you're worried they'll clash with your industrial armchairs.
Mixing interior design styles can be a daunting and risky task. But the good news is that it can be done in a way that creates a mix that matches rather than "miss-matches."
To create a completely unique look that is a true reflection of your personality and design preferences, follow these codes of conduct for blending interior design styles together.
1. Color Creates Consistency
When mixing styles, staying true to your color motif is one of the best ways to maintain cohesion. For example, if you're looking to add a rustic element to a living room that's home to a white, contemporary sofa, select a farmhouse-chic armchair that's part of the same color palette. Quite simply, the more similar your decor appears to be, the less likely it is for the space to look mismatched.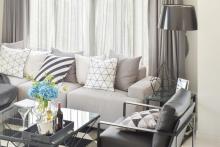 2. Size Is Everything
Size matters if you want to avoid an obvious mix of styles and create a balanced space. For example, if your room is a mix of small coastal decor and large industrial furniture, the stark contrast in sizing will create separation. So, make sure your different styles are equally represented with items both large and small to create a more blended, natural look.
3. Fill in the Void
Symmetry and balance are important design considerations because awkward gaps and spaces can make rooms look incomplete. For example, if you place a mid-century modern end table next to one side of your bed and leave the other side empty, the bedroom looks unstable. But if you use an end table or wardrobe to fill in the void, the room will balance itself out as you're creating a more symmetrical look.
4. Spread It Around
If your ultimate goal is to create an eclectic yet cohesive look, you can't let one style overpower the other. The best way to avoid this is to make sure your design styles are represented in both furniture and decor items.
However, try not to be too obvious with how you achieve this balance. You don't want to split the room down the middle and make the left bohemian and the right contemporary. Your style-specific elements should be distributed evenly throughout the room to show that they go together and aren't meant to be separate.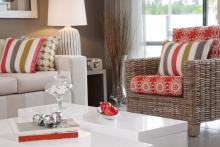 5. Everyone Needs a Friend
One thing you don't want in your space is a solitary piece of decor with nothing to go with it. So, make sure you give your style-specific decor items a companion piece. Companion pieces are decor items that share similar shapes, colors, styles, or finishes. This helps fill up the room and avoid any "odd man out" scenarios in your home.
6. Don't Get Bent Out of Shape
Shapes are another way to make sure your room looks cohesive rather than detached. For instance, if your couch is rounded, you should go with a round or oval coffee table in front of it. While it can be tempting to play with different shapes, when those items are of a different design family, it can look as though your room doesn't pair well together. Instead, use similar shapes to give the impressions that your design is united.

7. Go After Pieces That Are a Blend of Styles
Occasionally, you may come across a single piece of decor or furniture that features two different design styles. You may find a dining room chair that has a traditional shape, but is made of translucent plastic, making the chair both traditional and modern all at once. Using these pieces of decor easily brings both interior design styles into your home, without having to make the special considerations listed above. 
Mix It Up
If you want to express multiple design aesthetics, don't be afraid to mix it up. If you want to place an art deco coffee table in front of a contemporary couch, go for it. Just follow the advice above to make sure that your finished look is united and unique, not detached.
Want to sprinkle your home with more great design ideas? Check out these 2018 interior design trends. 

Sign Up and Save 10%
No, Thanks