How to Use Patterns in Interior Design Without Going Overboard
Oftentimes, homeowners are skeptical of using too many patterns in the home out of fear of creating clashing or overpowering prints. Patterns, however, are a necessary piece of interior design that create unique looks and eye-popping visual effects. 
Still wary of using patterns in your interior design? Here are our favorite, approachable ways to add patterns to your home.
1. Mix & Match With Mesmerizing Throw Pillows
The key to selecting a pattern is ensuring it doesn't dominate the space. It's an additional touch, not a primary design component. Throw pillows are small decorations that allow you to introduce a simple pattern without overpowering the room. And because you can never have just one throw pillow, they're the perfect decoration for you to mix and match patterns with.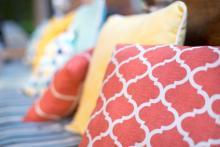 2. Create a Patterned Backdrop on Your Walls
Take a look around your home's walls. Odds are, you'll find a lot of solid colors and neutrals. Imagine the visual effect you could create if just one of those walls featured a unique, eye-catching pattern. With wallpaper and/or careful painting, that look can easily be achieved. 
Looking for a pattern for a larger room? Feel free to be more bold with your pattern selection. Patterns with loud, vibrant colors and large-scale prints will make an incredible impact. 
In smaller rooms, patterns can still be used, but they should be more subtle so they don't dominate the space. For example, patterns could feature soft colors with light backgrounds to make the room feel larger. Three-dimensional patterns like a trellis or stripes will also help open the room up.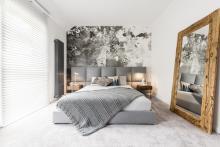 3. Introduce Subtle Designs Through an Area Rug
Not all patterns have to be bold and bright. If subtlety is more your style, area rugs are really useful ways to implement a pattern since they don't draw too much attention and are still very beautiful pieces of decor. 
What kinds of area rugs make for the best fit? Natural fiber area rugs, like jute, sisal, or wool, for example, have intricate weaves and looms that give them distinct and often completely unique designs. Our own patterned wool sisal area rugs come in three classic patterns that can liven up any space without taking over.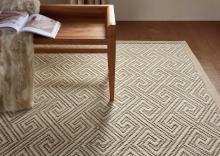 Interested in the above rug for your own home? Shop our Patterns Sisal Wool Rug Collection and select the Key Marble pattern.
4. Form Your Own Unique Pattern With Tile
Tile is a diverse material that can be used as both a floor or wall covering in kitchens, bathrooms, and showers. But another great feature of tile is that you can make your own patterns and designs with it. Tile coverings are just collections of smaller tiles, meaning you can arrange tiles of different shapes, colors, or material to form your own unique pattern.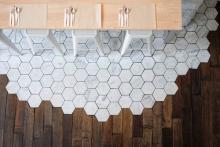 5. Decorate Solid-Color Walls With Artwork
For bedrooms, bathrooms, and other smaller areas in your home, the above ideas may be hard to incorporate due to limited space. You don't want the patterns and designs you use to be the only thing guests notice about the room. This is where artwork can do all of the heavy lifting. 
Artwork comes in many different sizes, making it easy for you to find the perfect piece for any room in your home. Because they won't be taking up the whole wall with a pattern, you can also be more adventurous in your art selection. Before you start shopping for artwork, you'll want to make sure that you have an idea of where you'll want it to hang on your walls. This makes it easier for you to find an art piece that is the right size and style for the room.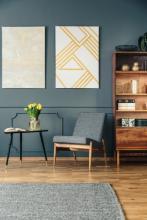 Patterns Are Easier Than You Think
Figuring out how to use patterns in your interior design can be an intimidating task. But the above methods make pattern usage easy for any space in your home. Whether you decide to use artwork, wallpaper, throw pillows, area rugs, or your own tiled designs, any pattern you use will go a long way towards creating a beautifully designed home. 
Ready to add fun shapes and patterns into your home? Shop our collection of new patterned wool area rugs to lay down a unique pattern that fits any room or design style.

Sign Up and Save 10%
No, Thanks