Living Room Rug Ideas To Cozy Up Your Space
Living Room Rug Ideas To Cozy Up Your Space
If you want to give your space that "home sweet home" look and feel, you should consider adding a living room rug to your current setup. Rugs instantly bring warmth to any environment, helping you create a cozier setting for friends and family to enjoy. 
Here are six living room rug ideas you can incorporate into your interior design.
1. Use an area rug to create a defined space 
If you have an open floor plan, it might look like your furniture is "floating" in the living room. Placing your sofa and chairs on a large area rug can help anchor your furniture and create  specific, purpose-driven zones within the larger space. 
By placing a soft rug under the bigger pieces of furniture in your living room, such as your sofa and coffee table, the seating area becomes defined, making it feel like a comforting oasis within the room. 
To make the living room feel cozy and intimate, keep the rug under just the front feet of each piece of furniture. This will create the illusion of a slightly smaller space, since the edges of the rug will create a border for the zone. 
2. Layer a rug on top of another rug
Layering rugs has been a popular way to add an unexpected look to your living room for years. And it's not hard to see why: the combination of multiple rugs, each with its own unique texture, pattern, or color, adds depth and visual interest to the space. When looking to cozy up your living room, creating a contrast between multiple rugs and the floor will add an extra element of warmth and softness to the room, making it feel more intimate and comfortable.
This creative approach to rug placement allows for endless customization and ways to express your personality and taste, either with coordinating rugs or placing a neutral rug under a statement rug. Curating multiple rug layers is also an ideal way to feature your favorite vintage rugs while ensuring your living room still has maximum rug coverage.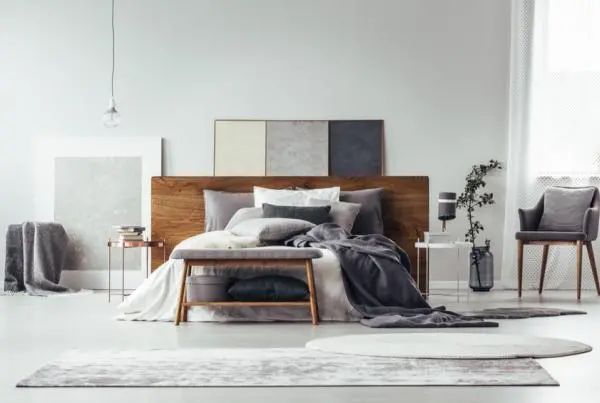 3. Place a rug next to the fireplace for a cozy atmosphere
What's even cozier than sitting next to the fireplace? Sitting next to the fireplace on top of a plush rug! A fireplace will already create a focal point in your living room. An rug adds an even cozier and more inviting feel to this area.  
With the combination of the crackling fire and the plush rug underfoot, the living room becomes  the ideal space for curling up with a book, spending quality time with loved ones, or simply enjoying peaceful moments by the comforting crackling flames of the fireplace.
One important consideration when placing a rug next to your fireplace is to keep safety in mind. Even rugs that have been given a fire-retardant treatment are not entirely fireproof, so be sure to give a bit of space between your rug and the flames. 
4. Set a rug underneath your furniture
If you don't want a large area rug covering most of your floor, use one to frame your coffee table. This is also a great opportunity to further reinforce the color scheme of the living room, whether you prefer a neutral color living room or a more brightly colored space. 
Rugs help to create a warm and inviting space to unwind and relax. The tactile sensation of your feet against the soft fibers of the rug—while sitting on the sofa and enjoying a cup of tea —enhances the overall coziness level of your living room. 
Just be sure your rug fits well in your living room. Don't go too small or too big, and make sure at least the front feet of any piece of furniture are placed on top of the rug. 
5. Rug Runners
Using rug runners in the hallways leading to your living room is a great way to extend the coziness of your space throughout your living space. These long, thin rugs add an element of visual interest in spaces that are used frequently but rarely get decorative attention. 
The inclusion of a well-chosen rug runner introduces an opportunity to add texture, patterns, and colors. Whether positioned in front of a sofa or leading down a hallway, the presence of a rug runner will bring a cozy charm to your living room, making it a delightful space to relax and unwind.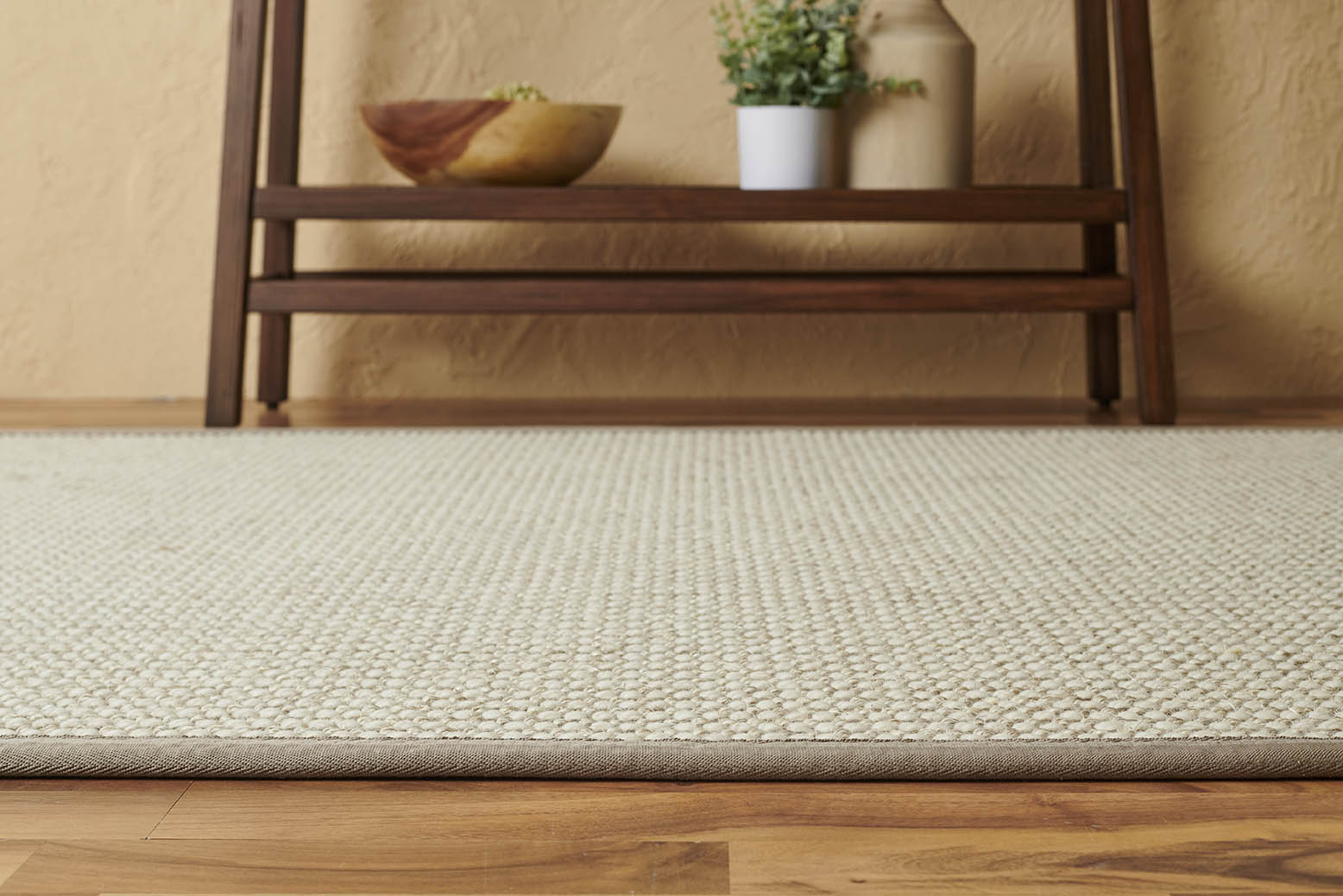 Ripple Wool Sisal Blend Rug in Natural 
6. Seasonal Swaps
What's cozy in the winter isn't always cozy in summertime! Consider changing your rugs seasonally to adapt to the temperature changes. 
In the colder months of fall and winter, go for thicker and warmer rugs. Materials like wool or a sisal wool blend and colors that are warmer and darker, such as rich earth tones, will all evoke a sense of warmth and cocooning.
When updating your decor for spring and summer, opt for lighter materials and cooler colors. Materials like sisal, hemp, and even outdoor rugs made from polypropylene are all good options for creating a cooler and fresher feel in your living room in warmer months.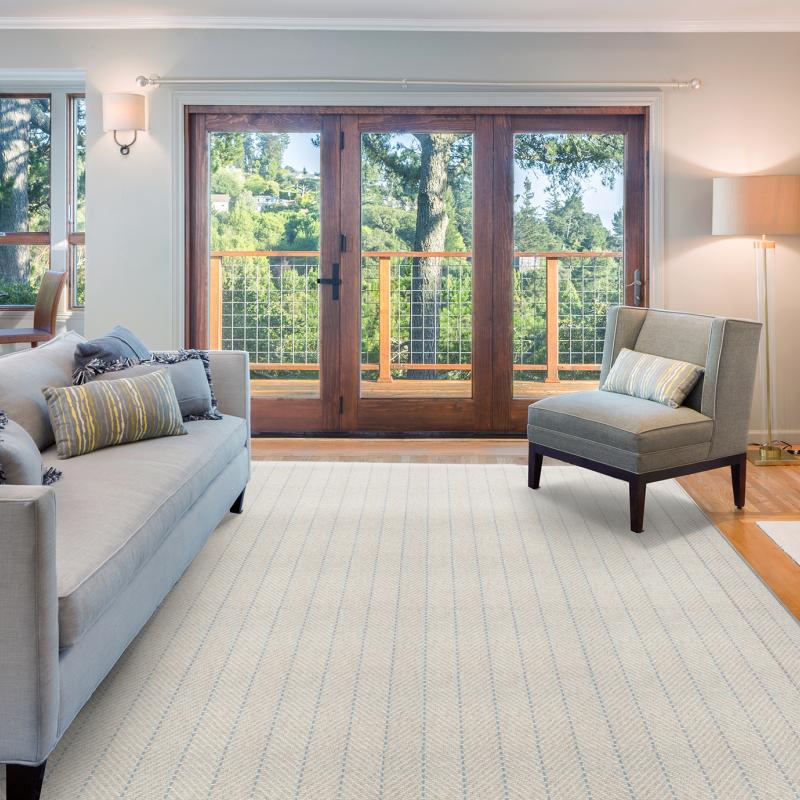 Amara Wool Rug in Beach
Cozy Up to a Great New Rug 
Adding a rug is a fantastic way to add warmth and coziness to your living room. The right combination of colors, patterns, and textures can make a significant difference in how cozy your living room feels. Experiment with different options to find the perfect balance that suits your taste and makes your living space a comfortable and inviting retreat. 
To get started and for even more inspiring living room rug ideas, check out our full collection of custom rugs. 

Sign Up and Save 10%
No, Thanks