Mudroom Design: 3 Essential Items That Make the Most of a Small Space
As the entry point of the home, the mudroom sees a lot of wear and tear. People rush in and out, grabbing coats, leaving hats and bags lying around, dragging in dirt from outside. And if you have pets, you can multiply the mess by 10 (at least). 
Mudrooms also tend to be on the smaller side, making it hard to design an inviting and functional space.
But from closet organizers to coat hooks, there are a lot of things you can add to your mudroom design that minimize the mess and add function -- without taking up valuable square footage. 
What are these magical things every mudroom needs? Discover our top mudroom design essentials with the list below.
1. Comfortable, Yet Stylish Seating
Picture this: it's a snowy day outside. You walk into the mudroom in your full winter suit, boots and all. Your first step is to strip off your boots to avoid getting water everywhere, but there's nowhere to sit. Instead, you need to torture your back or knees by bending over or crouching down. 
You need a seating area. Whether you choose a chair, stool, or bench, every great mudroom design includes a place for guests to sit, strip off or put on their gear, and clean up before trekking through the rest of your home. These pieces of furniture serve an important function, but they can also be decorative and bring additional style into the space. 
Our personal favorite seating area in mudrooms are benches. Benches have additional room underneath them for you to store shoes, boxes, and other items to maximize space. Plus, they're long, allowing guests to rest other items like purses, umbrellas, or hats on the bench while taking off their shoes.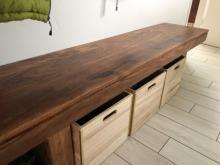 2. Flexible and Functional Storage
As your home's portal to the great outdoors, mudrooms acquire a lot of seasonal gear and equipment. If your family has a lot of items to store in the mudroom, such as coats, hats, gloves, and shoes, then installing shelves, cubbies, or hooks is a simple way to increase your storage space and keep everything organized. 
Even if your mudroom has a closet, there are some clothing items that you don't want to be dealing with doors and hangers for. Because of this, open cubbies and hooks are great tools for storing both large and small items like coats, scarves, hats, or even house keys. Children especially are more likely to use hooks than hangers, so if you have little ones in the house, hooks are a must. Plus, with options like Command Strips and over-the-door hooks, they don't need to be permanent additions to your mudroom design and can be moved or uninstalled at any time.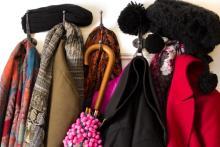 3. Durable, Yet Decorative Floor Decor 
It's all in the name — your mudroom is going to get messy. And you need a floor covering to protect your floors. But you don't want to add a rug that's just there to serve as a doormat, you want something that will serve as a decorative statement piece as well. 
So, how do you get both durability and decoration? Our outdoor-rated polypropylene area rugs are the perfect solution. They will be a life saver for your floors, minimize your cleaning chores, and serve as a beautiful floor covering. When placed well in the mudroom, the area rug catches the dirt and grime on people's shoes as they come in from outside, containing the dirt to one area and keeping the rest of your homeclean. Plus, these rugs can be easily cleaned with water — in fact, we give you permission to wash them with your garden hose.
Which type of area rug should you use? Here are five of the best mudroom rugs for any home.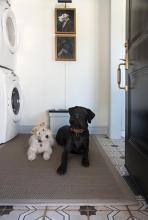 Pictured above: Our Outdoor Sisal Rug Collection in the Fuji Silver Color. (Image credit: Room for Tuesday). 
Make Your Mudroom a Cleanroom
The mudroom is the entryway into your home, and as such, it needs to be functional for your family and a welcoming area for guests. The items above will keep the room organized and add a splash of style to the area. So, make sure your mudroom design includes benches, hooks, area rugs, cubbies, and anything else you can think of that will make the gateway to your home more functional.
Want to see a great mudroom design in action? Check out Room for Tuesday's epic laundry room makeover.

Sign Up and Save 10%
No, Thanks