Pet-friendly Interior Design: How to Decorate With Your Best Friend in Mind
Being a pet owner is extremely rewarding. The love and companionship our best furry, scaley, or feathery friends provide is second to none. 
That said, even the best pets can end up taking over a home if you're not careful. They shed their hair, leave toys strewn about, and require a lot of storage for their food and other necessities. How do you both keep your home organized and stylish but make space for all the stuff that comes with pet ownership? 
We've got the answer to that question and more with today's post. We'll help you make the right choices for both your home and your pets with our top pet-friendly interior design tips and ideas listed below.
5 of Our Favorite Pet-friendly Interior Design Ideas
#1 - Built-In Kennel
Kennels take up a lot of space. 
Converting one of your bottom cabinets in your laundry room or front entryway into a kennel can help save some room and give your pet a much-needed sanctuary. Need an example? Check out this amazing dog-friendly laundry room from Sarah Gibson.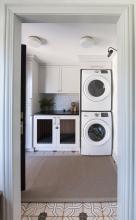 Dogs are den animals, which means they crave a dedicated space to sleep, hide from danger, or raise a family. Making sure your pup has their own dedicated crate as a safe haven is important for their wellbeing. Providing them with one that's cool and fits in with your home decor is important for yours. When it comes to built-in kennels, everybody wins.
#2 - Outdoor Area Rugs
Pets have sharp claws and messy paws, which can really do some damage to your floors. Not to mention things like drool, potty accidents, and beyond. Luckily, there's a way to defend against these pet-ownership incidentals. You can protect your floors with an outdoor area rug!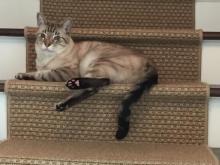 Here's an extra tip: match the color of the rug to your pet's fur and the hair they leave behind will be less noticeable!
#3 - Organizers
When you have a pet, you don't just have a pet. You have a pet plus their food, their toys, their beds, and their other accessories. We're guessing you're a devoted pet owner, which probably means there are extra things, too. Your pet deserves pampering, after all. 
And all that stuff needs a place to go, which is where cool organizers come in. There are a lot of options out there from boxes to shelves and more depending on your specific style and the pet you have. What you'll want to do is find something that fits your space and your specific storage needs.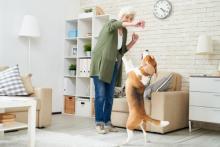 #4 - Treat Station
Like we already mentioned, you have a lot of pet supplies. Everybody does. Why not make some of them into a fun home interior design feature? 
For example, put all of your treats into different mason jars to create a fun, dedicated treat station in your kitchen or similarly appropriate space. If the jars don't do it for you, there are plenty of other resources available to find the cool DIY treat station that works for you and your home.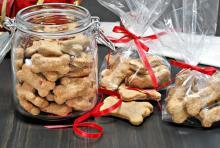 #5 - Leather Couches & Chairs
Fabrics like velvet, chenille, corduroy or more will collect pet hair like crazy. Instead, decorate your home with leather couches and chairs.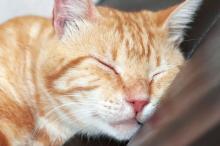 Leather is ideal for pet-filled homes for a number of reasons. First, it's incredibly durable. It will stand up to accidental claw or bite marks better than fabric furniture. Second, it's less absorbent than fabric furniture and will be less likely to absorb any unfortunate pet smells. Last, but not least, leather is easy to clean and maintain. It's more expensive up front but makes up for that by being exceptionally long-lasting.
Give Your Pets Decor They Will Love
You love your pets, so it makes sense to want them to love your home, too. And they're certain to love the suggestions above. Curious as to why pets love area rugs as included up top? We have that answer, too: discover all of the reasons why pets love natural fiber area rugs here. 
We'd love to hear about your experience decorating around your furry friends, so if you have any tips of your own to add, let us know in the comments!

Sign Up and Save 10%
No, Thanks