Rustic Interior Design: Choose Your Own Adventure
You know that feeling you get from wandering through the forest or walking along the beach? Well, how about using your interior design to capture the feeling of being surrounded by the beauty and wonder of nature?
Rustic interior design is simple, rough, and unfinished. In these spaces, natural materials come together to create an environment that's warm, lived-in, and well-loved.
Read on to learn how you can use rustic interior design to recall lovely days spent at summer camp, that cool spring you stayed in the South of France, or to simply reflect your love of the great outdoors.
#1 - Types of Rustic Interior Design
Rustic design is a catch-all description for several styles of interior design that hail from different parts of the world, including lodge, Tuscan, coastal, and cottage. The most significant variations are in the choice of patterns and colors.
If you love the great outdoors, the lodge-style may be for you. With weathered wood, and vibrant patterns like buffalo check and patchwork, lodge design gives you a place to hang your hat — and your antlers.
In Tuscan interior design, the colors are more earthy and substantial — tones of mustard and clay dominate. Accessories are used to conjure the feel of the Mediterranean.
Cottage design is light and airy, like a quaint farmhouse locked in the past. Coastal is similarly breezy with splashes of nautical design which hark back to the sea.
However, rustic interior design is not an all-or-nothing proposition. Just adding a few rustic elements can elevate the feel of most rooms. A popular trend is modern rustic interior design, which combines modern furniture with rustic design elements.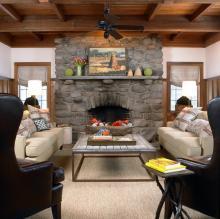 Modern and rustic elements can be combined to create a room that is warm and inviting. Featured is a sisal rug from the Sun Collection in the sunlight color.
#2 - Keep it Real
One commonality in all rustic design is the love of earthy materials — wood, stone, metals, and natural fibers.
The use of wood is really what sets this style apart from top to bottom. You'll find exposed wood ceiling beams and wood flooring. In keeping with the rustic aesthetic, the floor is often distressed and imperfect. Natural fiber rugs are used to create a cozy space that is emotionally appealing
The furniture chosen for rustic interiors is often handmade from weathered logs, driftwood, and reclaimed wood. Oversized, substantial, and often clunky — these are objects that would have no place in minimalist interior design.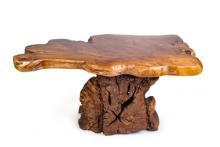 Furniture made from driftwood and reclaimed materials is typical in rustic design.
A great rustic design also rocks the stones. Travertine and slate, in particular, are excellent choices. Stone fireplaces provide a chunky, uneven texture that recalls the great outdoors. Plants are used liberally for an even more direct connection to nature.
Wrought iron and distressed metals are on display in lamps, doorknobs and accessories. But for a pure rustic design, steer clear of shiny stainless steel or anything that looks modern.
#3 - Finding Your Natural Color
Rustic design is rooted in the colors that commonly appear in nature, such as muted blues, subtle greens, beige, and gray. This palette, however, can be expanded to meet the style you're going for. As long as the colors tie in with the other elements and are conducive to a natural and earthy atmosphere, you should be good. Of course, it's always safe to default to white.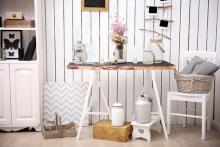 Cottage interior design is a form of rustic interior design that uses light colors and antiques to create a farmhouse vibe.
#4 - Cozy Textures and Textiles in Rustic Decor
Rustic design is intended to feel well-loved. So it's no surprise that textiles play an important role. The right accent rugs, fuzzy pillows, and blankets add to the rustic charm.
Jute area rugs are a popular choice for the rustic aesthetic. They come in a variety of natural colors and interesting textures that provide warmth without detracting from the room's unpolished charm.
It's important to stay away from anything that looks too synthetic or has a glossy sheen. So, instead of a velvet throw, opt for a woven wool blanket. Fibers such as burlap and canvas are great for pillows and other accessories.
Common patterns are ikat, buffalo check, patchwork, and calico. A homemade quilt can do wonders for the aesthetic as well.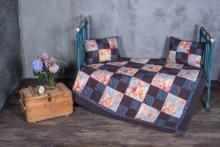 A homemade patchwork quilt can provide warmth to rustic interior design.
#5 - Antiques and Eccentricities in Rustic Home Decor
One thing that rustic design is not: Cookie cutter. And the choice of accessories proves it. This is one aesthetic that doesn't mind the odd family heirlooms, old clocks, vintage jars, and second-hand lamps. And, if they have a bit of rust or flaked paint? That just adds to the appeal.
The rustic interior design style also gives a wide berth to other eccentricities and objects that have been upcycled with a new purpose — for example, furniture made from antlers or pillows made from flour sacks.
Which Rugs Are the Natural Choice for Your Rustic Design?
Coastal? Lodge? Tuscan? Cottage? Regardless of how you prefer your rustic design, there are universal choices that can help you achieve the pinnacle of well-loved beauty. These include earthy materials, natural colors, reclaimed objects, and the right area rug. Bring your rustic design to life with the help of one of our many natural fiber area rugs.

Sign Up and Save 10%
No, Thanks