Style Guide: 7 Simple Steps to Designing a Stand-Out Patio Area
Style Guide: 7 Simple Steps to Designing a Stand-Out Patio Area
If your home doesn't currently have a patio, or you want to revamp your existing patio space, it can be hard to know where to start. From getting the right patio furniture to choosing the right patio layout, there are a lot of decisions to be made. Luckily, we have a pretty good guide to help you out.
When good weather strikes, the last place you want to be is inside. But what if your home doesn't have a good outdoor space for you and your family to enjoy? While you can sprawl out on the lawn or hang out on a balcony, a new patio could be just what you need to take advantage of summer and the great outdoors. 
If your home doesn't currently have a patio, or you want to revamp your existing patio space, it can be hard to know where to start. From getting the right patio furniture to choosing the right patio layout, there are a lot of decisions to be made. Luckily, we have a pretty good guide to help you out. 
Below, you'll find our seven steps on how to create a patio area that will wow both you and your guests.
Step 1: Choose the Right Spot
As a homeowner, you've likely heard one of the most popular rules of real estate: location, location, location. Well, that same rule applies to your patio. Before you break ground on your dream outdoor patio, you need to make sure you build it in the right spot. 
To do this, you'll want to pay attention to the areas of your yard that are in the morning or afternoon sun or have natural shade. Depending on how hot you want to get, you may want to put down your patio in a shaded area. Or, if you're not shy of direct sunlight, you can avoid those shady areas. In addition, if you want to create an outdoor dining area on your patio, you'll also want to make sure that you place your patio near your kitchen to avoid long trips between the two while entertaining.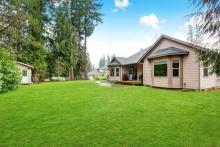 Step 2: Size It Up
Location is an important first step, but the size of your patio is equally important. Is the patio just for you and your immediate family? Or do you want a little extra room for entertaining? You'll need to answer those questions to appropriately size your patio. 
Also, take into consideration the amount of yard you'll be taking up with a patio—you may want to leave a larger grass area for your pets or kids to play in. Alternatively, if you have a pool, hot tub, or garden that you want to leave room for, you'll need to incorporate that into your patio size as well. 
Typically, the standard patio size is 12x12 feet to accommodate six to eight people. However, if you only need to accommodate four people, you'll need at least a 10x10 foot patio area. The big thing to remember when sizing your patio is that you should leave an extra 3 feet around your patio furniture for walking space. 
Step 3: Source Smart Materials
A patio is a paved outdoor area that adjoins to a house. The key word here is paved. Once you've nailed down where your patio will be and the size you want, it's time to get paving. 
For your patio, there are a lot of paving options to choose from like brick, decking, concrete, slate, flagstone, and many others. While it can seem impossible to make a decision, we recommend going with a surface that is smooth so it's easy to move chairs, tables, umbrellas, and other patio furniture. If you're still struggling to make a decision, narrow down your options by what fits best with your home's style and landscaping.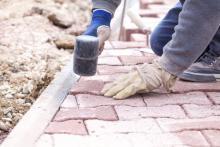 Step 4: Create a Feature
The best patio areas aren't just a concrete area with a table and chairs. The best patio areas have features for families and guests to gather around. Whether it's an outdoor fireplace, fountain, garden, or outdoor kitchen, pick what you want your focal point to be so you can design the rest of your patio around it.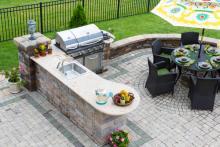 Step 5: Designate a Seating Area
No patio is complete without a way to sit, relax, and enjoy the outdoors. Give yourself a nice place to relax by outlining your patio seating areas. When designing your seating areas, make sure to think about the maximum capacity of your patio. If you want to be able to fit eight people comfortably, you'll want to design a seating area (or two) large enough to support them.
 Want a pro-patio-tip? A great way to distinguish seating areas is an area rug—yes, even on an outdoor patio. In fact, our polypropylene rugs were made for the outdoors as they can be washed with a garden hose, won't fade in the direct sunlight, and can withstand all of the elements. Oh, and they're a beautiful sisal look-alike design.
Want the look pictured above for your patio? Shop our Four Seasons Collection and select the Montego Charcoal rug color and outdoor black binding.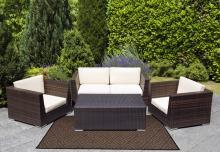 Step 6: Design With the Sun in Mind
The sun can be your best friend (hello, vitamin D) or your worst enemy (who doesn't hate sunburns?). As you design your patio area, you should constantly be thinking about the sun and how it can bake your patio's occupants. You'll want to enjoy your patio all day long, even on the sunniest days, so it's best to put up some design elements that can block out some of that sunlight. 
Through creative use of a trellis, pergola, umbrella, or trees, you can make it so that your patio is protected from the sun all summer long. Also, if you want to protect your feet from getting scorched on the hot patio stone, our new 16" indoor, outdoor polypropylene rug is perfect for big patios as it can keep your feet safe on a large outdoor area.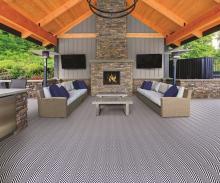 Shop our new Islands Outdoor Polypropylene Rugs to use the above look for your next patio project.
Step 7: Turn On the Lights
When the sun goes down, the party doesn't stop. Use environmentally-friendly LED lights throughout your patio to make it an inviting place to relax even after the sun sets. Or, you can put up tiki torches, lanterns, or other fun lighting options that give your patio a more eclectic or exotic feel.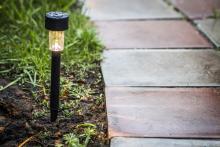 Take Your Design Outside
A great patio area is one of the best assets to have for any home. As an ideal area for entertaining, playing outside, or relaxing in the sun, designing a new patio is a good investment to make for your home and your happiness. When starting to design your patio area, just keep the above seven steps in mind to guide your decision making. 
How else can you elevate your patio design? Here are six things you should add to transform your patio into a relaxing retreat.

Sign Up and Save 10%
No, Thanks