Three Room Makeovers Sure to Inspire
We can all use inspiration and advice from time to time – especially when making an important decision about the right rug for our room. Before you tackle your own room makeover, take inspiration from three designers who've been there and done that.
Finishing a Large Living Room With Awkward Proportions
Kelly Elko gives magazines and her hundreds of thousands of social media followers a behind-the-scenes look as she decorates her 100-year old home. Earlier this year, she was stumped when trying to decorate her 13-foot wide by 27-foot long living room.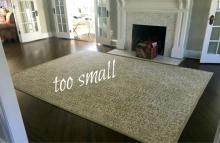 A too-small rug didn't fill the space quite right, leaving Kelly scratching her head over the best placement of her furniture. Upon a friend's recommendation, she researched larger rugs and happened upon Sisal Rugs Direct.
After working with a personal designer at Sisal Rugs Direct and trying free samples of jute, sisal and seagrass, Kelly ordered the perfect custom rug to finish off her space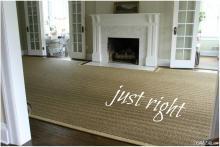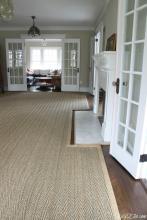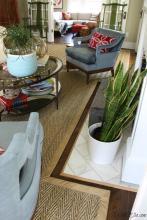 As Kelly said," This beast of a room needed a custom rug and I wanted something neutral that could withstand teens, spills and dog slobber while still looking amazing. Seagrass is a workhorse that not only looks incredible but it can take a beating."
Putting the Finishing Touches on a Playroom/Schoolroom Refresh
Patsy Schmidt, a decorator and mother to three girls, decided to create a space for her daughters to be creative and have fun. She started the project by finding the perfect sofa and slipcovers to make the space comfy for lounging. She then accessorized with a combination of found and crafted furniture (including a table and art box made by her husband), pillows, drapes, and other kid-friendly décor – featuring some of the girls' own artwork.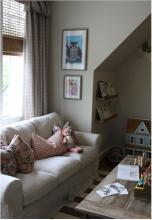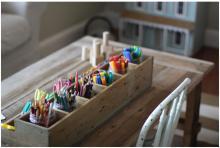 But she needed the perfect rug to help round out the space. She finally found it at Sisal Rugs Direct. As Patsy said on Instagram, "One step closer to a totally finished playroom....our new sisal rug from @sisalrugsdirect! It is perfect in the space...they do custom shapes and sizes, so I got the exact size I needed and exact shape!"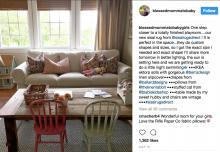 Choosing the Perfect Dining Room Rug
OceanChicBoutique Etsy shop owner Angie Sian shared her experience in an Instagram post:
"If you were to ask my advice on choosing a dining room rug, I would need to know 3 things before we even discuss your budget...do you have kids, pets and are you Type A?! Now you can certainly spend thousands on a hand woven oushak or other wool type rug and they can be stunning but if you answered yes to my 3 questions, than I would probably have you reconsider to save your sanity.
Regardless of your style of decor, the rug I most often recommend is SEAGRASS! This is the only type of rug I own and let me tell you why.
First, it's almost impossible to stain it. Invariably when my cats get sick, they go straight for the rug! Every. Time. In the beginning, I would panic but after cleaning and praying, the stain would always magically be gone by morning.
Secondly, even a custom cut on the larger size should easily run less than $1k; not bad at all. I ordered this one from @sisalrugsdirect and got the exact dimensions I needed."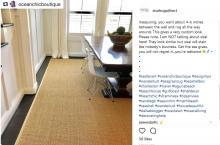 Ready to move ahead with your own room makeover? Fill out this style profile for free curated samples of Sisal Rugs Direct products, selected just for you by our in-house designer.
Save
Save
Save
Save

Sign Up and Save 10%
No, Thanks