The Top 4 Reasons to Cover Your Hardwood Floors
Hardwood floors are beautiful and you don't want to cover them up, right? Wrong. 
Yes, hardwood floors are beautiful, but leaving them as-is can lead to scratches, injuries, and more. Covering up the hardwood in your home is not only a good idea, but a necessary step for maintaining the quality of your flooring and the safety of your family.
Why Should I Cover My Hardwood Floors?
Hardwood floors are popular in modern home design, so you may be surprised to hear us suggesting that you cover them up. There are a number of reasons to cover up your hardwood floors and other hard flooring surfaces, like laminate or concrete. Here are our top four.
1. Covering Your Hardwood Floors Keeps You Safe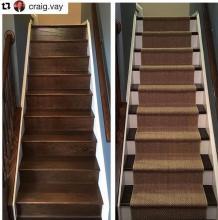 Love this look? Add a Dorado Sisal stair runner to your staircase for added safety. 
Hardwood doesn't offer much in the way of traction. Though beautiful, hardwood's smooth surface can make people, pets, and even furniture prone to slipping and sliding. 
Adding a natural fiber rug to your hardwood floors or staircase can provide just the right amount of friction to prevent you or your loved ones from unexpected slips on the stairs. Rugs and runners — especially when paired with a rug pad — also absorb sound, helping eliminate excess noise in your home, so you can cozy up and relax in peace.
2. Covering Your Hardwood Floors Provides Comfort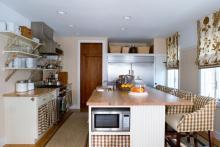 Protect your back and your hardwood floors simultaneously with a Sun sisal rug in Sunlight. 
Standing on hardwood floors for long periods of time can result in aches and pains, especially in your lower back, knees, and other joints. In spaces where you stand still for a while, like in front of your kitchen or bathroom sink, consider adding a rug to provide comfort and relief. 
Polypropylene rugs are durable and water-resistant, which makes them perfect for high-traffic, potentially damp spaces like kitchens, bathrooms, and basements. Your back will thank you! 
3. Covering Your Hardwood Floors Offers Protection
 
Keep your floors scratch-free with a Mali Sisal rug. Your pets will love it! 
With kids, pets, and guests running around your home, it's easy for your hardwood floors to get scuffed up and scratched. Your babies, whether furry or human, mean well — but errant paws and plastic toys can leave permanent marks on flooring, and nobody wants that. 
The good news is that protecting your floors from nicks is easy. With a custom area rug, you can protect pets, kids, and your hardwood floors while adding sophistication to your home.
4. Covering Your Hardwood Floors is Convenient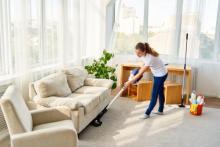 Cleaning hardwood floors requires regular sweeping, dusting, mopping, and polishing — and with products that won't damage hardwood's finish. Carpet and rugs, on the other hand, require a bit less maintenance. Regularly vacuuming is enough to keep your custom area rug looking fresh, clean, and clear of dust bunnies for years to come. 
For a deeper clean, you can blot blemishes or scrape up solids with a dull knife or nail file. Our guide to cleaning sisal rugs offers a number of ways to conveniently clean your area rugs.
Goodbye, Hardwood. Hello, Sisal.
Hardwood floors are everywhere, and they can be great in certain situations. But, if you find yourself feeling sore after standing in your kitchen or bathroom, or your children and pets just can't help but scrape up your space, consider a custom, sisal area rug to add safety, comfort, protection, and convenience to your home.
Not sure which rug you need? Take our quiz to find out!

Sign Up and Save 10%
No, Thanks