Trade Show Carpet and Rugs
Trade Show Rugs and Carpet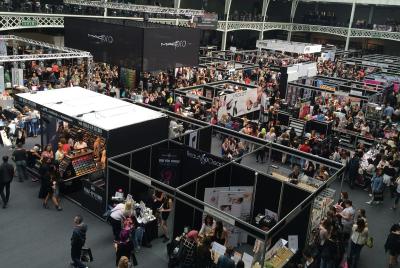 Trade show exhibitors and display professionals use Sisal Rugs Direct as their number one source for flooring and area rugs as we have the most extensive collection of natural fiber and commercial grade area rugs that can be customized for any project.  We have overside rugs to be used with larger booths and other creative ways to help you cover your space. 
We know how much the right flooring can contribute to the overall exhibit design by enclosing the booth design and framing it in its own world. Our beautiful natural fiber area rugs will separate your company's booth design from the rest of the displays at the show. The durability of natural fibers and unparalleled craftsmanship of our rugs help you save money by reusing the rugs, eliminating the high cost of renting flooring at a show.
Please provide us information about your project and one of our representatives will be in contact with you shortly.
Using the right flooring solutions in trade shows
The main purpose of an exhibit is to bring buyers and sellers together in one venue. It aims to foster a relationship between the two audiences, which could lead to potential sales, and more importantly, a bond that could last for years.
So, as an organizer of such an event, it is crucial to pay a great deal of attention to every detail, especially one that is so important—the trade show flooring.  
Why trade show flooring is important?
Many may question the importance of an exceptional carpet for a trade show, saying that trade show carpets are something that can easily be neglected by visitors. But just because people only step on them doesn't mean you shouldn't invest in them. After all, great flooring provides an ambiance of luxury and sophistication to any space, just like in hotel rooms. 
Why opt for trade show carpets?
Trade show carpets help everything look glued together and hold the look firmly throughout the day. Aside from that, an exceptional flooring offers several other benefits.
Promotes branding. A trade show carpet that complements well with the product's brand can help elevate its reputation. We recommend choosing colors and styles that go with the taglines, logo design, and other elements of a business to help present a cohesive, branded front.
Professionality. Choosing trade show flooring can be tricky, as it could make or break your event. One thing to note though is professionality. A classic, yet sophisticated, carpet design can help make an exhibit stand out rather than looking dull and tacky. Even placing a handmade rug as flooring for your small exhibits helps add an element of comfort and design. 
Comfort. People will mostly be standing and walking to check out products on display; therefore, comfort for a show flooring should be considered. A plush and nicely padded trade show carpet is something that everyone will surely appreciate. Your flooring should not just only please the eyes, but also your feet. 
Precise floor plan. Some exhibits are huge and could often include meeting rooms, congregating areas, trade show demos, and more. Having a defined floor plan for each of these areas allows visitors to clearly distinguish separate rooms and easily find places where you need them to be in the event. Pick patterns and styles of show flooring that complement each area for a more defined look. 
Ability to hide unnecessary elements. Having a trade show carpet is a great way of eliminating unsightly elements, like cords and plain or discolored floor tiles that don't match an exhibit's entire set-up. In short, your trade show flooring will help camouflage what you don't want your guests to see during the event.
What choices of trade show carpets do you have?
There are various design options for a trade show carpet, depending on your preference. Renting one is a good idea if it is a one-time event. But if you want to save money, purchasing your choice of flooring is a more cost-effective approach.
Whatever your decision is, you can always choose from different types and materials as long as they suit your needs and your budget.
Wool is one of the best choices of material for a trade show carpet because of its many varieties. Combine it with the right choice of pattern and thickness, and you're set.
Remember, a good design for trade show flooring can complement the overall theme of your event.
Final words
If you are organizing a trade show soon, make sure that you weigh all the options, especially when choosing trade show flooring.
Carpets, in particular, can easily transform any event into a themed space for your brand or business exhibit, just so long as you pick a fitting color, style, and pattern. You can also choose from a wide variety of designs, so you won't have a hard time choosing trade show carpets for all your events.
While there are places to rent rugs and carpets for your event, it is highly recommended to buy one to save on rental costs. Renting trade show flooring can be costly especially if you need something bigger for your event, or if it needs to be a custom size.
With buying one, you only shell out a chunk of an amount once. The next time you'll be using your trade show carpet, you don't have to pay for it anymore because it is already yours. And with online shops, like Sisal Rugs Direct, you can buy custom trade show carpets easily, with the added benefit of free shipping!

Sign Up and Save 10%
No, Thanks