4 of the Best Runner Rugs to Transform Your Home
What does your typical morning routine look like? 
For most people, it looks something like this: Wake up. Hop out of bed. Rush to the bathroom. Race to get ready. Skimp back to the bedroom. Walk to the closet. Fish for an outfit. Hustle down the stairs. Reach for some food. Find the keys. Head to the garage. 
Think about all the places in your home you walk through just to get out the door each morning. Without the right flooring, your first step out of bed could be a cold or uncomfortable one; you could trip on your way to the bathroom; your back could start to ache after standing on hard flooring for too long while getting ready; you could slip and tumble down the stairs.
And, depending on your footwear — and whether or not you have pets and kids running around the home — you risk scratching and staining your hardwood floors with every step. It's easy to neglect these "secondary" spaces when we purchase furniture, rugs, and decor for the home, but hallways, bathrooms, kitchens, and stairs deserve adequate attention, too. 
Runner rugs are the perfect solution for these commonly neglected spaces. Below, check out our recommendations for the best runner rugs to add style, safety and comfort to your home.
Best Hallway Runner Rugs
Hallways see endless foot traffic day in and day out. It's inevitable that your flooring will receive a few dings and scratches — unless you invest in a durable, natural fiber sisal or jute runner. 
Sisal and jute are tough natural fibers that can withstand heavy foot-traffic, without compromising comfort. The right rug can dramatically change the tone of your hallway. Take it from a space you rush through to get to the next room, to a space you enjoy spending time in.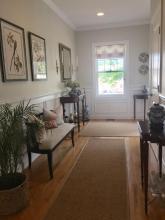 Make a stellar first impression with a Sienna Brasilia Sisal hallway runner to greet your guests.
Best Bathroom Runner Rugs
Let's face it. Bathrooms get messy. Water, toothpaste, hair products … any number of damaging items can and will fall from your vanity onto your bathroom floor, but with the right runner in place, you won't have to worry about stains. Polypropylene rugs look and feel like all-natural sisal, but they're made to put up with moisture. 
Adding a runner rug to your bathroom saves your back — literally. In addition to providing a water-resistant surface to protect your floors against splashes and spills, a runner rug will also add comfort underfoot as you get ready in the morning and wind down at night.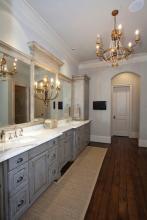 Image credit: Decor Pad
Best Kitchen Runner Rugs
Cooking is a relaxing hobby for many — but when back pain interrupts your chopping and sautéing, you may start to second-guess the two-hour recipe you planned for. Enjoy your kitchen more by adding a comfortable polypropylene or stain-resistant sisal rug runner. 
Remember, just like in your bathroom, kitchen floors are often on the receiving end of slippery and sticky spills. So, make sure your runner is up for the challenge.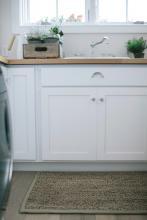 If you love this look, you'll love a birch mahal jute runner in your kitchen!
Best Stair Runner Rugs
Last, but not least, consider adding a runner rug to your staircase — especially if you have wooden floors. Stairs are already tricky to make your way up and down at times, so make things easier for yourself and your family with the addition of a wool sisal runner. 
A runner rug on your staircase adds comfort and sophistication while reducing noise. So, as your kids come barreling down the stairs on Christmas morning, or your dog rushes upstairs to wake you up, a wool runner will protect your stairs and your ears.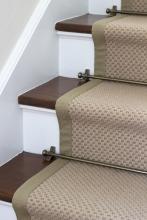 A wool sisal runner reduces the sound of footsteps on your staircase.
Run, Sisal, Run!
Consider the difference a custom, natural fiber runner rug could make in your home. The right runner will not only transform the spaces you typically rush through — foyers, hallways, closets, and stairways — but also add style and comfort to your home while cutting back on sound and stains. 
Have a runner, but aren't sure where to put it? Here are six perfect places to lay down your runner rugs.

Sign Up and Save 10%
No, Thanks