Custom-Sized Natural Fiber Runner Rugs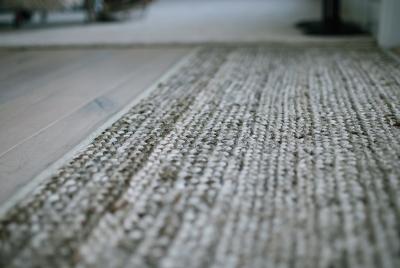 For hallways and other narrow areas of your home, a natural fiber runner rug is a good option. You can even get a cut-to-size rug runner to fit unique spaces in your home. 
Here's a guide to navigating natural fiber runner rugs.
Why Get a Cut-To-Size Rug Runner
Beyond simply the look of a room, there are many reasons why a cut-to-size rug runner can work in your home:
Gives grip. Floors can get slippery, and rugs have always been there to combat falls. However, regular rugs don't usually fit in narrow spaces. With a cut-to-size rug runner, you can get all the grip benefits of a rug but in a shape that works for the size of the walkway. And be sure to get a rug pad for extra slip protection!
Protect floors. Runners can be used in high-traffic hallways or entryways to protect the floors. Natural fiber rug runners are durable, so they can protect the integrity of your floors for the long haul while standing up to the wear and tear of constant use.
Comfort. It's always nicer to step onto a comfy rug than it is to step on a cold floor. With a cut-to-size rug runner, you can get that comfort in any hallway in your home.
Noise reduction. Certain areas of your home, like stairways and hallways, may be more echoey or just make more noise as people walk through them. Using a rug runner helps cut down noise in your home.
Customizable. A custom runner means you never have to worry about your space's size limitations. Instead, you give us the dimensions and angles you want and we can make you the cut-to-length runner that fits your home's needs.
Where to use a natural fiber runner rug
Now that you know the benefits of cut-to-size rug runners, you're probably eager to know all the places they can be used in the home. The short answer: everywhere! The key to using a natural fiber rug runner is to capitalize on more narrow areas in your home. Here are some of the best places to use a natural fiber runner rug:
Hallways
Kitchens
Stairs
Bathrooms
Mudrooms
Entryways
Next to your bed or between two beds
Best Materials For a Natural Fiber Runner Rug
Since rug runners are there to help you from slipping, it's good that whatever material you choose for your custom carpet runner not be too slippery. Luckily there are so many options. For a natural fiber runner rug, look into materials like sisal, wool, seagrass, and jute.
If you are looking into using a cut-to-size rug runner outdoors, then polypropylene is your best option for comfort, durability, and style.
Custom Carpet Runner Design Ideas
Need some inspiration for how to style your natural fiber runner rug?  It doesn't matter if you are styling runners for country living or looking to bring a modern twist to your custom carpet runner; the design possibilities are endless!
Check out this DIY kid-friendly stair runner installation on Our Storied Home.  Another awesome DIY stair runner install can be found on Room for Tuesday. 
Want more? Find more runner installation inspiration from Yellow Brick Home on installing a pet-friendly runner on their stairs. 
Runner Up
Sisal Rugs Direct specializes in creating cut to size rug runners for your home.  Whether you choose one of our natural fiber runner rugs inside or an outdoor custom carpet runner, we can make it to your exact specifications. Any of our rug collections can be made into a custom carpet runner with any border of you'd like, and as always, we offer free shipping sitewide. 
Start creating your own custom runner today!

Sign Up and Save 10%
No, Thanks