5 Cat Scratching Accessories Made from Natural Fibers That Your Cat Will Love
5 Cat Scratching Accessories Made from Natural Fibers That Your Cat Will Love
If you want to give your cat something healthy and durable to scratch, there are plenty of cat scratching accessories to choose from. To help you make the best decision for your home and cat, here are our top natural fiber cat scratching accessories.
Cats love to scratch. They scratch your carpet, your doors, and they've probably scratched you a time or two in their lifetime. But while that scratching might be annoying at times, it's actually healthy for your favorite felines. 
Scratching is an important practice that helps cats maintain the health of their nails, stretch their muscles, mark their territory, and let out their emotions, according to the Animal Humane Society. However, that doesn't mean you want them using you or your furniture as a go-to scratching post. 
If you want to give your cat something durable to scratch, there are plenty of cat scratching accessories to choose from. But some options out there are factory-made and may contain toxins that are potentially harmful. If you want a safe and healthy cat scratching accessory for your cat, here are our top cat scratching accessories made from 100% toxin-free, natural fibers. 
Love the rug and cat accessories featured in the image above? The posts and rug are both made of our Sand Boucle Sisal.
1. Sisal Cat Scratching Post
If you have limited space in your home to designate as a cat-scratch-friendly place, a sisal cat scratching post is the perfect option. It's one of our most popular cat scratching accessories that your cat will love to play with. 
Made of 100% natural sisal fibers, the post's material is completely sustainable and safe for your feline friend. Plus, if your cat likes to get rough while scratching, sisal is a very durable fiber, minimizing the chance that they'll ruin their fancy new post. 
Want to give your cat a new place to law down? Try a sisal cat scratching post with a perch.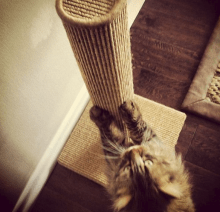 2. Sisal Remnants
Typically, cat scratching posts are tall and narrow. But what if you want to create a more advanced or unique scratching area for your cat? This is where sisal remnants can be a big help. As pieces of 100% natural sisal fibers, these remnants are perfect for creating your own scratching posts, ramps, beams, or replacing worn out sisal.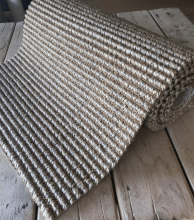 For example, we've seen people wrap large wooden beams with their sisal remnants to create fun ramps and posts for their cats to use and reach new heights. In addition, you can adhere your sisal remnants onto unused shelves that your cat likes to use as a perch so they can entertain themselves while lying around.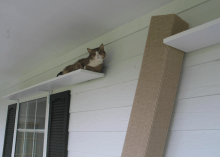 3. Sisal Cat Scratch Board
Posts, ramps, and perches are great scratching areas for around your home. But what if you want a cat scratching accessory that you can freely move and take with you while traveling? Sisal cat scratching boards are portable, allowing you to take them with you wherever you go. Plus, they can help keep your cat from pulling at your carpet or area rugs if you place them on top of or near your floor coverings. 
If it's a struggle to keep your cat occupied with a scratching board, they can also come with fun toy attachments like a mouse. That way your cat can playfully swat at mice while scratching to keep their bodies healthy.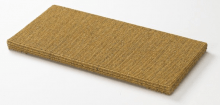 4. Door Knob Scratching Pad
Does your cat love your doors? Does your cat love them a little too much? If your doors have endured plenty of scratches over the years, a door knob hanging scratching pad is ideal for prevent scratches on your doors. They're painless to install, too—just hang them on the door knobs that seem to get the most attention from your cat. Or, if you don't want to buy several pads, just carry one pad room to room depending on where your cat is lounging that day.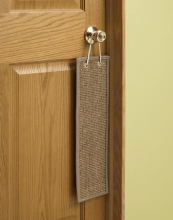 5. Sisal Area Rug
Last on our list of cat scratching accessories is one that might not come to mind for cat lovers. Posts, remnants, boards, and pads will all help prevent your cat from scratching your furniture and carpet, but a sisal area rug is another wonderful option. Considering that a sisal area rug can cover a larger surface area in your home, this gives your cat plenty of room to go wild and scratch away. Sisal rugs won't give into your cat's claws either as their tight weaves guard them against damage, making them a very durable area rug. Sisal is also a very pet-friendly area rug option, making it a fantastic choice for your cats.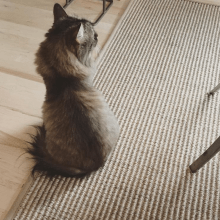 The Cat's Meow
All of the cat scratching accessories listed above are some of the best options for protecting your home from scratches, nicks, and other cat-related damage. However, they will also put your mind at ease that your cat is playing with a toxin-free, natural fiber toy that won't put their health at risk.
Having a tough time deciding which cat scratching accessory to buy? Let us walk you through how to choose the best sisal scratching post for your space.

Sign Up and Save 10%
No, Thanks