5 Famous Rugs from Your Favorite Movies and TV Shows
Hollywood is a natural place to look for fashion inspiration with our favorite characters often setting trends that we're eager to adopt. But it's also a great place to look for interior design inspiration. Consider all the amazing and iconic movie sets there are to inspire us. Known for creating otherworldly, eclectic, and top of the line spaces, set designers know a thing or two about creating a great room.
Set designers also know a thing or two about rugs and how they "really tie the room together" to borrow a line from the cult-classic film "The Big Lebowski." They know how to select rugs that match well with the set's aesthetic and context — something that isn't easily replicated in your own home.
To help inspire your own area rug selection, here are five famous rugs from your favorite movies and tv shows.
1. Aladdin
The first famous rug that popped into our minds is Aladdin's magic carpet. A rug with an attitude and an affinity for flight, this magic carpet is the only rug on our list that's also a character. While an oriental rug with decorative tassels might not fit every space, it is important when choosing an area rug to make sure that the rug adds plenty of character to your home.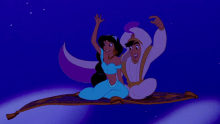 Image Credit: Walt Disney Pictures
2. The Big Lebowski
The most odd of all rug-lovers, Jeff Lebowski (a.k.a The Dude), embarks on an epic journey when his beloved rug is vandalized by a couple of thugs. His rug not only tied the room together, but it also stayed true to The Dude's eclectic and cobbled aesthetic. If you have a lot of cobbled together design elements in your own space, double check that you have a rug that fits by using our Try Brfore You Buy program. Just fill out our style profile and our in-house designer will send you six free rug samples to help you find what works best for your space.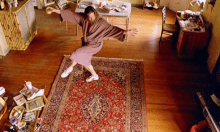 Image Credit: Gramercy Pictures
3. Downton Abbey
Known for their historic sets, Downton Abbey has a wealth of interior design inspiration for homeowners who love antiques and traditional design. And with such grand and ornate sets, some items need to be custom made to fit the space.
If you have a large living room or oddly shaped parlor in your own home, you can create a custom rug for the perfect floor covering. This ensures your furniture fits safely on the rug and that your rug doesn't run into any awkward walls.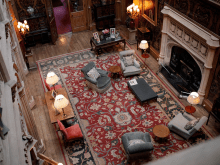 Image Credit: NBCUniversal
4. The Shining
Remembered for its iconic pattern, the carpet in "The Shining" is not easily forgotten — neither is its plot. Rated as one of the best horror films of all time, "The Shining" is sure to leave an impression on you.
To leave a lasting impression on the guests in your home, rugs with distinct patterns and prints are sure to be remembered. Our own patterned sisal and Moroccan tile rugs are a lively way to add new patterns to any area.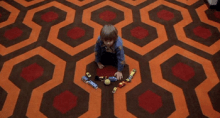 Image Credit: Warner Bros. Pictures
5. Game of Thrones
A little-known fact about Game of Thrones is that the Night's Watch characters have shaggy warm coats made of IKEA rugs. That's right, Jon Snow battles White Walkers in an IKEA rug you can purchase at a store near you. We have to say, they certainly seem to hold up well in the harsh Westeros winter.
If your rug needs to withstand the outdoors and considerable wear and tear, a four seasons outdoor polypropylene rug is a weather-ready option. It's not as warm to wear as the shaggy rug on Jon Snow's back, but it is incredibly durable and easy to clean.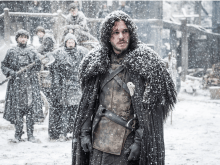 Image Credit: HBO
Want More Hollywood Inspiration?
Check out Jeff Lebowski's guide to choosing an area rug for tips on how to pick an area rug using famous quotes from the cult classic film, "The Big Lebowski."
Save
Save

Sign Up and Save 10%
No, Thanks