8 Must-Watch Hospitality Interior Design Trends for 2019
When it comes to interior design, you want your hotel to wow your guests and leave them excited to come back again in the future. Striking a balance between timeless and trendy can be difficult, but with these hospitality interior design tips, you can upgrade your hotel so that it stands the test of time, while impressing guests and leaving them wanting to come back for more. 
Try these hospitality interior design tips and tricks to step up your hospitality game in 2019.
1. Personalized Experiences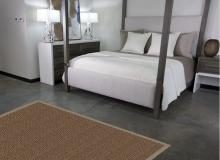 Think the rug above is perfect for your hotel? Shop our selection of stain-resistant Sisal Rugs and select the Athens Taupe color. 
Guests of all shapes, sizes, and walks of life stay at hotels, so hotels can't approach their offering as one-size-fits-all. The most successful hotels know they need to cater to the needs of every type of guest: parents with young children, a group of young women celebrating a Bachelorette party, a middle-school boys' hockey team — you name it. 
Rather than just meeting guests' basic needs with free shampoo, conditioner, and coffee packets, hotels need to focus on creating memorable experiences for their guests. These experiences could be a "selfie area" against a bold backdrop in the lobby, or a customer service line available 24/7 on Twitter or Facebook Messenger. 
In addition, leading hotels are using themed guest rooms, preset lighting preferences, and fully-stocked fridges to individualize rooms and provide exceptional guest experiences. Brands like Stay Well are changing the face of modern hospitality by offering products such as bathroom lighting that regulates guests' circadian rhythm and reduces jet lag, and shower heads that reduce chlorine and leave guests' skin feeling smooth and soft. For some guests, these amenities may seem over the top. For others, they're exactly what's required to guarantee a second or third visit.
2. Home Away From Home
Extended-stay hotels are no longer the only hotels to offer kitchenettes, small tables, and other familiar home amenities to accommodate guests. It's now standard to find a coffee pot, microwave, and mini fridge in a hotel room, and for some, that's just the bare minimum. 
Hotels are also turning away from the cookie-cutter approach to room design. Instead of making every room identical to the one next door, hotels are opting to diversify spaces so that every room offers something a little unexpected. Handmade goods, bold textures, diverse wall treatments, backsplashes, and area rugs all offer a touch of individualization to modern hotel rooms, helping guests feel as if they're at home.
3. Smart-Home Technology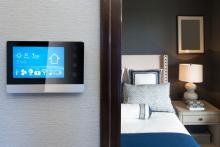 Image Alt Text: Modern Hospitality Space Offers Smart Home Technology. 
In the same way that modern banks are swapping tellers for tablets, modern hotels are replacing receptionists with self-check-in options, eliminating the need for a front desk and giving designers more space to work with when it comes time to designing the hotel lobby. 
Smart hotels offer personalized tablets that give guests the freedom to control room temperature, order room service, and stream their favorite shows from Netflix, Amazon, and other streaming services. The future of hotels means keys, messages for reception, and in-room preferences such as lighting and temperature will all be handled on guests' mobile phones. 
To complement this modern approach to hospitality, hotel design will focus on balancing high-tech accommodations with minimalist decor. Designers will decorate with recycled wood and other organic materials, like sisal and jute, to counterbalance the influx of technology.
4. Bringing the Outdoors In
Regardless of the city they're staying in, your guests can experience a tropical rainforest, rustic forest, or walled garden right at your hotel. In 2019, hotels are focusing on bringing the outdoors in, whether that's with multilevel terraces, reclaimed wooden furnishings, or natural-fiber textiles. 
Bringing elements of the outdoors inside enables guests to connect with nature from the safety of their room or hotel lobby. This trend helps keep guests engaged in the hotel experience, providing something memorable for them to take back home with them.
5. Flexible Spaces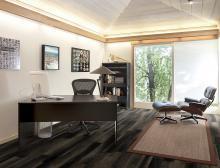 Ready to upgrade your hotel's meeting room? Try a Dorado Sisal area rug in the color Ashland. 
Gone are the days of a couple outdated desktop computers atop an old table greeting you in a hotel "meeting" room. Meetings aren't what they used to be, so minimal technology and poor internet connection doesn't cut it anymore. Hotels need to modernize their meeting spaces in order to accommodate the modern business traveler. 
In 2019, we can expect hotels to integrate updated audio and video infrastructure to accommodate a variety of meetings, performances, and parties. From furniture to technical equipment to walls and dividers, the modern hotel meeting space needs to be as versatile as it is functional. Designers have to design for versatility and connectivity, as well as create more collaborative workspaces available for both guests and visitors.
6. More Than a Lobby
The modern hotel lobby encompasses much more than just a seating area and a desk for check-in. Today's hotel lobbies are often complete with a hotel bar, restaurant, or even a storefront. 
For business travelers, multi-purpose lobbies like these are increasingly important. These guests don't want to stay cooped up in their rooms all day and will venture to the lobby for a change of scenery. They need reliable WiFi, multiple outlets, and food and beverages at-the-ready to make it through their day, and lobbies should accommodate these needs. 
Hotel Designs reports that lobbies are becoming more eco-friendly, too. In 2019 (and beyond), we can expect to see large, potted plants being used to break up the lobby space into multiple sections, creating a clubhouse of sorts where people can explore various activities.
7. Local Integrations
"Buy local!" is all but a rallying cry for millennials. In 2019, hotels will continue to integrate the local culture into the guest experience. By embracing local retail and outsourcing more services to local businesses—like dry cleaning and deliveries—hotels will become cultural hubs where guests can enjoy exercise classes, massages, concerts, and more alongside locals. 
To truly integrate the local scene into the hotel space, hoteliers should also involve local designers and artists in the design process to help create a unique, local atmosphere.
8. Sustainability
Across all industries, sustainability practices are becoming more important to consumers — and the hospitality industry is no exception. Guests want to feel good about where they spend their money, and they want to stay someplace with a commitment to environmental sustainability. 
In 2019, hotels will continue to introduce more "green" initiatives. We can expect LED lighting, recycled materials, solar panels, and even hourglass timers in showers to help us monitor our water use. Designers will also incorporate more greenery and natural light into their designs.
Get Ready for These 2019 Hospitality Design Trends
The future is here, and it's evidenced in modern hospitality design. From personalized experiences and smart-home technology to local integrations and sustainability best practices, modern hotels are ready for 2019. Are you? 
Lay down stylish, yet durable carpet and area rugs in your hotels with our hospitality carpet options.

Sign Up and Save 10%
No, Thanks