Are Polypropylene (Indoor/Outdoor) Rugs Soft?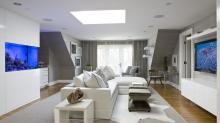 Polypropylene rugs (also known as olefin rugs) are designed to look like sisal, but they are actually made from synthetic fibers. While many of our sisal rugs are soft and comfortable, the synthetic alternative may offer a different level of comfort, which leads many of our customers to ask, "Are polypropylene rugs soft?" 
The answer is yes, they are softer than many of our natural-fiber rugs. As you already know, rugs are designed to add comfort, beauty and functionality to a designated space. Some spaces, however, require higher levels of comfort or functionality than others and the fibers used to create a rug determines how well it will serve its purpose.
Polypropylene rugs, for example, feel soft, but unlike natural alternatives are highly stain-resistant and will not grow mildew or fade when exposed to outdoor elements. This makes them excellent solutions for outdoor spaces and indoor areas with high-moisture or where frequent spills occur. If you're looking to add a rug in your kid's bedroom, in the basement or outside on your patio, a polypropylene is highly recommended. 
While softer than our natural-fiber rugs, poly rugs have the same look and feel and offer the right amount of comfort needed, plus great functionality. Browse through our selection to find the right polypropylene rug for your home or commercial space and consider adding a rug pad underneath for more cushioning.

Sign Up and Save 10%
No, Thanks