Endless Inspiration: 10 Interior Design Blogs You Need to Follow
"Inspiration can come from anywhere."
Whether you're building your dream home from scratch or planning a living room refresh, chances are you're on the hunt for tips, how-tos, and a healthy dose of inspiration to guide the way. But even though inspiration is all around us, it doesn't necessarily come to us when we need it most. 
Luckily, if you're starving for design inspiration, there are several places you can go to expose yourself to inspiring interior design ideas, examples, DIY how-tos, and so much more. 
Check out 10 of our favorite interior design blogs below. What makes them our favorite? They speak from experience, teach you how to replicate their looks, and use creative design tricks and trends to create amazing spaces.
1. Room for Tuesday
Room for Tuesday is a blog run by interior designer Sarah Gibson where you can find examples of multiple design aesthetics and genres. Sarah's One Room Challenges, where she details her experience of trying to renovate a complete room in just six weeks, is our favorite feature. 
Most recently she renovated her laundry room into a chic, functional room for both her and her dogs with great success. To help her reach her six week deadline and complete the room, we provided Sarah with one of our custom outdoor sisal area rugs that her pets would enjoy. Her trick to getting it done in six weeks? Start small. Rooms with less square footage are easier to tackle on a short timeline.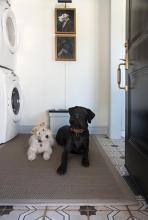 Pictured is an Outdoor Sisal rug with Putty Extra Wide Canvas Binding. (Image credit: Room for Tuesday).
2. Yellow Brick Home
Another pair of our favorite bloggers are Kim and Scott Vargo of Yellow Brick Home. This husband and wife team chronicles all of the renovations they complete on their Chicago condo, lake home, and fixer-upper. With varied projects and properties, there's no end of ideas that you can find on their blog. 
One of our favorite projects Kim and Scott completed was their front entryway when they added a beautiful stair runner over their hardwood stairs. Why a runner? With a stair runner, they're able to safely cover up their stairs without hiding the beautiful hardwood. If you're looking to install a runner in your home, Kim and Scott made a handy guide for you based on their own experience.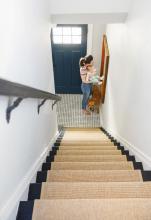 Want the same look for your stairs? Shop our Four Seasons Collection in the Belize Dune color with a cotton Granola border. (Image credit: Yellow Brick Home).
3. Maison de Cinq
Curious as to how you should arrange your home? Or maybe you want to know what would make for good Christmas party decorations? Sheila Irwin of the blog Maison de Cinq is a great source of advice and insight. Her blog is much more focused on home decor than home renovations, and as such she has great buying guides and arrangement ideas for entertaining. 
With frequent updates to the spaces in her own home, Sheila highlights her new additions to the home and reviews them so you can easily decide if you want to follow suit or not. For a taste of Sheila's style, check out our interview with her about her new living room decor and hardwood floor installation.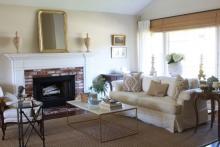 Pictured above is a custom seagrass area rug. (Image credit: Maison de Cinq).
4. Deeply Southern Home
If you're looking to do it yourself, look no further than the blog Deeply Southern Home. Loaded with DIY and interior design tutorials, Deeply Southern Home is an amazing source of tips and advice that you can apply to your current and future interior design projects. A great example was her staircase makeover, where she detailed the process of installing a stair runner from start to finish so her readers could easily replicate the result. They even added a unique border around the edge of the runner for a unique look that contrasts well with the stark white stairs.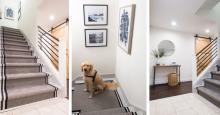 Pictured Above: Four Seasons Outdoor Sisal Rug in the Domingo Slate Color With a Black Outdoor Binding
5. The Budget Decorator
Interior design isn't cheap. Even if you go the DIY route, renovations aren't known for their affordability. If you're looking to keep your costs low and under budget, The Budget Decorator blog is a great place to go for decorating ideas, projects, crafts, and more. For example, they have flea market finds and flea market furniture makeovers that show the best parts of inexpensive interior design and guide you through the process so you can do the same.
Before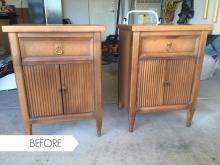 Image credit: The Budget Decorator
After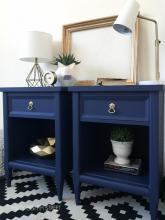 Image credit: The Budget Decorator
6. Style By Emily Henderson
Exciting. Eclectic. Unique. Beautiful. Interior designer Emily Henderson's blog showcases unbelievable spaces in homes that are truly breathtaking. With a great mix of metals, patterns, and colors, every space Emily highlights is a great source of inspiration. In addition to interior design, Emily also shares her top tools of the trade and items for the home. For example, she's shared her must-have kitchen utensils that are both functional and beautiful.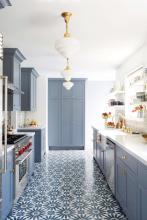 Image credit: Style by Emily Henderson
7. Centsational Style
As a renovator, decorator, and globetrotter, Kate of Centsational Style has a diverse skill set and aesthetic. Her blog is a must-follow for home improvement advice, renovation ideas, and great interior design examples. Just browse through her portfolio and you'll see a countless number of spaces that are sure to inspire, including spaces both indoors and out. 
Her blog is also extremely well organized, making it easy to find the tutorials and examples you're looking for. Her "Style Files" for example, are an amazing resource to visit before any interior design project, featuring her top articles on redecoration, trends, design benefits, and more.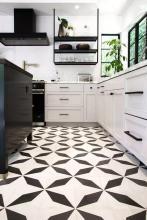 Image credit: Centsational Style
8. Chezerbey
Chezerbey is a blog run by husband and wife duo Lauren and Kyle Zerbey. Their blog documents their journey to renovating their small 1910 home in Seattle, WA. We love their blog because you can follow their journey closely and learn from their first-hand experience with yard landscaping, bedroom remodeling, and more. As homeowners ourselves, we find their real-world experiences to be extremely helpful when assessing whether or not we can really do an interior design project without professional help.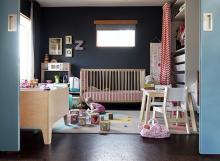 Image credit: Chezerbey
9. A Cup of Jo
This blog does more than just interior design. With everything from style to recipes to travel, Joanna Goddard's blog A Cup of Jo is a great go-to resource for just about everything. Her most recent interior design blog featured a crazy yet sophisticated North Carolina home that used almost every color in the rainbow in a creative way. Joanna also frequently features her favorite home decor items in her "Editors' Picks" section of the blog to make it quick and easy for readers to purchase them for their own homes.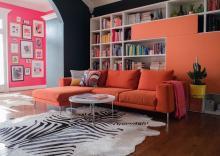 Image credit: A Cup of Jo
10. Decor8
It's all in the name. Decor8 is a blog from Holly Becker that is all about home decor and design. If you need ideas for area rugs, lamps, end tables, furniture, etc. Decor8 has the suggestions and lists you're looking for with your projects. Our favorite part of Holly's blog, though, has to be the home tours. On the home tours, Holly walks readers through the design of the home, what served as inspiration, what still needs to be updated, and more.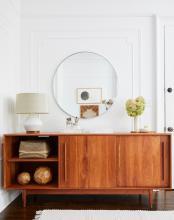 Image credit: Decor8
Let Inspiration Strike
The 10 interior design blogs listed above are a great source of ideas, tips, and advice. Make sure you give each one a follow to get notifications when they upload new posts, makeovers, tutorials, and more. 
For even more inspiration, check out our list of top interior designers to follow on Pinterest.

Sign Up and Save 10%
No, Thanks