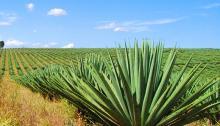 Sisal is a natural fiber derived from the long, green leaves of the 'agave sisalana' cactus plant.  The word Agave is derived from the Greek word agauos, signifying admirable and magnificent.  Agave's lineage dates from 1748 where it was included in a group of vegetable species of the family Amarilidaceoe, a sub family of Agavoideoe Pax. 
The Agave plants are among the most predominate native plants from the hot semi desert regions in the western hemisphere.  The agave plants became known in Europe following the conquest of Mexico by Spain.  Agave Sisalana is a sister plant to Agave Azul, which is the source of tequila. 
The sisal plant itself has its origin in the Yucatan peninsula of Mexico where it is known by the Mayan name Yaxci.  Both the fiber and the plant are today universally known by the name Sisal due to the fact that the first exports produced in the Yucatan were exported from the Porto do Sisal located outside of Merida.  Since its discovery, the sisal plant has been disseminated throughout the world.  It was introduced in Tanzania in 1893 and Brazil around 1900.  Today Brazil and Tanzania account for the vast majority of the world's sisal production.

Sign Up and Save 10%
No, Thanks