How To Buy The Right Size Rug For Your Small Living Room
Ever feel like your living space is shrinking? Whether you've had a long winter indoors or you have a small city apartment, it can be easy for a living room to feel small. Bringing in a rug is an effective way to make your living room feel bigger without knocking out any walls. Here's what you need to know to determine the right size rug for your small living room, along with some tips for how to maximize its impact. 
What is the best size rug for a small living room? 
While it may seem counterintuitive, bigger is better for rugs in small living rooms. The best size rug for a small living room is either 8' x 10' or 9' x 12'. Luckily, these are the most standard sizes for area rugs. If your living room has different dimensions, you can opt for a custom size rug. 
A rug that is too small can make the room feel cluttered and smaller. But simply buying an 8' x 10' or 9' x 12' rug won't automatically make your space feel bigger. There are three main factors that will help you determine the right size rug for your living room:
Keep it wider than the furniture. 
The first consideration is what furniture will be sitting on the rug. You should plan for at least 6" of overlap on either side of any given piece of furniture. For example, sofas are generally around 7' wide, so you will want a rug that is at least 8' along the side that will go under the sofa. 
Go under the furniture. 
One sure way to make a space feel smaller is to have a rug that sits alone in the middle of the room. Make sure the rug is large enough to have the front legs of all pieces of furniture on the rug. While a larger, open concept living room may call for all legs to be on the furniture, avoid doing this in a small living room to prevent the space from feeling crowded. 
Keep it away from the wall. 
Going as big as possible is not a bad idea, but an area rug that fills the entire room runs the risk of backfiring. If the area rug goes right up to the wall, it can make the space feel cramped. Allow at least 6" and ideally 8" of space between the rug and the wall. This will allow for a sense of openness. 
For more inspiration on how to determine rug size and furniture arrangement, check out our guide on How to Measure a Living Room Rug. 
Stay Light
Just going big and being strategic about furniture placement is not enough to make your living room feel bigger. You should also consider the color and pattern of the rug.
A bold statement piece in a small living room is tempting, but save the dark and bold colors for wall art. When working on making your small living room feel big, you'll want to keep your rug color light. In the same way that dark paint colors can make a room seem more confined, a dark-colored rug can have a shrinking effect. On the other hand, light colors add brightness to a living space, creating a sense of openness, even in the smallest of living rooms.
Stay simple
You also don't want your living room rug to be too busy. Busy rug patterns tend to make a small room feel cluttered. Furthermore, intricate designs or graphics can clash with your furniture in tight quarters, creating more visual chaos. Instead, opt for a rug that features a light pattern or no pattern at all. Diamond patterns on rugs can add subtle character, while natural fiber rugs like hemp or jute add texture to a space without overwhelming.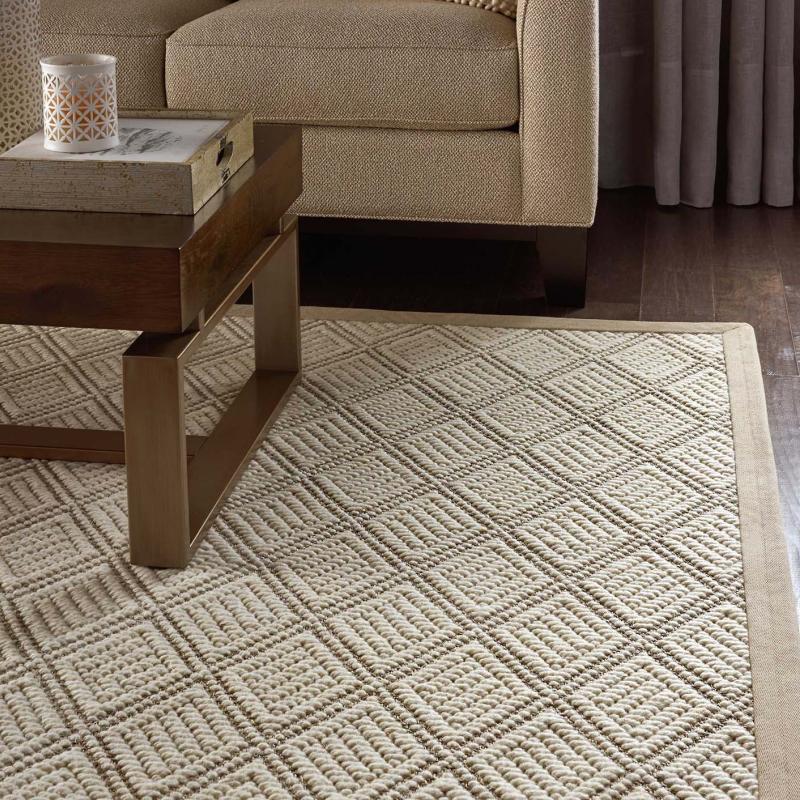 Try out a light-colored rug like this Diamond Wool Sisal Rug in Marble
One is Enough
We know it sounds too easy, but one big area rug is all you need to make your small living room feel big. Don't fall into the trap of getting additional runner rugs or rugs to stack on top of each other. Especially in a small living room, bringing in multiple rugs can create a tripping hazard. 
While this design works in larger rooms, in a small living room it will make a small space feel jumbled. Save the other rugs for your bedrooms, halls, and kitchen spaces.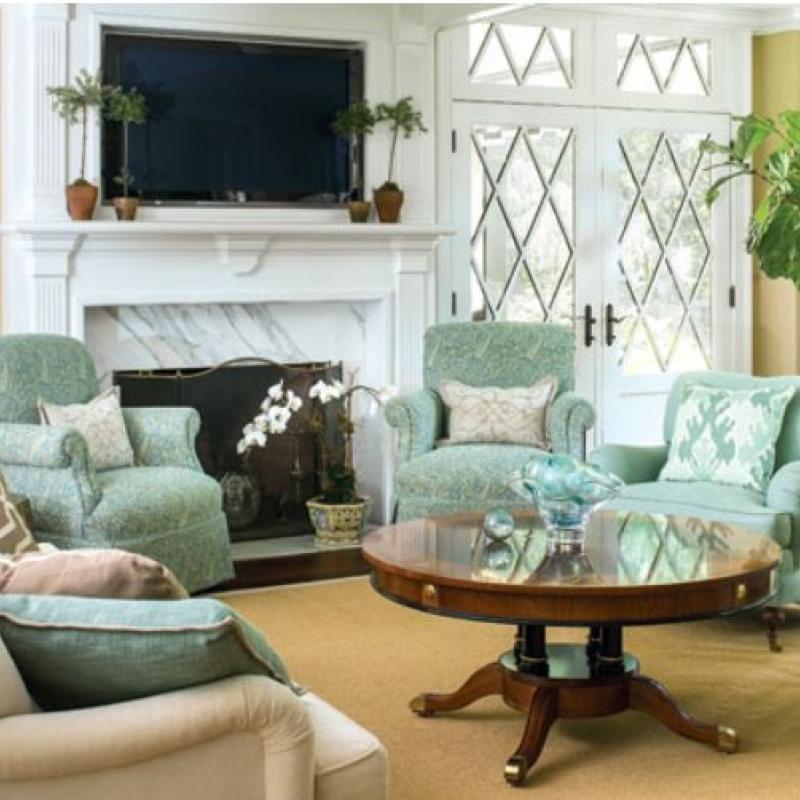 Consider a large area rug like Boucle Sisal Rug in Bamboo. 
The Perfect Fit
Your living room isn't too small for an area rug. You can even get a rug tailored to the exact size you need! Measure your space and order a custom-size rug that will make your living room feel bigger.

Sign Up and Save 10%
No, Thanks