Interior Design Trends 2020: The 3 Hottest Trends to Watch
In 2020, top interior design trends will be recycled and reclaimed from the past. This is not a matter of bringing back the olive-green of the 50's or once again embracing macrame. Rather, two of the top trends focus on sustainability and reducing our carbon footprint. The other top trend? Wellness—something we all can benefit from. 
Read on to learn what you can expect from interior design in 2020.
The Top 3 Interior Design Trends for 2020
1.  Reclaiming Recyclables and Rubbish
The consummate DIY designer has been tapping into the recycling trend for eons. Isn't the question always: Why buy new when all it needs is new fabric or a coat of paint? 
However, in 2020, we can expect this trend to be upcycled and amplified as high-end luxury, and mass-market designers strive to create eco-friendly products. Their goal is to find a design-use for trash and recyclables. 
Ocean plastic is a key focus. Designers are using reclaimed plastic cups and bottles to create sturdy tables and chairs suitable for indoor and outdoor use. We especially appreciate the chairs and stools from the On & On Collection. Not only are they made of recycled plastic, the chair itself is endlessly recyclable.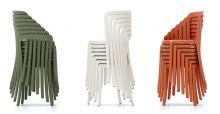 Photo Credit: On & On Collection 
And, thanks to continued innovation by designers, home decor made from recycled plastic is more beautiful than ever. So, you can do good for the planet and your interior design. 
You'll also see designers taking strides to find a better destination for the 35 billion pounds of textiles that Americans throw away each year. An exciting example is Eileen Fisher who kicked off a textile recycling campaign to buy back the clothes that customers no longer want. Many of the clothes are resold, but those beyond repair are transformed into pillows and striking artwork.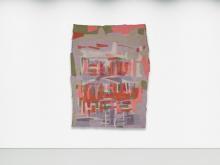 Photo Credit: Waste No More
Plastics and clothing are just the beginning. Some savvy designers are using fishing nets, carpets, manufacturing waste, and byproducts of food production. We can't wait to see all the ways that designers use their skills to improve sustainability in 2020!
2. Food Ware From Food Waste
We know it sounds crazy, but designers are investigating ways to turn food waste into decorative trays, dishes, and more. And, we're not just talking about cutlery made from potato starch or plates made from whole banana leaves. 
No, we're talking dishes made from the whole hog, and all its trimmings. In 2018, Japanese designer, Kosuke Araki, created stunning black dinnerware using only the inedible parts of his food. Vegetable waste provided the base for the dishes and "animal glue," made from the bones and skin of animals, was used to hold the dishes together. Since that time, Kosuke has iterated on the project, developing new finishes and processes.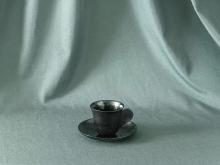 Photo Credit: Kosuke Araki
Another designer, Michela Milani, created highly textured biodegradable bowls from the shells of peanuts and carrot peels. 
However, dinnerware made from food waste isn't just a theoretical design project. Companies are beginning to make great strides in bringing these types of products to the masses. We've heard talk of food ware made from seeds, vegetable peels, and fruit rinds. And, how's this for a meta example: Coffee cups made from coffee grounds? 
While most of these products aren't widely available in the United States, you can always tap into the trend and create a stylish bowl made from a coconut shell.
3. Wall-to-Wall Wellness
Designers will be prioritizing feng shui and chi when designing interiors in 2020 with a lean towards calming spaces. The go-to colors will be cool grays and blues intended to maximize relaxed energy. Naval, the 2020 Color of the Year from Sherwin-Williams certainly sets the right tone.
A focus on privacy and sound absorption will underscore the choice of furniture, window treatments, and home decor. You can expect to see tall, oversized chairs that envelop people, providing both a momentary escape and a sense of security. Natural fiber rugs in cool and natural colors will be used, literally, as a foundation for these calming spaces.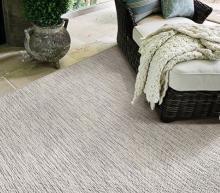 Another top trend will be decluttering: Calming spaces are not cluttered spaces. We're sure to see an uptick in furniture that helps conceal untidiness such as seating that doubles as storage and innovative cabinet designs. 
To improve mood and productivity, designers will continue to incorporate plenty of natural light and house plants. Installing smart, adjustable color temperature light bulbs throughout the home is a way to reinforce a person's circadian rhythm.
Natural Rugs Are Always on Trend
Sisal Rugs Direct offers a wide range of sustainable natural carpets created from rapidly renewable materials including wool and drought resistant plant fibers such as sisal. Our rugs come in 55 neutral colors that are compatible with the wellness trend. Plus, if history has taught us anything, these rugs will remain on trend for decades to come. It's a good thing that our rugs are so durable! 
Not sure where to start? Let us help! Fill out your style profile today and our in-house interior designer can hand-pick samples to get you started!

Sign Up and Save 10%
No, Thanks