Interior Design Trends for 2020: 7 Must-Keep Resolutions to Achieve Your Home Style Goals
It's the start of a new decade, and with that comes a bold and hopeful new attitude in both design and culture. And with hope comes resolutions—and you've probably got no shortage of personal goals and commitments on your 2020 to-do list. Is fulfilling your interior design aspirations is one of them? If so, we got you covered.
2019's interior design trends angled toward the fresh, natural, and floral. But that's so last year. As we launch into a new decade, 2020 takes those trends, gives them a friendly wave, and heads in a completely different direction. 
To help you achieve your design goals and bring your home into the next decade in style, we've compiled seven must-keep 2020 interior design resolutions below.
How to Keep Your 2020 Interior Design Resolutions
#1 - Take Risks
One of the biggest overarching interior design trends for 2020 is to make bold choices. Gone are the days of grey-on-grey monochrome and stark decor. For 2020, challenge yourself to take at least one design risk. This could be anything. Introduce a bold color, put up some wallpaper. Do something that sparks joy and brings vivid, new life to your home.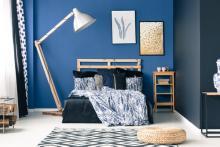 #2 - Declutter
Being clean is always on-trend and 2020 is no different. Make it a 2020 goal of yours to keep your home free and clear of unnecessary decor, gadgets, furniture, and more. Plus, studies show that decluttering can help you gain confidence, reduce anxiety, and energize your body.
Overwhelmed at the thought of cleaning the house? Read our Marie-Kondo-inspired guide to a clutter-free home. 
#3 - Find the Patterns
Patterns are very on-trend for interior design this year as the overarching theme for 2020 is to be bold and be yourself. More expressive than their solid print cousins, patterns are a great way to highlight the bold parts of your style or personality. 
They're also easy to incorporate into any room. Often found in a variety of items like dishes, linens, wallpaper, upholstery, area rugs, and more, patterns are a no-brainer. Find a pattern that speaks to you and add it to your home's decor this year to see the positive difference it can make. For example, a patterned rug can add texture and fun.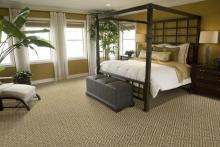 Want the patterned look above for your home? Shop our Porto Sisal Rugs now.
#4 - Doing Your Own Thing
2020 is the year where the trend is to just… be yourself. That means spending less time trying to figure out what the coolest, most popular options are and instead going with your gut. Choose the unique items that call to you, even if no one else likes them. They'll bring you joy and help create a space that is 100% your own.
#5 - Bring in the Blue
Classic Blue was chosen as 2020's Pantone Color of the Year. This deep blue shade is simultaneously trendy and traditional. It's a great option for people wanting to add color to their living space without sacrificing a classic style. There are tons of ways you can bring Classic Blue into your home in 2020. 
#6 - Paint Something
In the aim of going bold in 2020, make a resolution to paint something in your home. It could be a door, an end table, or a single wall. There are a lot of resources available out there for people interested in doing a DIY paint job. Color is the new neutral and it's your turn to embrace the rainbow.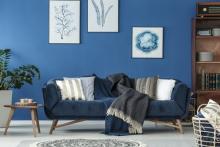 #7 - Add More Plants
Design experts in 2020 want to see more plants in people's homes. Make it a goal of yours to add a single plant into your space. It might seem intimidating to take care of a living plant, but there are options out there for beginners, as well as more advanced green thumbs. Start small with a succulent or spider plant and then go from there. Fresh foliage in a home can bring vibrancy, increase oxygenation, and add life to any room.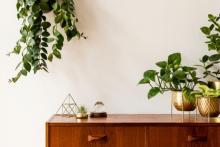 How Can I Keep My Interior Design Resolutions?
Keeping your interior design resolutions for 2020 is as simple as making a few decisive choices and sticking to them. Remember: this year is about being yourself. Don't worry about what other people think. Instead, focus on the things you love and how they make you feel. It's always good to add more positivity to your living space, after all.
Dying to know what rug trends are sweeping the world in 2020? Check out our post on 2020 rug trends.

Sign Up and Save 10%
No, Thanks