Round Jute Rugs: A Totally Boss Rug Returns From the 1960's
Given the size and importance of a decent rug in your home, they can oftentimes be an expensive item to add to your home's interior design. Just look at oriental rugs. If you want a high-quality, handmade oriental rug, you'll need to shell out a lot of money.
Luckily, there are rug trends that are both stylish and affordable. Enter: the round jute rug.
Round, braided jute rugs were all the rage back in the 60's. They're affordable, all-natural, and handmade rugs that serve as the perfect frame for countless areas in your home. While they've been absent from the mainstream for 50-some-odd years, round jute rugs are making a resounding comeback in 2018.
Below, we work through why round jute rugs make the perfect complement to your home and how you can incorporate them into your interior design.
Affordable & Simple
First and foremost, round jute rugs make a splash due to their simplicity and affordability. Made from 100% natural jute fibers, these rugs are environmentally friendly and inexpensive thanks to the renewable resource of jute plant fibers. Round jute rugs are also an affordable because of their shape. Circles take up less surface area than their square or rectangular counterparts, meaning there are fewer fibers and labor needed to complete the rug.
Don't mistake affordable and simple for low-quality and bland, however. These rugs have all been hand-woven and stitched by skilled weavers who have perfected the braiding technique. Jute fibers can also come in several different color combinations, ensuring that there is the perfect rug for any part of your home.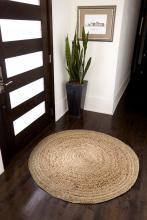 Soft on Your Feet
Natural fiber area rugs are well-known for having unique, thick weaves, causing many homeowners to assume this means the rug will be rough underfoot. This is a misconception to make, however, as it could cause you to pass up on a perfect rug that is quite comfortable.
Braided jute rugs are some of the softest natural fiber area rugs you can purchase.  Jute has a gentle, soft weave made of softer fibers that make them the perfect cozy and comfortable rug option for your home.
Just because it's soft, however, doesn't mean it's hard to clean. As a natural fiber area rug, it is true that you can't clean your jute rug with copious amounts of water, chemicals, or other sources of moisture. However, this problem is easily fixed with a couple swipes of paper towel or a dry carpet cleaning kit.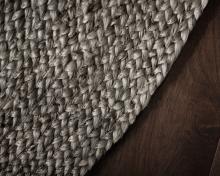 Fits Many Styles
Having been a trend during the groovy 1960's, you may find yourself feeling a little skeptical towards including round jute rugs in your home. But just because interior design has transformed in the past 50 years, doesn't mean round jute rugs aren't still a great fit for any space.
Made in a universally accepted shape and neutral, complementary colors, round jute rugs can go with any design aesthetic. For example, gray hues tend to go best with contemporary and modern styles thanks to their darker, sleek look. Whereas tans tend to go best with more rustic or coastal designs, which makes sense as the tan jute fibers look a little like soft hay, straw, or beach grass. And if you have a design style that falls somewhere in between, try making your decision based off the furniture that sits nearest to the rug and choose the color that would serve as a nice contrast.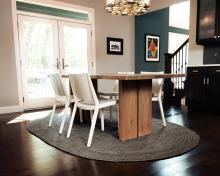 Ready to Start Shopping?
Round jute rugs are an old trend that is coming back in a big way. Take a look at our borderless round jute rugs or oval jute rugs to find the perfect option for your home.

Sign Up and Save 10%
No, Thanks