Stay on Trend with Four Tribal Touches
Bring the world home with Desert Explorer style, which blends the patterns, textures and colors of tribal cultures with modern sensibility. Stephanie Coffaro, Interior Architect, developed this trend based on her journeys across continents; her office is anywhere her travels take her. Find out more about her work in Creating Sanctuary: A Conversation with Stephanie Coffaro. "The Desert Explorer trend challenges us to embrace the exotic and incorporate the power of ancient cultures into our everyday," says Stephanie. "It unites bohemian style with the bold geometry of Native American, Moroccan and North African traditions to introduce depth and meaning to our spaces." Here are the essentials of showcasing the Desert Explorer trend in your home:
1. Combine bold, geometric shapes and patterns with rough-hewn earth-toned elements.
"Sandy browns, spicy reds, and terracotta are making a resurgence. Unite that with some simple whites and blacks and natural plant colors to create a living, breathing, comfortable space," advises Stephanie.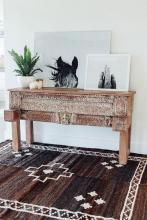 2. Emphasize varying textures.
"The textures of the Desert Explorer trend are stunning," enthuses Stephanie. "While they may not perfectly match, they also don't compete with each other. The variations in pattern blend well together because the geometry and color palettes are unique but complementary."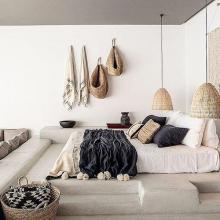 3. Combine geometric patterns with handcrafted elements.
"The patterns from desert cultures are huge right now," notes Stephanie. "You can have an all-white room, and incorporate that with bold, hand-crafted pieces to create super-high impact. Even baskets can be a beautiful, sculptured piece of art that will never go out of style."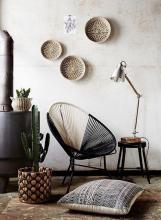 4.  Layer rugs, beginning with sisal.
"Textures, colors and patterns all come together with layered rugs," says Stephanie. She recalls a shop in Sweden where vintage Persian rugs covered the floor. "You couldn't see the floor at all. Even though I'm a simple person, I could not get enough of the patterns." Stephanie strongly recommends using sisal rugs as a base for any layering. "They lie flat, and tend to be a neutral tone and texture to provide a solid foundation for other patterns and textures," she explains.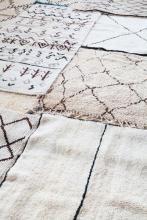 Easily recreate the desert explorer trend in your own home at Sisal Rugs Direct. Browse our wide selection of rugs and create your own.

Sign Up and Save 10%
No, Thanks