Style Guide: 4 Coastal Interior Design Ideas for any Room
Coastal interior design evokes the feeling of beachy serenity. Flow and color play big roles in this aesthetic choice that's popular with a wide variety of people from all over. It's a vibe that appreciates the appeal of natural light, natural fibers, and the breezy comfort of summertime. 
This design style sometimes gets confused with the kitschier and quirkier nautical design trend. While they both use cool tones and bright contrast, coastal design is more about a feeling than a framed picture of an anchor. The feeling of ease, warm and cool and bright. To help you better understand how to adopt coastal interior design in your own home, we've put together four of our favorite coastal design ideas for you in today's post.
#1 - Use botanicals instead of florals.
We've said it before and we're going to say it again: coastal design is all about natural flow and style. This idea doesn't only apply to furniture and accessories: it applies to plants as well. Botanicals are more in line with coastal style as opposed to more arranged, formal florals. There's a lot you can do with botanicals, too! 
Here are a few ideas to start with: decorating your mantel with a collection of succulents, natural macrame hanging baskets holding vines, or an especially large tree or house plant as the focal point in your living room.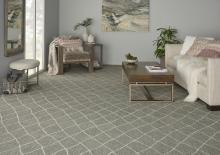 Pictured above: Our Heather color Morroccan Organic Trellis wool area rug. 
#2 - Spread natural fibers everywhere, including your rugs.
Natural fibers are a cornerstone of coastal design. They typically come in neutral color palettes, can stand up to wear and tear, and they're better for the environment than their synthetic counterparts. Blankets, window coverings, upholstery, and more can all be upgraded with a fresh, natural fiber look. 
Our favorite way to bring natural fibers to a room is with natural fiber area rugs. Seagrass area rugs are an excellent example of how natural fiber rugs can make a big "splash." After all, they're available in the toned down colors that are foundational for coastally designed rooms, durable for regular use, and stain resistant.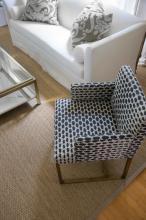 Love the rug above? Shop our Seagrass area rugs and select the Seascape color.
#3 - Choose vibrant accent colors.
We keep talking about the importance of neutral color palettes for coastal design, but that's not the end of this style's color story. Whites, tans, and neutrals are excellent as foundational colors, but bright accents are what work with them to tie whole rooms together. For coastal design in particular, focus on bright jewel tones. Orange-y corals, yellow, and turquoise all go great with widespread neutrals.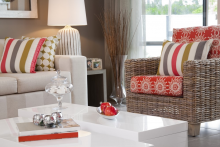 #4 - Let light in.
If you imagine a room that is supposed to have a beachy, summer-inspired style, what do you imagine? More likely than not, you immediately think of a brightly lit room with a light breeze and fresh air. This is the right idea: coastal design loves light. Let go of heavy blinds and opt for flowy, airy window coverings instead. You can even soften your interior light by switching to lower UV light bulbs or natural light lamps.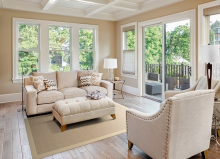 Pick Your Design Style
Going coastal is all about warm tones, light accents, and natural elements. But coastal design isn't the only design style out there (even though it's definitely one of our favorites). If you think it's the right style for your home, we hope these tips helped. If you don't think it's the right style, check out our selection of sisal rugs to find the perfect style for you.

Sign Up and Save 10%
No, Thanks