Wake Up Happy with These Big Bedroom Rugs
When considering what size rug to get for your bedroom, don't be afraid to go big. Whether you're looking for a cozy place to relax or a stylish backdrop for your bed, a big rug can transform your bedroom into a more comfortable, inviting, and stylish space. 
Let's explore why bigger is better when it comes to bedroom rugs, and which big rugs are the best for your bedroom. 
Comfort and Warmth
Putting a large rug into your bedroom cozies up the space where you start and end your day.  
When you step out of bed onto a soft, plush rug, it's like your feet are being wrapped up in a warm, comfy hug. 
To make sure you're getting the best rug for your bedroom, first you'll want to choose a rug with a relatively higher pile. Pile is the distance between the top of the rug's fibers and the base of the rug, so higher pile means a softer and more comfortable rug. 
For maximum softness, you'll want a rug pad to place under your rug. Rug pads add significant cushioning, making the softest rug even softer. They are also great for making sure your rug stays in place and doesn't go slipping all around your floor as you step on it—that wouldn't be a great start to your day!
Noise Reduction
A large bedroom rug can also help to reduce noise. The soft material of the rug's fibers absorbs sound waves, making your bedroom a quieter and more relaxing place. A rug in your bedroom is effective at blocking out all sorts of noise, like footsteps, furniture being moved in another room, or the sounds of a noisy neighborhood. 
High-pile rugs are especially effective at dampening sound because the fibers absorb impact energy, preventing it from traveling through the air. When the rug you place in your bedroom is extra large, you get more protection from noise and can enjoy a more peaceful rest. 
Definition of Space
An extra large rug in your bedroom can help to create a sense of defined areas. This is especially useful if you have a large bedroom with different zones, such as the sleeping area and the seating area. 
When choosing a rug for your bedroom that will help to define the space in the room, make sure the rug is large enough to cover the area you want to define. However, getting a rug that's too big—even in a big bedroom—can make the space feel overcrowded. To keep this from happening, make sure the edges of your rug are at least six inches away from the wall. 
Ease of Cleaning
While a large rug in your bedroom can make the space cozy and quiet, it's important to choose a rug that is easy to clean. If you have pets or children, you'll want to choose a rug that is resistant to stains and easy to vacuum and spot clean. For instance, wool rugs are an especially good option for bedrooms because they are naturally stain-resistant and easy to maintain.
For vacuuming your rug, make sure you know how to vacuum it properly. Not every rug responds well to a vacuum beater bar, for example, while some others need it to get deep into the thick fibers. 
If you are spot cleaning a stain, use a mild detergent and water solution. Test the solution in an inconspicuous area of the rug first to make sure it does not damage the fibers. Once you have finished cleaning the rug, let it air dry completely before putting it back in place.
Four Best Big Bedroom Rugs 
From beachy to subtle, these four rugs are perfect for any bedroom. 
Camila Wool Rug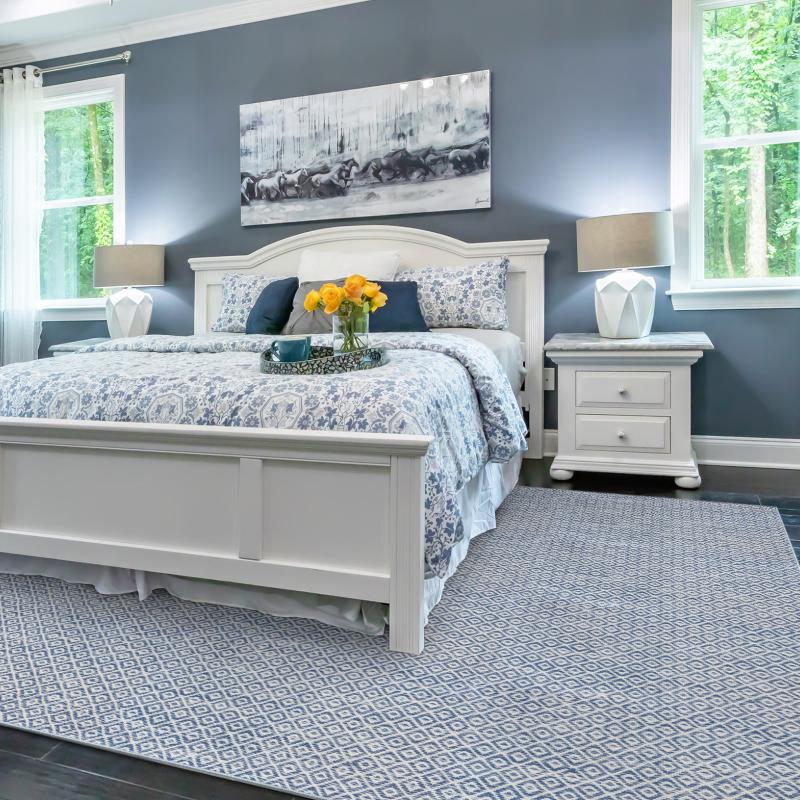 Add a touch of beachy style to your bedroom with a Camila wool rug in Denim. The soft, blue and white wool fibers are comfortable underfoot, and the diamond pattern is reminiscent of waves on the ocean. For a more Art Deco look, consider the black and white Piano color, or keep the look more subtle with the soft gray Fog color. 
Shop the Camila wool rug Collection
Sofia Wool Rug Collection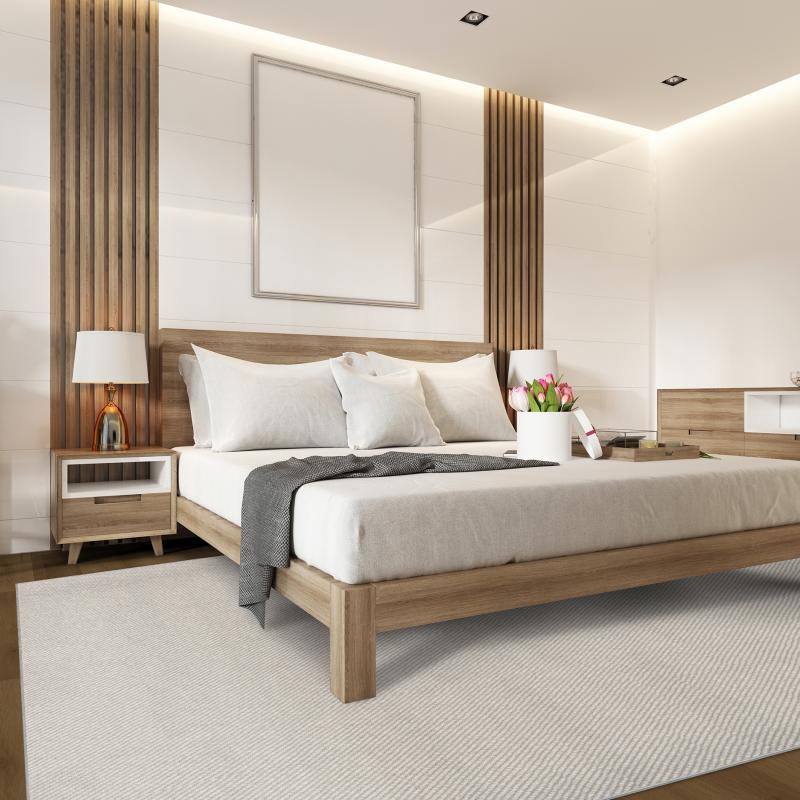 The Sofia wool rug in Fossil is an ideal option for a big bedroom rug. Its muted color palette effortlessly blends with your existing decor, making it a versatile addition to any bedroom. And because the pattern doesn't draw attention to itself, you can extend this rug's footprint across your entire bedroom without worrying about it overpowering the space. 
Shop the Sofia Wool Rug Collection
Athens Stain Resistant Sisal Rug Collection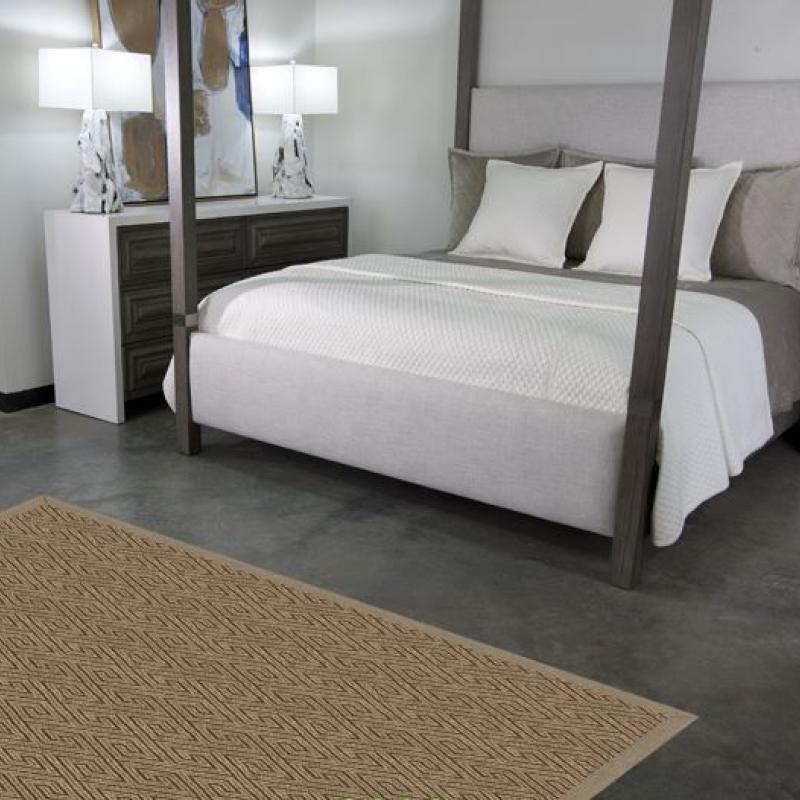 The Athens sisal rug in Beige is a fun way to bring some unexpected texture into your bedroom. The natural fibers of this rug have an organic feel, while the classic Greek key pattern is a playful way to add visual interest across your bedroom floor. And because this rug is made from durable sisal, you won't have to worry about parts of it wearing out from heavy use. 
Shop the Athens Sisal Rug Collection  
Sun Sisal Rug Collection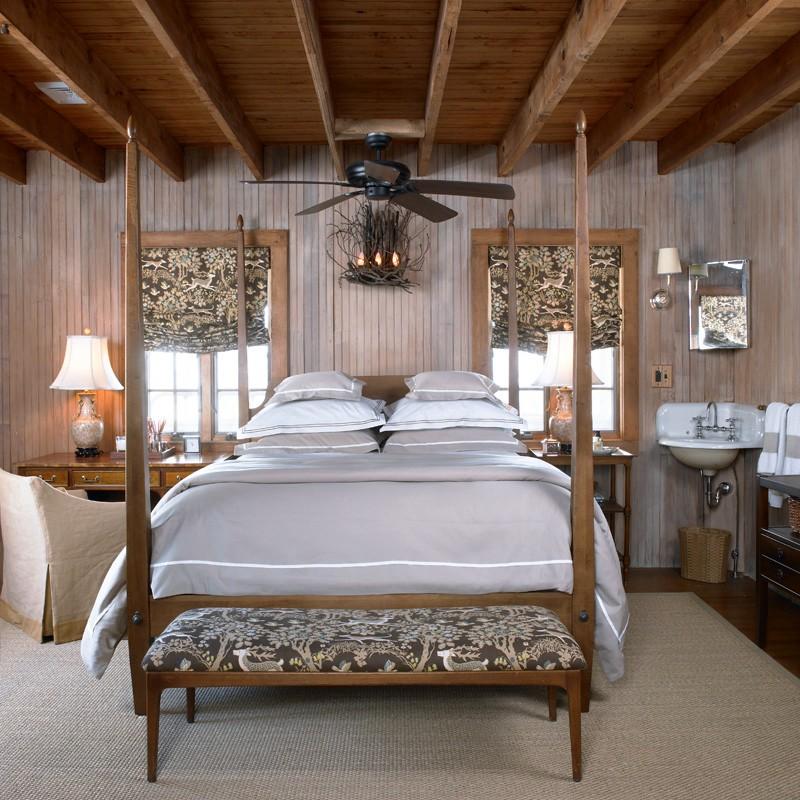 The Sun sisal rug in Sunlight is perfect for laying across large portions of your bedroom floor. This particular rug has a larger weave than other sisal rugs, which means it's uncommonly soft, especially compared to other highly durable sisal, jute, or seagrass rugs. This particular sisal rug also comes in a wide array of colors, from the dark and cozy Eclipse to the bright and cheery Sunrise. 
Shop the Sun Sisal Rug Collection
A Big Rug for Every Bedroom
If you're looking for a way to upgrade your bedroom, a big rug is a great option. It can add comfort, softness, definition, style, and functionality to your space. 
Find the best rug for your bedroom, and get it cut to any size with our full selection of custom area rugs. 

Sign Up and Save 10%
No, Thanks