What's Coming in 2019? Watch For These Emerging Interior Design Trends
2018 was a great year for interior design. We welcomed velvet and iridescent accents, greenery, typography, and intense metallics. And it makes us excited for what's in store for 2019. 
The new year is right around the corner and with it comes a host of new patterns, styles, and trends to try out in your home. Ring in the new year in style by incorporating what will be the hottest design trends of the year into your space, using the ideas below.
1. Floral Patterns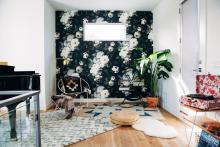 Image credit: Elle Decor 
Flowery fabrics and wallpapers aren't just for your grandma's house. This bold trend is making a big comeback in 2019, adding an element of nature to any room. Pairing a festive floral pattern with a natural fiber rug, for example, brings the outdoors in, without compromising on style. 
Because floral patterns can feel busy and overwhelming in some spaces, consider adding a floral accent wall to break things up.
2. Bold Jewel Tones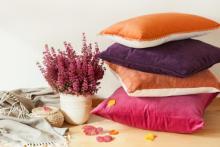 If you're not afraid of a little color, adding bold jewel tones to your 2019 decor is a great way to go. According to HGTV star Taniya Nayak, bright accent colors such as jewel tones and colors that contrast (like blue and orange) are making their way back into modern design. Make a statement in your home with a jewel-toned wall hanging, throw pillow, or blanket.
3. Geometric Backsplashes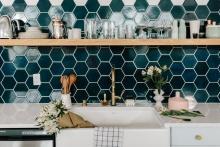 Image credit: Design Sponge 
Much like this stand-out hexagonal design at Minneapolis event space Studio 125, geometric backsplashes and style tiles are popping up everywhere we look. 
Designer Amy Sklar says, "Simple, monochromatic kitchens have had a good long run, so we will be gravitating toward making a little more impact in kitchens." You can do the same in your own space with a unique, geometric backsplash, or maybe even a boldly patterned rug.
4. Sustainable, Handcrafted Pieces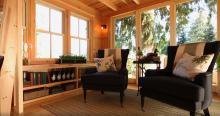 More and more, we see modern homeowners and designers gravitating toward sustainable, handcrafted pieces to fill their homes. A reclaimed wood coffee table, handcrafted counter stool, or vintage bed frame might be just what you need to revitalize your favorite space. 
Bringing these natural, earthy elements into a room helps it feel more grounding and inviting. Fibers like sisal, jute, and wool are perfect for incorporating a natural, sustainable look and feel into your home.
5. Four-Poster Beds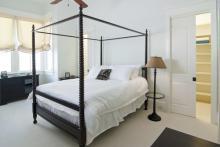 "A four-poster bed [is] the closest thing you can get to a hug from a piece of furniture," says Sklar. And she's not wrong. Four-poster beds create a stunning focal point in any bedroom and provide an added sense of security and comfort … not to mention luxury. In fact, according to Revival Beds, 30% of people would buy a four-poster bed for the added luxury it brings to a room. 
Four-poster beds fit within a variety of styles and bedroom designs. If your bedroom is large, or you have a particularly tall ceiling, consider a four-poster bed to add grandeur to the space.
6. Mixed Metals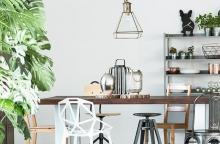 Image Credit: Invaluable 
It used to be said that different metals couldn't mix. Gold was paired with gold, copper with copper, and so on and so forth. But, in 2019, mixed metals are making a statement. Ideally, no more than a mix of two or three different metals should be used in the same space, but finally, you have the freedom to mix brass with gold or nickel, or pair silver and pewter with bronze.
7. Black Is Back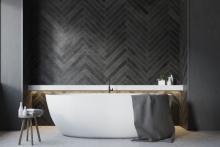 There's something about an all-black room that we just can't get enough of. When it comes to interior design trends in 2019, black is most definitely back. Black interiors evoke an indulgent, high-end experience, according to designer Kesha Franklin. 
To add a touch of indulgence and sophistication to your home, try black cabinetry in your kitchen or bathroom, black walls in your living room, or black bedding on a black, four-poster bed in your bedroom.
The Finishing Touch
These incoming interior design trends are sure to make waves across households everywhere this year. If you're looking to spice up your decor, consider adding florals, jewel tones, four-poster beds, mixed metals, and lots of black. Introduce sustainable, handmade pieces to round out your space with one of our custom, natural fiber area rugs.

Sign Up and Save 10%
No, Thanks