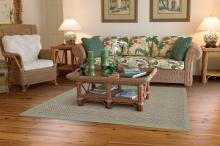 It's hard to imagine that an inexpensive area rug can be durable, sustainable and stylish, but that's the magic of seagrass rugs. Natural-fiber rugs and "bringing nature indoors" have become popular trends in recent years, and seagrass rugs can lend a designer look to your room. Additionally, unlike many synthetic alternatives, Seagrass rugs are easy to maintain and durable. 
Seagrass fiber grows underwater in Asia's wetlands. They're easy to harvest and the reeds grow back quickly, which makes seagrass an eco-friendly solution for home decorating. While making an environmentally conscious decision isn't always the most convenient thing to do, choosing a seagrass rug is both. The fiber is highly stain and water resistant, and this makes seagrass rugs a smart choice for high-traffic areas, porches and entryways. These natural-fiber rugs are also very easy to clean, as all they require is a little regular vacuuming. 
Due to their stain-resistant fibers, seagrass rugs cannot be dyed. That doesn't mean, however, that they aren't incredibly stylish. The interesting weave patterns provide texture, while organic colors like khaki or sage green add natural elegance. Seagrass rugs can complement a variety of interiors and you can easily layer another rug on top for a unique look. 
Consider adding a seagrass rug to your home and enjoy the many benefits it has to offer. Don't forget to add a rug pad for extra comfort!

Sign Up and Save 10%
No, Thanks