3 Tips to Learn How to Decorate With Wall-to-Wall Carpet
Carpet is fantastic. Of course, we're a little biased, but let us make our case. Carpet is safe, comfortable, and available in an endless array of colors, fabrics, and fibers. Your kids and pets can run across carpet day in and day out. And with regular vacuuming and shampooing, your carpet can last quite awhile. But, decorating around wall-to-wall carpet can be challenging. 
Especially if it covers many different rooms. If you're looking to transform your carpeted space, keep reading for our tips and recommendations for making the carpet you select work for your favorite space.
1. Add Dimension With Layered Rugs
Just because your space is already carpeted, doesn't mean you can't add an area rug to the design. Layering rugs adds dimension and sophistication to your room or office. It's also much more cost effective than replacing or tearing up old carpet and dealing with what's underneath. 
When it comes to layering rugs, we have a few recommendations. Use a neutral wall-to-wall carpet as the base, so that it blends well with your chosen color scheme. Our collection of 55 neutral tones is a great place to find the right color for your room. 
Once you've chosen your base carpet, add a smaller complementary piece on top. This piece should be more colorful and unique than the base carpet, helping you subtly draw attention to a specific area in the room. Layer rugs where you want guests to gather, sit, or share a meal.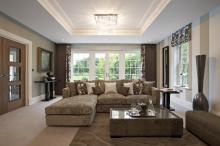 This elegant, sophisticated look pairs a decorative rug with neutral wall-to-wall carpet. Image credit: The Spruce
2. Draw Eyes Upward With Art, Mirrors, and Color
If you appreciate your carpet's functionality and comfort, but need a little help decorating around it, use other decor in your room to draw eyes up and away from your flooring. 
Mirrors, wall art, and large statement pieces help you draw guests' attention to specific focal points in the room, rather than looking at the floor. In addition to loving your stylish, sophisticated room, guests will also enjoy the comfort, insulation, and noise reduction that carpet adds!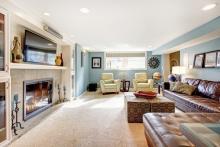 3. Match Your Decor With Your Carpet's Color
One of the simplest ways to ensure your carpet complements your style is to match your decor with your carpet's color. Neutrals are almost always your best option because they allow you to be more creative when choosing complementary decor. 
If you have white carpet, stick to a clean, white color palette. If your carpet is tan or gray, consider mixing dark and light hues to add depth to your space.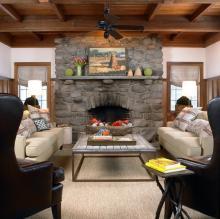 Wooden beams help create a nice contrast with the room's wall-to-wall sun sisal carpet.
Wall-to-Wall Options for All
If you already enjoy the comforts of carpet, but are ready for a refresh, consider layering rugs on top of your carpet, using bright colors and accent pieces to direct eyes away from your floor, and display furniture that's the same color as your carpet in your room. Each of these tips and tricks can help you make the most of your wall-to-wall carpet for years to come. 
Ready to love your carpet? All of our natural fiber area rugs come in a wall-to-wall application. Learn more about our wall-to-wall carpet and how to order it for your home.

Sign Up and Save 10%
No, Thanks