5 Secrets To Keeping Your Sisal Rug Clean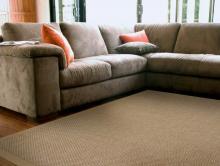 Sisal rugs are durable and resilient in nature, but you can extend the life and appearance of your rug for even longer simply with proper care and cleaning. Learn the best way to clean your sisal rug and keep it looking great for years with these five maintenance secrets. 
1. Vacuum regularly
Frequent vacuuming helps to prevent dirt from piling up and staining your rug. Even if your rug doesn't look dirty, take five minutes each week just to vacuum it and ensure the rug stays clean. If you have a bound sisal rug, be careful not to damage it by vacuuming in the direction of the binding. 
2. Do not clean with water
Natural-fiber rugs like sisal do not handle moisture well. To prevent water from damaging your sisal rug, avoid cleaning methods like steam cleaning or shampooing. 
3. Blot away stains and spills
The best way to clean up spills is to blot the spot with a clean cloth. Be sure not to rub when cleaning the spill, as this can cause stains. 
4. Use Sisal Life Cleaner for tough stains
Not all stains can be blotted away. In this case, use Sisal Life Cleaner with a clean cloth to treat the stain and protect your rug from future spills. After applying the cleaner, dry your rug with a hairdryer. 
5. Prevent stains with Sisal Life Protector
While our Sisal Life Cleaner helps remove stains, the Sisal Life Protector prevents them. Have the protector professionally applied or conveniently apply it yourself with the easy-to-use spray bottle. 

Sign Up and Save 10%
No, Thanks