Add Style To Your Space With A Thick & Chunky Weave Sisal Rug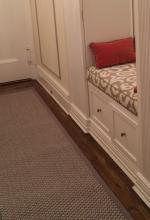 Sisal rugs are well known for their quality and style. With a neutral color, sisal rugs give rooms that "natural" appearance that looks so good in homes. Practical, too, sisal rugs are very durable and well-suited for high-traffic areas. Not all sisal rugs, however, are created equal. Sisal rugs that are made with a larger weave have a thicker, chunkier appearance to add texture and dimension to your space. They also tend to be softer, which is great if you're walking around barefoot. 
Chunky sisal rugs can be used in many different areas of the home. Lay one down in the dining room to frame your table and create a cozier, warmer appearance. In the living room, set a colorful, smaller rug on top of your chunky sisal rug for a designer look. Their textured appearance makes chunky rugs great for bedrooms, and you can even choose a runner rug for the hallway or entryway. 
Sisal rugs offer chunky weave options in various sizes, shapes and colors to ensure you'll find the right fit for your space. Consider adding a rug pad underneath to extend the longevity of your rug, prevent it from slipping, and to add even more comfort for your feet. 

Sign Up and Save 10%
No, Thanks