7 Reasons Why Top Interior Designers Adore Sisal Rugs
If you love sisal rugs, you're not alone! The nation's top interior designers share your excellent taste. We spoke with five who've been featured in media like HGTV, Southern Living, Better Homes and Gardens, and House Beautiful. Here are seven reasons why they encourage their clients to use sisal rugs.
1. Sisal rugs set a strong foundation.
"Sisal rugs lay the perfect foundation for any space," says Kerrie Kelly, Founder and Principal Designer, Design Lab. "Equal parts fashionable and functional, sisal rugs look best when layered beneath a statement-making area rug in a living space to add comfort underfoot with added durability."
2. Sisal rugs won't clash.  
"Sisal rugs are great because they are neutral.  You can add them to any space and they will compliment most styles.  They work with any aesthetic," says Charmean Neithart, Owner and Senior Designer, Charmean Neithart Interiors.
3.  Sisal rugs can handle high traffic.
"I've loved and used sisal rugs for years," points out Nicole White Quinn, CEO and Principal Designer, Nicole White Designs Interiors. "They are the perfect texture to add depth and dimension to a room, but most important, they are low maintenance and therefore the perfect fit for a high traffic room. I use them often in homes with pets and young children because they can pretty much withstand anything."
Charmean agrees.  "(Sisal rugs) are low cost and durable, they can deal with lots of foot traffic from house guests to pets to small children," she adds. "Finally, sisal rugs add texture which is something I love in my designs."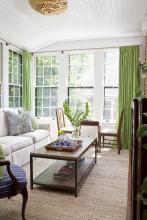 Photo credit: Erika Ward Interiors
4.  Sisal rugs are versatile.
"You simply can't beat the versatility of a sisal rug. They fit into almost any design style—traditional, modern, or contemporary—just as any other material found in nature," says Erika Hollinshead Ward, Principal Designer, Erika Ward Interiors. "And who can find fault with Mother Nature's perfect design?
"More and more of my clients are warming up to the idea of using natural rugs in their living spaces. Half of them had only considered sisal rugs for sunrooms," she points out. "However, introducing leather borders is a welcomed departure from the traditional cotton duck and gives the room setting a designer-quality, polished look."
5.  Sisal's color allows for design flexibility.
"Sisal's natural color variations allows it to play well with both warm and cool color schemes and allows other important design elements such as furniture or art to take center stage even in a formal living room," notes Erika.
6.  Sisal rugs can be customized.
"I can have them custom made to fit a room perfectly and layer other rugs on top of it. Sisal rugs look good with anything," notes Elizabeth Newman, Owner, Elizabeth Newman Interior Design. "I use them in houses with both modern and traditional décor; they're a good staple."
7.  Sisal rugs create comfort
"I don't like a room that looks untouched. I want it to look lived in over time, and layering with sisal rugs does that," says Elizabeth. "You can add anything you love and it will be comfortable and pretty."
Inspired to expand your interior design repertoire with sisal rugs? Give yourself a treat and take a few moments to explore the versatility, beauty and remarkable affordability of sisal rugs at Sisal Rugs Direct.
Or visit our custom rugs page to start creating your new rug!

Sign Up and Save 10%
No, Thanks