Best Carpet for Commercial High-Traffic Areas
That's a lot of foot traffic on your property's floors! And that means your carpet needs to be able to withstand the toughest of conditions—from messy spills to muddy boots and everything in between. Without the most durable commercial carpet for the job, you're at risk of needing to replace your carpet frequently—driving up costs and adding inconvenience. 
What is the best carpet for commercial spaces? Below, we share our best carpets for high-traffic, accident-prone areas.
What to Look for in Carpet for High-Traffic Areas
No matter what type of commercial space you have, rugs are always a nice design choice. You want the carpet to look good, but it also needs to be multipurpose. Because businesses experience way more use than private homes, there are specific characteristics to look for when finding the best carpet for these high-traffic areas.
Easily Cleanable.  High traffic means high use. Especially in places like restaurants, where food and wine are being carried around, spills are inevitable. So are mud and water brought in from the outside world. Having a rug that is easy to clean makes the space look nice and saves you money on replacing it too often.
Durability. You need a carpet that can stand up to the wear and tear from all your customers and employees for years to come. Having a rug that is raggedy or too worn doesn't set a good first impression and, again, will cost you extra money to replace frequently.
Comfort. In many businesses, staff or customers are on their feet as they explore and use the space. Having a rug that is soft will bring extra comfort to the experience. It means less strain for your employees and a better experience for your customers. 
Fits design preferences. Just because a carpet is made for commercial use doesn't mean it has to be ugly. It's worth finding a carpet that fits both the style of your business and the characteristics listed above. You don't have to choose style over sturdiness. You can have it all!
Best Carpet for High-Traffic Areas
Nylon Commercial Carpet
Nylon carpets and area rugs are the most durable of all synthetic fiber area rugs. They're well known for their ability to stay strong during heavy foot traffic. As a result, they're one of the most common and durable rugs that are available today. 
Nylon's fibers are also stain resistant. Part of this is due to the fact that nylon rugs and carpets are solution dyed, with the color diving deep into all of your carpet's fibers instead of just sitting on top.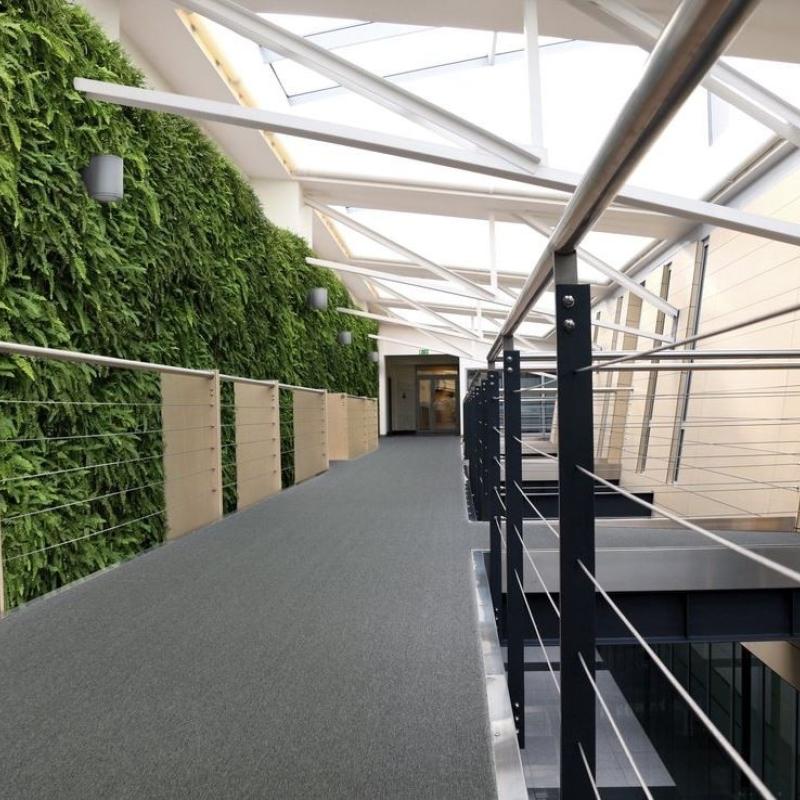 Pictured above: Our Manhattan Nylon commercial carpet in an office space. 
What else makes nylon one of the best carpets for high-traffic areas? Nylon rugs will bring style and beauty into your space and delight your guests. Our own selection of commercial nylon carpets and rugs come in a wide variety of colors and patterns, ensuring you can find the commercial carpet of your dreams in terms of both design and function. 
Another reason why nylon rugs work so well in commercial spaces is they are easy to clean. They respond well to spot cleaning and fabric protectors, which you need for heavy use. With so much traffic on the rug, it's bound to get spills and stains. You need a rug at your business that can still look fresh after the spills are cleaned up. 
For more information on nylon, check out our guide with Everything You Need to Know About Nylon Rugs.
Sisal Commercial Carpet
Sisal carpets and area rugs are made from strong, natural sisal fibers that are tightly woven together. It is due to this strength and tight weave that sisal carpets are great for high-traffic commercial areas. They're able to quickly bounce back from impressions and are difficult to scratch or tear. But most important, commercial-grade sisal carpet is also stain resistant—a must for any commercial flooring option.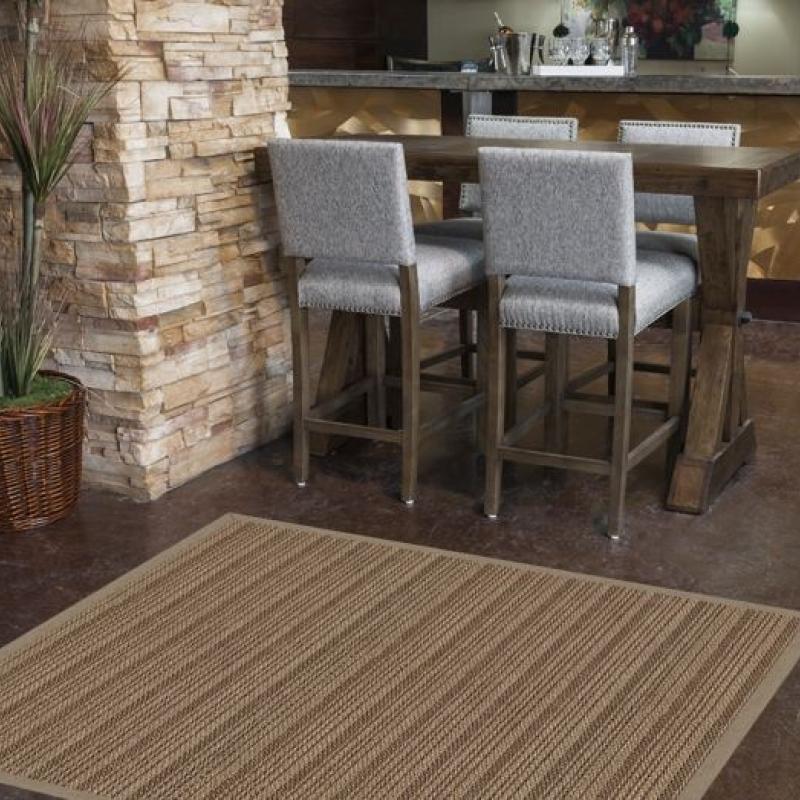 Pictured above: Our Tan Milano Sisal area rug in a bar. 
Durability and stain resistance is only a part of the benefits of sisal rugs and carpet. Installing them in your commercial property will also help you reach your Corporate Social Responsibility (CSR) or Green initiatives. Because this flooring option is sustainably harvested directly from the sisal plant, sisal rugs and carpets are a very friendly option for the environment, something that is increasingly important to today's consumers.
Wool Commercial Carpet
Wool has plenty of natural properties that make it one of the best carpets for high-traffic areas. For one, wool has a natural lanolin coating that helps repel stains and wick away moisture. From a commercial carpet maintenance perspective, this is an amazing benefit that will save you a lot of heavy cleaning in the long run.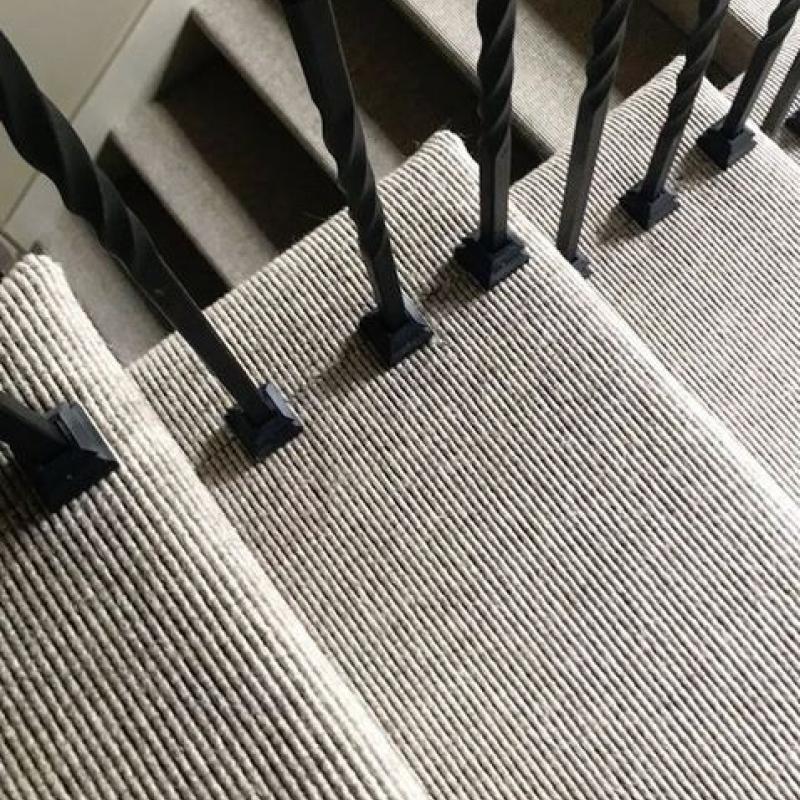 Pictured above: Our Taupe Soho Wool Commercial Carpet in a hotel stairwell.
Wool commercial carpet is also very soft underfoot, providing extra comfort to your commercial property. In fact, our selection of contract-grade wool carpet is made of 70% sheep wool and 30% goat hair to give you and your guests the most comfortable and durable combination of wool. Because these carpets and rugs were designed with high-traffic areas in mind, each of our rugs also comes with an action backing, so they're ready for anything you might throw their way.
Commercial Carpet That Lasts
When you own or manage a commercial property, you will do anything it takes to protect your investment. And flooring plays a vital role. The next time you're in the market for new commercial carpet or area rugs, take a close look at your nylon, sisal, and wool options. Not only will they last longer than most commercial carpets, but they'll look great, too. They are some of the best carpets for high-traffic areas you'll find.
Ready to start shopping? Browse our full selection of commercial carpet and area rugs.

Sign Up and Save 10%
No, Thanks