The 3 Best Types of Hotel Carpets and Area Rugs
First impressions matter — especially in the hospitality industry. Hospitality rugs and carpets are used in hotels, casinos, restaurants, cruise ships, country clubs, and more. Your carpet or rug is one of the first things guests see when they enter your space, so you want to make sure it impresses them. And, you want to make sure it's the right material. The material of the rug or carpet you choose determines the look, feel, lifespan, and care requirements of your rug.
If you are designing a new hospitality space, or are ready to upgrade your current hotel carpet, check out our favorite rugs and carpets that are functional, durable, and beautiful.
1. Polypropylene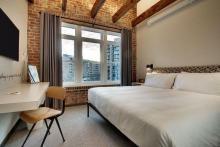 Pictured above: Our Belize Pewter Four Seasons Outdoor Sisal collection as a wall-to-wall installation in a boutique hotel.
Polypropylene rugs, made from synthetic, strong fibers, look and feel amazing while offering superior durability. Polypropylene rugs have a natural-fiber appearance, but unlike most natural fibers, they are able to absorb water — which makes them easier to clean and perfectly suited for bathrooms, basements, and outdoor settings. Plus, because of UV stabilizers woven into custom polypropylene rugs, their color won't fade under harsh UV rays.
Polypropylene rugs are stain-resistant, too. And, in some cases, polypropylene is softer underfoot than other types of natural fiber rugs. They are designed to handle extreme weather, messes, and scratches. Not only does this make your housekeepers happy, but it also makes for a happy bottom line, as there is less carpet to replace due to spills and stains.
2. Stain Resistant Sisal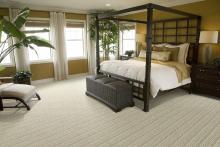 Think the above area rug is perfect for your hospitality decor? Shop our selection of Stain Resistant Milano Sisal Rugs.
If you're looking for a sustainable, environmentally friendly rug option, our stain resistant sisal rugs are the way to go. Harvested from the agave plant, sisal is a stylish, natural fiber that works in any space, from bedrooms to kitchens, to sitting rooms and hallways. Sisal rugs are also easy to clean because their tight weaves capture dirt, which prevents staining. This makes them an excellent choice for hospitality spaces, where maintaining a high level of cleanliness is of utmost concern.
In addition, our special stain resistant sisal fibers have been treated to resist stains before weaving, making them the most stain and water-resistant sisal. They've also been treated with fire retardant, making stain resistant sisal perfect for both residential and commercial use.
Worried about foot traffic? Sisal is still a great option for high-traffic spaces because it can withstand almost anything—including the wheels of a suitcase; damp, muddy shoes; or pawprints, for those of you running pet-friendly establishments. And when it comes to style, sisal rugs come in a variety of colors, patterns, and piles, giving you endless opportunities to customize each rug to perfectly fit your space and wow your guests.
3. 100% Wool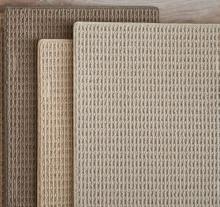 Want to see what the above wool rugs could look like in your space? Request free samples of our 100% Wool Hampshire Area Rugs.
Wool area rugs are known for their durability and for their wide range of colors. They're also naturally mold-resistant, which means they hold up throughout changing seasons and heavy foot traffic entering your space. The lanolin coating found in wool rugs is great for fending off messes, allergens, and other irritants, which keeps you and your guests happier for longer.
Additionally, wool area rugs provide acoustic benefits for your hospitality space. Wool rugs swallow the sound of loud footsteps, and they can absorb up to 30% of their own weight, making them a soft-to-the-touch (or, should we say step?) option for any room.
Choose Hotel Carpet & Area Rugs Guests Will Love
Deciding which type of hospitality area rug to use in your space is no easy feat. You need to consider the look, feel, and function of the rug before making a final decision.
Different materials offer different benefits for your guests. Polypropylene rugs can withstand even the most extreme weather, allowing them to remain outdoors for long periods of time. Stain resistant sisal rugs are natural, sustainable, and eco-friendly rugs that will last a lifetime. And, 100% wool rugs are a beautiful option that helps maintain both visual and auditory aesthetics.
Now that you know about the best materials for hospitality area rugs, the work begins. Which material will you choose to enhance your space? If you're not sure, we can help. Learn more about our hospitality and resort management services.

Sign Up and Save 10%
No, Thanks