Can I Leave My Outdoor Rug Outside All Winter Long?
The temperature is dropping. Time to enjoy the outdoors is dwindling fast, so you've taken the necessary steps to winter-proof your patio or deck. The furniture is protected and safe, but as you review your work, you notice something catch your eye. The corners of your new outdoor rug stare up at you through a light blanket of snow. Turns out you neglected to roll it up and store it away for the winter. Maybe you're wondering if all is lost. Do the layers of ice and snow foretell "rugmaggdeon"—the end of the rug? 
It's really not all that dramatic. Outdoor rugs are designed to be outside all year round and can withstand sun, rain, sleet, and snow. So, forgetting to store your outdoor rug this year doesn't necessarily mean you need to ask Santa for a new one next year. 
Here's how our outdoor rugs are designed to hold up, even against the harshest conditions. 
Why You Can Keep Outdoor Rugs Outside in the Winter
Outdoor Rugs Are Made to Withstand the Wintry Mix
Depending on where you live, the winter weather you experience is distinct. There's one thing that comes with winter everywhere: dampness. Warm Florida sees increasing rainfall. Chilly, ice-laden Minnesota gets rain, sleet, snow, ice, and slush. No matter what, to stand up to winter, an outdoor rug needs to be able to stand up to these elements.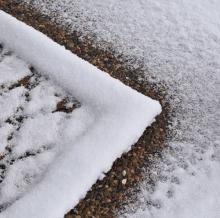 That's why outdoor rugs are commonly made out of materials like polypropylene and polysilk. They're synthetic materials that are specially made to be water-resistant. Snow won't loosen fibers and dampness won't wear away binding on these types of rugs. 
Outdoor Rugs Don't Freeze Up
Not all fibers are made the same. Winter includes a lot of weather that can be harmful to outdoor furniture and decor. The constant snowing, freezing, and thawing can cause certain rug fibers to fray and deteriorate. Outdoor rugs from Sisal Rugs Direct are made from the sort of materials that won't. That's because they're manufactured from natural and synthetic fibers suited to the weather fluctuations that come during winter. 
Outdoor Rugs Resist Mold and Mildew
Fibers that hold onto and absorb moisture are far more likely to develop mold and mildew when exposed to outdoor elements. Wool, for example, is a beautiful and soft fiber for indoor rugs, but is too sensitive to moisture to be used outdoors. Outdoor rugs are specifically made from materials that don't hold onto moisture in this way. This protects the longevity of the rug. If it can easily wick moisture and maintain dryness, a rug's colors remain opaque and its fibers stay strong.
Do Outdoor Rugs Get Moldy?
Outdoor rugs are mold resistant rather than mold proof, meaning they can get moldy, especially when exposed to water for long periods. Fortunately, there are a few things you can do to prevent mold growth on your outdoor rug. 
First, be sure to vacuum regularly. This will help to remove any dirt or debris that could be promoting mold growth. You can also periodically scrub your rug with dish soap and water, then rinse it thoroughly with a garden hose. However, any time it gets wet, make sure it's left in the sun to dry. Wet rugs in shade are sure to develop mold. With a little care and attention, you can enjoy your outdoor rug for years to come - mold free!
Get a Rug That Outlasts Winter 
Outdoor rugs are meant to go beyond style. They can be beautiful, but they're also tough, durable, and moisture-resistant. While Sisal rugs are designed to outlast the winter, you can help extend the life of your rug by storing it when not in use. Still, if you forget and leave it out in the cold, it's not the end of the world—or the rug.

Sign Up and Save 10%
No, Thanks