Enhance Your Southwestern Style Home With A Sisal Rug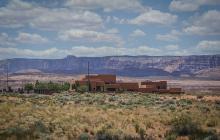 Along with defining characteristics like clay tile roofs and brightly colored fabrics, the Southwestern style provides a distinct look through its use of natural textures and colors. Indoor rugs like sisal are well-known for their natural beauty, which is why they're the perfect accessory to Southwestern-style bedrooms and living rooms. Here are a few ways you can enhance your Southwestern interior with a sisal rug. 
Help your open living room feel complete with a large sisal rug placed in the center of the room. While sisal rugs have texture, they are also soft and can be made even more comfortable with the help of a rug pad. 
Design a more interesting bedroom by layering a sisal rug with a brightly colored one. Vibrant and natural colors are both found in Southwestern style interiors, and this way you can incorporate both into your design. 
Add visual appeal in the hallway by throwing down a runner. Runners are just like regular rugs, but they are longer and less wide to better fit narrow spaces like hallways and entryways. 
With so many different textures and colors, Southwestern design is one of the more interesting styles you can use to decorate your home. Simply complete your setup with a sisal rug and fall in love with a home that never bores. 

Sign Up and Save 10%
No, Thanks