How Kim Vargo of Yellow Brick Home Stepped Up Her Home With a Stair Runner
How Kim Vargo of Yellow Brick Home Stepped Up Her Home With a Stair Runner
Hardwood stairs are a slippery, dangerous slope if you're not careful. See how Yellow Brick Home's Kim and Scott Vargo made their stairs safe once again with the help of a new, beautiful stair runner from Sisal Rugs Direct.
While hardwood stairs are beautiful features, they can be slippery slopes that may lead to a serious fall. Without a textured surface to help your grip going up and down the steps, it's easy to slide or miss a stair. 
This need for safety is ultimately what led Kim and Scott Vargo of Yellow Brick Home to start exploring other options for their stairs like carpet or rug runners. Having recently transformed their entryway into a stunning space featuring their original, 130-year-old staircase, covering up those stairs was not an easy decision to make. 
The end result, however, was one that they fell in love with. After deciding to install a beautiful and comfortable sisal stair runner, their entryway stairs are safe and well protected. Learn more about Kim and Scott's project, why they settled on a stair runner, and how to pick one for your stairs below.
It's Better to Be Safe Than Sorry
You know the scene in "Risky Business" where Tom Cruise slides at least 10 feet on the living room's hardwood floors? 
Imagine making that slide on a hardwood staircase—it wouldn't be pretty. In fact, it might look something like this:
Hardwood is a slippery surface, especially if you love wearing socks around your home to keep your feet warm. And on your staircase, it becomes difficult to maintain a good grip and avoid a slip. For children, pets, or seniors, those hard staircases become even more difficult to battle. So, how can you fix those slippery stairs? A stair runner is a leading option. 
"With a new baby on the way, a stair runner was on our must-do list. As a shoes-off household, the stairs always felt a bit slick, and we were constantly nervous that they were a safety hazard," Kim says.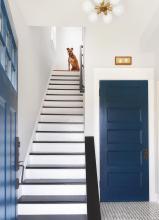 With safety top of mind, Kim and her husband, Scott, started to look for a custom stair runner that wouldn't completely cover their original wood planks but still help prevent dangerous slips. 
"We knew that a runner would be a perfect solution not only for the safety factor, but it would be a practical way to layer in a bit of texture, too!" Kim explains. 
While safety is the main reason you should consider a stair runner for your home, it's also a great way to add an exotic texture to your entryway as Kim suggests. Plus, with a rug pad underneath, it's far better for your feet, back, and legs to climb up and down the steps on a stair runner.
Picking the Perfect Stair Runner
Like with choosing any area rug, finding the right stair runner involved a lot of considerations. 
"We kept in mind a handful of key factors: durability, cleaning ease, comfort, and minimal pattern," Kim remembers. 
When looking for your own stair runner, Kim suggests looking for a tight weave and thin pile area rug as to avoid stretched or sagging fibers. If you have your heart set on a pattern, Kim also recommends going with a minimal pattern as wear and tear won't be as easy to spot.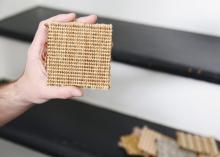 "A stairway, while not a 'room' in a home, likely receives more traffic than any other space. Being able to withstand everyday wear and tear is important to bear in mind, so that your hard work doesn't go to waste," she advises. 
And speaking of that additional traffic, it's also a good idea to go with a polypropylene stair runner or another durable option that's also easy to clean. 
To tick all of those boxes, Kim and Scott chose our polypropylene, sisal look-alike runners. And to ensure they had a minimal pattern that wouldn't show wear as easily, they went with our Four Seasons Collection in the Belize Dune color with a cotton Granola border.
Fewer Slips, Trips, and Falls
After installing their new stair runner (they did it all by themselves, by the way! You can read all about it in their guide on how to install a stair runner), Kim and Scott immediately noticed a difference in the safety of their stairs. 
"We've noticed a huge difference in the way our dogs run up and down the stairs; their paw pads slip less, and overall, we feel that our whole family is so much safer, all because of a runner!" Kim says.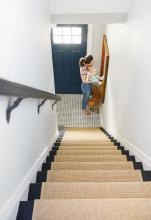 There are other benefits to their new stair runner that Kim and Scott are enjoying, too. 
"We are over the moon!" Kim continues. "We chose a more traditional color with a matching cotton border, but we were sure to select the runner material from the outdoor collection. Because the runner is a faux sisal, our pets aren't attracted to the material (as they might be with a natural sisal)."
With their project complete, Kim and Scott can rest easy knowing that their adorable new addition, houseguests, and pets will be a little more safe around the stairs.
Take a Step in the Right Direction
If you have a set of hardwood stairs in your home, a stair runner is the perfect solution to fixing those slippery steps. A stair runner is also a great choice if you're looking to add a different texture or comfort to the area. 
To make sure you find the right stair runner for your home, make sure you take Kim's suggestions of durability, care, comfort, and cleaning. Get started on your hunt for a great stair runner by shopping our selection of custom rug runners.

Sign Up and Save 10%
No, Thanks