Interior Designers Reveal How Custom Rugs will take Your Home from So-So to Show-Stopping
If you think custom rugs are only for people who live in multimillion-dollar mansions, think again. In just a few minutes, you can design and order a custom natural fiber rug that could very well cost less than the tax of a custom rug from an interior design center. But don't just take our word for it, consider what top interior designers and home decor experts have to say. Custom Rugs Perfectly Fill Hard-to-Fit Spaces
"For homeowners who want a unique look or need a unique size, it's best to go with a custom rug instead of buying 'off the rack,'" advises Kerrie Kelly, Founder and Principal Designer, Design Lab . "A custom rug is one of a kind and can make a space really stand out, while a custom-sized rug is great for fitting those funny corners or larger, expansive spaces."
Lifestyle Blogger Kelly Elko proves Kerrie's point with her recent purchase of a custom rug from Sisal Rugs Direct. The awkward proportions of her long, narrow living room made it challenging to place furniture. Furthermore, an off-the-rack rug made the room feel smaller. "This beast of a room needed a custom rug and I wanted something neutral that could withstand teens, spills and dog slobber while still looking amazing," explains Kelly in her blog. Her solution: a custom rug from Sisal Rugs Direct. "I couldn't be happier with my choice!" she raves. "The seagrass rug with black cord weaved through and the faux leather banding adds the perfect finishing touch."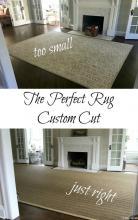 Credit: Kelly Elko
Custom Rugs Celebrate Your Style
"Creating anything custom is definitely both a commitment and an investment," says Stephanie Coffaro, Interior Architect. "I think a good time to invest in customized rugs is when you've finally established your personal style and already have some of your larger, more permanent pieces like sofas, chairs, and tables. You'll also want to make sure that you know exactly where the rug will go as the size of the rug is dependent on the space that it will live in, especially if it's an unorthodox size."
Custom Rugs Create Conversation
"The right-size rug is key to anchoring a conversation area or a dining room table - and sometimes standard sizes just fall short," explains Gregory Nelmes, owner, Gregory Nelmes Interior Design. "Draw out your furniture groupings and place tracing paper of different sized rug to determine the right size you need.  Custom rugs allow you to select colors and textures specific to your home."
Custom Rugs Make the Most of Your Home
"If possible, all rugs should be custom.  Your rooms, hallways, doorways and other spaces are unique to your home, and it's nice to have a rug that fits them exactly," says Susan Jones, "For example, I am just furnishing my new townhome. In the living room, I needed a rug that would define the seating area, but leave enough space between the coffee table and fireplace. Also, on the two ends, I wanted the chairs to fit on top of the rug, but not go too far into the traffic areas.
"In my hallway, I needed a rug inside of the door and then a runner," she continues. "Both were customized to not cover any vents, allow enough space for arriving guests to stand on, and the runner to end before the living room. Custom rugs beautifully united every element of my home."
Now, look around your home. Think about where a custom rug would liven up your interior design. Then have a little fun and play with our create-a-rug tool.  You'll be amazed by how easily and beautifully your perfect custom rug can come together.  
Save

Sign Up and Save 10%
No, Thanks