Cooking Up the Top 5 Area Rugs for Any Kitchen
Cooking Up the Top 5 Area Rugs for Any Kitchen
Kitchens are some of the most-used spaces in homes. But many homeowners struggle to find the right area rug for their kitchens due to size restrictions, increased foot traffic, and the potential for spills. To help you find the perfect rug, here are our top kitchen area rugs.
Kitchens are some of the most-used spaces in homes as the center for entertaining. From hosting large dinner parties to snacking at the kitchen island, there aren't many days where your kitchen goes unused. 
Considering how much time we spend in our kitchens, it's important to choose an area rug that protects your home's floors, adds beautiful style, and provides comfort while cooking, cleaning, or baking. But many homeowners struggle to find the right rug for their kitchens due to size restrictions, increased foot traffic, and the potential for spills. 
If you're one of those homeowners grasping at straws to find the right kitchen rug, we can help. Below, we share the five best kitchen area rugs, including both natural fiber and synthetic options.
1. Durable Polypropylene Rugs
Kitchens can get messy. Stray flour, olive oil splatters, spilled red wine, there are countless messes that can occur in a kitchen. And that means there are countless messes that can get on your floors and floor coverings. 
A polypropylene, sisal look-alike area rug is perfect for kitchens where you want to make sure your floors are well-guarded against potential stains. Durable polypropylene rugs are especially great options for in front of the kitchen sink as they can get completely wet without causing damage to the rug's integrity. Plus, if a spill does happen on a polypropylene rug, you can just wash away the mess with a wet towel.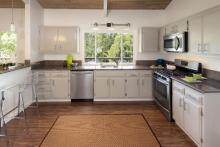 Want the look pictured above in your own kitchen? Shop our All Weather Polypropylene Rugs and select the Fuji Mahogany rug color with a Chocolate Narrow Cotton binding.
2. Seagrass Area Rugs
Remember those spills we mentioned? Well, some of them can leave stains on floors and area rugs if you're not careful. And if you don't want a discoloration drawing attention from your houseguests, you'll want to lay down an area rug that can withstand spills and have minimal chance of staining. 
Seagrass area rugs are a natural fiber kitchen rug that is naturally stain resistant. As a fiber that grows and is harvested underwater, seagrass is highly stain and water resistant. With a seagrass rug in your kitchen, there is minimal chance that a spill will turn into a permanent stain. In addition, seagrass is a unique, exotic texture, giving your kitchen a beautiful and stylish look.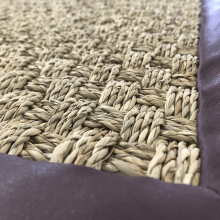 3. Thin Pile Sisal
Seagrass and polypropylene aren't the only kitchen area rug options that are professionals at handling dirt, messes, spills, and stains. A sisal area rug with a thin pile is also a great option for any kitchen. 
A thin pile sisal area rug is extremely easy to clean as it effectively traps dirt and other messes in its weaves. To get rid of crumbs and other stray food, all you need to do is shake out the rug to remove the mess. In addition, a thin pile sisal rug also won't catch on chairs, tools, table legs, or other kitchen furniture as its fibers are tightly woven, allowing your rug to last longer. 
What kinds of sisal area rugs have thin piles? Check out our Boucle Sisal (pictured below), Brasilia Sisal, or Milano Sisal area rugs.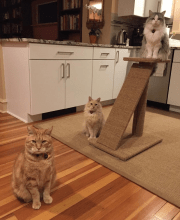 4. Custom Shaped Area Rugs
Because your kitchen may have an island, peninsula, or breakfast bar, there are some odd shapes that your floor can take. To find an area rug that can fit that space can be hard as you're not looking for a standard, rectangular rug. What you need is something custom. 
Thankfully, you can create a custom shaped area rug made to fit your kitchen's exact dimensions. It doesn't matter if you're designing around a floor register, kitchen island, or kitchen table, you can build a kitchen area rug that fits your exact needs.
5. Rug Runners
Considering the many shapes and sizes that kitchens can take, rug runners are also great options for the kitchen—especially if you have a galley kitchen or narrow walkways in between countertops. When picking the material for your kitchen's runner rug, just make sure to use take the above fibers into consideration and go with a thin pile sisal, seagrass, or polypropylene option as those are the most durable and easy to clean.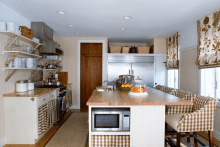 Where else is a great place for a rug runner? View our six top places to put a rug runner in your home.
Fire Up Your Kitchen's Style
Kitchen area rugs can be hard to decide on as they're bound to take a beating. But between polypropylene, seagrass, and thin pile sisal, you can't go wrong as they are all durable, easy to clean, comfortable, and beautifully exotic. Plus, you can get them in custom shapes and sizes, or get them made into a runner so they can perfectly fit your home's kitchen. 
With your kitchen designed, how is your dining room looking? Spruce up the rest of your entertaining space with our dining room style guide.

Sign Up and Save 10%
No, Thanks