7 Reasons to Use Round Rugs
It's no secret that rugs can be a very practical design choice. From protecting your floor to reducing noise, adding a rug to your room is smart as well as stylish. But there's a lot more a rug can do for your room—provided that rug is round. Let's take a look at when to use a round rug. 
1. When You Want to Soften the Feel of a Room
Walls, doors, stairs: what do they all have in common? They're all made up of rectangles. All those corners and edges can evoke a hard, sharp feeling. And if rectangles dominate the other functional and decorative elements of your room—couches, chairs, artwork, windows—it can start to feel like there's an aggressive rectangle around every corner. Bringing in a round rug softens the room and breaks up the rectangular monotony.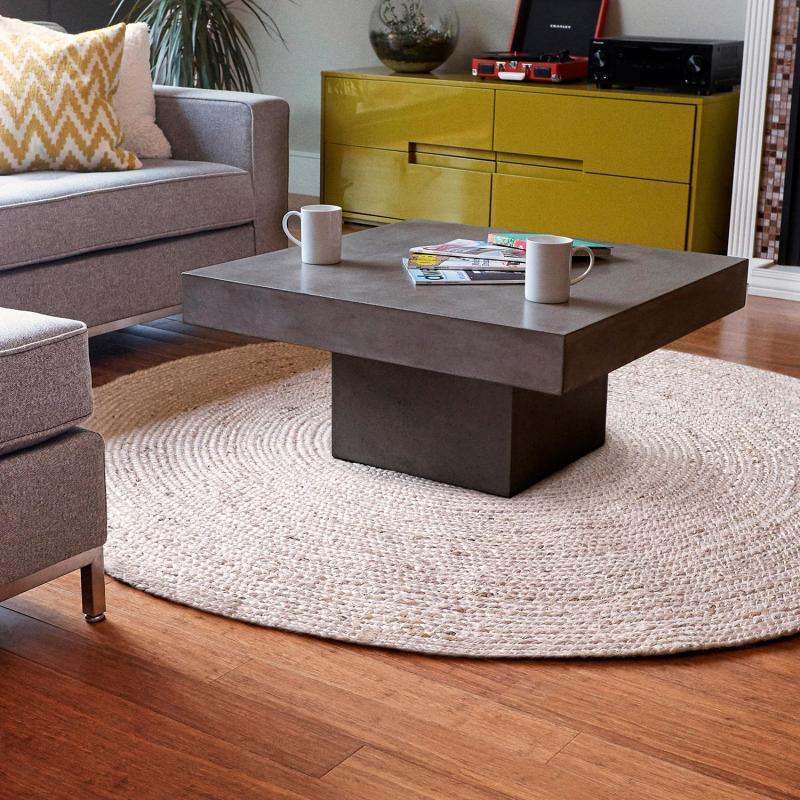 This room has at least six hard-edged features. Our round Jute Rug in Ivory placed under this coffee table softens the severity of all those edges. 
2. In a Room with Other Circular Features
Of course, not all decor is rectangular. When you have a circular feature in your room, such as a lamp or a clock, placing a round rug near that feature will draw attention to it and even begin to provide a sense of design cohesion. 
But don't limit yourself to calling out design items that are perfectly round. Even an octagonal coffee table or a traditional rectangular frame around a picture that is dominated by circles will be accentuated and enhanced by the addition of a well-placed round rug. 
The lamp, artwork, candles, logs, and large glass containers in this room are reflected by the round rug. 
3. To Anchor an Area in an Open Concept Room
In an open concept house or an especially large living room, defining spaces is essential. The placement of furniture goes a long way to helping define areas, but without an anchor, there is a risk that the furniture placement will look haphazard. 
To define smaller spaces in a large room, place a round rug within the center of the vignette and coordinate the color and material with the furniture and other decorative elements. The internal boundary created by the rug indicates the intentionality of the space and takes it from a few random chairs and a side table to a defined, cozy conversation area. 
If you want to define a larger space, such as a sitting area, place the chairs on either side of the round rug and place a small table on the rug between them. 
The round rug at the center of this seating area provides a defined space around which the furniture is placed, creating a purposeful look. 
4. To Make a Room Feel Bigger
Round rugs are also a simple and effective way to make a small room feel bigger. One way to style this approach is to have the legs of some of your furniture sit on the edge of a large round rug, while placing other furniture outside the circle. This incongruity of furniture placement combined with the varying distance between the edge of the round rug and the wall will create the illusion of a larger space.  
The edge of this round rug curves away from the wall, giving the illusion of more space.  
5. When Rug Layering 
An unexpected and unobtrusive way to add decorative variety to any space is rug layering. Layering two round rugs concentrically is an easy and effective way to bring in multiple colors and textures without taking up too much real estate. 
If you want to add an extra dimension of interest to this decorative trend, lay a round rug over a rectangular rug. To make an even bigger statement, align the layers asymmetrically instead of stacking them neatly one on top of the other. Just be sure to avoid making a tripping hazard. For more style and safety tips for rug layering, check out our blog post A Modern Guide to Layering Rugs. 
Layer a minimalist round rug over a large rectangular rug to create a modern look. 
6. In a Child's Room
A traditional rectangular rug, with its straight edges, can feel very formal. It's no wonder, then, that round rugs are a bit of a tradition for decorating a child's room. A round rug can make a natural play area that creates a border where nothing is ever in a far-off corner out of arm's reach, a race track for toy cars, or simply a path for them to run circles around until they're dizzy. 
The whimsy of this child's room is enhanced by the addition of a playful round rug. 
7. Under a Small Dining Room Table
Placing a rug under a dining room table is a good idea for lots of reasons. The top two: it's an unobtrusive way to add to the decor of the dining room and it is an effective way to protect the floor from being scratched by the chairs. If your table is small enough that one chair fits on each side, a round rug is a more practical option than a rectangular one, because every person will be able to pull their chair all the way out without the chair going over the edge of the rug. And if your dining room is one area within a bigger room, a round rug's lack of corners will keep it from encroaching on other sections of the space. 
Our round Jute Rug in Gray is providing a stylish accent to this dining room while also protecting the wood floors from being scratched by scooting chairs. 
Don't Wait Around to Get a Round Rug
Round rugs are a great way to boost the style and coziness of any room of your house without cutting corners. And we make it easy to find the round rug of your dreams! Nearly all of our custom rugs are available in the round. Round out your interior design with one of our wide selection of custom rugs.

Sign Up and Save 10%
No, Thanks