7 Tips to Spice Up Your Home's Interior Design This Spring
Does your home feel a little stale after a long, cold winter? You're not alone. Spring cleaning can inspire you to declutter, reorganize, and redecorate your home. From '70s-style decor to patterned fabrics and sophisticated shelving, breathe new life into your favorite spaces this season by incorporating these spring 2019 interior design trends. 
Tune in to the upcoming trends below and take your home's spring tune-up to the next level.
1. The '70s Are Back
Fashion is cyclical, and so is interior design. The best design trends from the past always make their way back to center stage. For example, exposed wooden beams adorned ceilings in the '70s, but they barely lasted into the '80s and '90s. Today, smooth ceilings with exposed wooden beams are back — and '70s designers are shaking their heads in disbelief. 
The classic '70s style is simple and pared back, paying homage to the old adage, "less is more." Decorate with bold, geometric prints, an earthy color palette, mid-century modern furniture, and natural textures to give your home a modern-meets-groovy look and feel.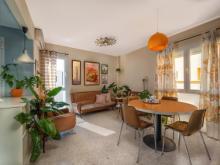 This living room is modern-meets-retro — and incorporates almost all of the trends on this list!
2. Recycled Materials
Sustainability is always in style, and this spring is no exception. This eco-friendly design trend brings the great outdoors in, pairing earthy elements like fresh plants and all-natural sisal with textured elements like wicker and wood, as well as billowy textures like linen. 
Here at Sisal Rugs Direct, we celebrate sustainability and texture with our all-natural fiber area rugs, which come in a variety of fibers like sisal, jute, hemp, seagrass, and wool.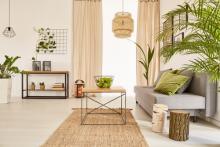 Recycled materials like tree stumps, all-natural sisal, and linen curtains pull this space together.
3. Earthy Textures
Much like recycled goods, earthy textures are key this year. Wood, sisal, and jute add character to the composition of your room, and help you welcome the change of season by celebrating nature in your home. This look is about pairing elements like tactile throws with comfy cushions, or smooth, hardwood floors with a chunky sisal rug to create a welcoming home environment.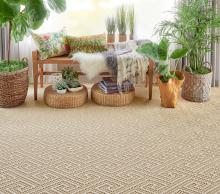 This dreamy, all-natural meditation space is comfy and cozy, thanks to our patterned Key Natural rug. 
#4 - Mix & Match Patterns
One pattern is fun and visually interesting. Two or more patterns take things one step further. This spring, don't shy away from mixing and matching multiple patterns. The key to combining patterns without causing clash is to stay within the same color family. 
Keep things monochromatic to stay on-trend. Or, incorporate a patterned accent wall into your space, and add patterned pillows, blankets, and wall art to complement the bold design.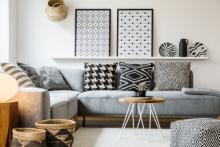 Don't be afraid of patterns! Our patterned wool sisal rugs add a little personality to your home.
#5 - Mustard Yellow
During spring and summer months, you've got sunshine on your mind. And the sun's bold, yellow hue is exactly the color you want to bring into your home this season. Mustard yellow is usually reserved for fall, but this spring, it's hitting homes in a big way. 
If you're a yellow-lover, try brightening up your room with a mustard yellow wall. If you prefer more muted tones, try mustard yellow accents, like throw-pillows or lamps. Either way, find a way to make use of mustard to keep your home on-trend and in-style all season long.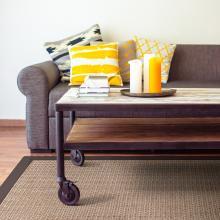 Love color? Our Cabo wool sisal comes in three tones: sandstone, limestone, and cement.
#6 - Ceramics
From vases to lamp shades, ceramics are taking more shapes and forms throughout modern homes. You can purchase ceramic pieces from home decor stores, or take up a new hobby and make your own (Pinterest has some excellent DIY tutorials that'll teach you how). 
Fill embossed jugs and vases with freshly picked spring flowers, and decorate your home with neutral colors, blush pinks, and jet black — the season's trendiest colors.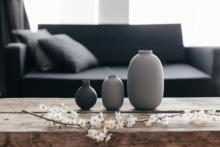 Do you decorate with ceramics? We love the idea of pairing smooth ceramic surfaces with tougher textures like sisal and jute.
#7 - Open Shelving
Instead of tucking your dishes, containers, and belongings away behind closed doors, show off your favorite items with open shelving! This design trend makes kitchens, bathrooms, and other rooms with cabinets appear bigger. Not to mention, you won't forget where you put something. 
Open shelving is a cost-effective alternative to cabinetry. If you already have cabinets in place, don't fret! All it takes to incorporate open shelving into your space is to remove the doors and hinges from your cabinet, sand them down, and repaint them. Or, you can replace them altogether with shelving found at your local furniture, home decor, or hardware store.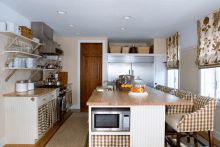 Open shelving is a great kitchen idea — so is adding a sun sisal runner rug underfoot.
Spring Into Style With A Premium Sisal Rug
If you missed any of these trends the first time they made their debut in interior design, you're in luck — they're back and better than ever before. 
The '70s have inspired simple, pared back looks, while sustainability weighs heavily on homeowners' minds, encouraging them to recycle goods and decorate with earthy elements. Mustard yellow makes a bold statement, and ceramics keep things interesting in your multi-patterned home. Our natural fiber area rugs meet a number of the trends mentioned above. 
Shop our selection of area rugs to find the perfect rug for your home this spring.

Sign Up and Save 10%
No, Thanks