Can Sisal Rugs Be Used Outdoors?
Can Sisal Rugs Be Used Outdoors?
Whether you have a patio, deck, or balcony, integrating rugs into your outdoor design is a way you can elevate the space. There are many types of rugs that work for outside use. If you're reading this, you're probably already a sisal rug lover and want to know: Can sisal rugs be used outdoors? Here's what you need to know about using this style of rug outside the home.
Can Sisal Rugs be Used Outdoors?
While you may be a sisal rug fanatic, we're sorry to share that this natural fiber rug does have some limitations. Unfortunately, sisal rugs should not be used outdoors. We know this is not an ideal answer to the question of can sisal rugs be used outdoors, but let us take a second to explain why.
Sun Damage 
Sisal is an incredibly durable natural fiber for rugs. However, when placed outside in the sun for too long, it is prone to sun damage. The color and quality of the rug will fade over time.
Mold and Mildew 
If your rug is going to be outside it needs to be able to stand up to moisture. There are steps you can take to combat mold and mildew, but it's a lot of extra work for sisal rugs, which aren't resistant.
Alternative to Sisal for Outdoor Rugs 
There are many indoor spaces and style choices that work for a sisal rug, but outdoors isn't one of them. But don't worry. There is an alternative that works outdoors and still gives you the look and feel of a sisal rug: polypropylene rugs.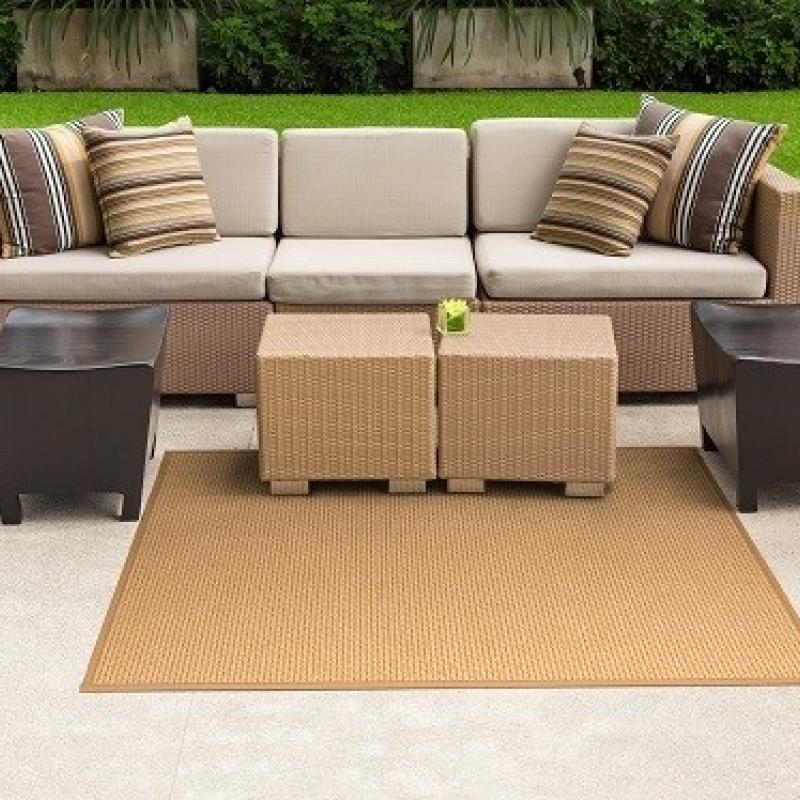 All-Weather Indoor/Outdoor Polypropylene Rug in Costa Rica Sisal.
Polypropylene rugs are made from non-toxic synthetic fibers that can stand up to the sun, temperature, and moisture changes that happen outdoors. Available in a variety of colors and patterns, polypropylene rugs look like sisal but can stand up to outside elements much better.
Indoors and Outdoors
Can sisal rugs be used outdoors? We now all know the answer is no, but it still has a place inside your home. No matter if you are designing for inside or outside, you can check out our full sisal rug collection and all our polypropylene rugs in our store.

Sign Up and Save 10%
No, Thanks