Everything You Need to Know About Nylon Rugs
If you're in the market for a new rug for your home, office, or hospitality space, you may feel a little overwhelmed with options. From high-traffic areas like entryways, restaurant dining rooms, and hotel lobbies, to quieter, less trafficked spaces like a home office or guest bedroom, every room you decorate serves a unique purpose. You want to choose a rug that seamlessly integrates within your space, adding function and finesse, without costing a fortune.
Lucky for you, there's one material that works well across nearly every space. Nylon is durable, recyclable, and stain-resistant, which makes it a great contender when you're trying to decide which rug to buy for your home, hotel, restaurant, bar, office … the list goes on!
But before you buy, there are some things you need to know about nylon. Read on for answers to some of your commonly asked questions about nylon rugs.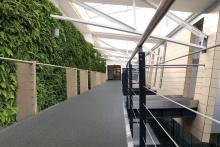 Nylon is a great choice for carpeting your commercial office. Try a Manhattan Nylon rug in Flint!
Are Nylon Rugs Soft?
Yes! 
Not only are nylon rugs highly durable—which makes them great for areas with heavy foot-traffic—they're also incredibly soft! (So soft that we can almost guarantee your pet will love your new nylon rug.) Nylon's fibers are extremely resilient, which helps them bounce back from wear and tear, maintain their shape, and stay soft underfoot well into the future.
Are Nylon Rugs Easy to Clean?
Yes! 
Nylon rugs are as easy to clean as they are soft, which is to say … they're pretty easy to clean! Although nylon is not machine-washable, nylon rugs are simple to spot-clean when the need arises. Otherwise, using quality fabric protectors and vacuuming your carpet regularly should prevent any major stains or damage from settling in.
Nylon's synthetic fibers make these rugs resistant to stains, so you can rest assured that wine night, a kid's birthday party, or the new office puppy running around won't turn your dream design into a dreadful disaster. Check out our how to clean nylon rugs page.
Are Nylon Rugs Durable?
Yes! 
Nylon is the most common carpet available on the market today, largely because of its durability. With hundreds of visitors piling in and out of their spaces each day, restaurant, hotel, and other commercial property owners love nylon because it can stand up to heavy foot traffic.
In addition to resisting stains, abrasion, and hundreds of footsteps, because nylon carpet is solution-dyed, color from spills and stains soaks into all of your carpet's fibers, rather than sitting on top. This helps preserve the shape, color, texture, and vibrance of your nylon rug.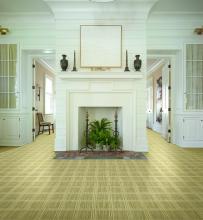 Take your foyer from simple to show-stopping with a patterned Hudson Nylon rug in Sandstone.
Should I Get a Nylon Rug?
Once again, the answer is yes! 
We love nylon rugs, because they are a high-quality, stain-resistant, and budget-friendly option for homeowners, restaurant managers, and hotel concierges alike. Bonus: Nylon is sustainable and recyclable, too. You can feel good knowing that once your nylon rug has run its course (no pun intended), it won't end up in a landfill.
Start decorating with durable, stain-resistant, soft-to-the-touch nylon by creating a custom rug for your space today. Shop our selection of nylon area rugs and carpet to get started.

Sign Up and Save 10%
No, Thanks