Rustic and Well Worn: Our Top 9 Farmhouse Area Rug Ideas
Rustic and Well Worn: Our Top 9 Farmhouse Area Rug Ideas
The farmhouse interior design aesthetic is an all-time classic. This light, weatherworn look embraces a lived-in feel that is fun to style and easy to maintain. But the key to any interior design project is picking the perfect area rug to round out the style.
Farmhouse has three main design themes: natural fibers, neutral colors, and weathered, rough textures. In this blog post, we have collected some farmhouse area rug ideas that will help you embrace each of these themes so you can make your farmhouse dreams a reality. 
Rustic, natural fibers
A rustic look using natural fibers is the foundation of creating a farmhouse atmosphere. After all, this look borrows heavily from rural design elements with natural materials. Natural fibers like Sisal and Jute fit perfectly into this style. 
Trinidad Sisal Rug 
A chunky weave, like the one that makes up this Trinidad Sisal Rug, is a classic rustic look. The natural sisal fibers of this area rug give the appearance of a handmade piece—without the price tag. Sisal is also remarkably durable, so it will last long enough for the farmhouse style to go out of fashion and come back again. 
Suri Jute Blend Rug
A hallmark of the rustic look is an uneven texture. This Suri Jute Blend Rug may not be fully uneven, but its alternating weaves are still able to convey the rough feel of the countryside. But that rough appearance doesn't show up in the feel of this rug, because jute is soft–in fact it's one of the softest natural fibers available. 
Oval Jute Rug in Ivory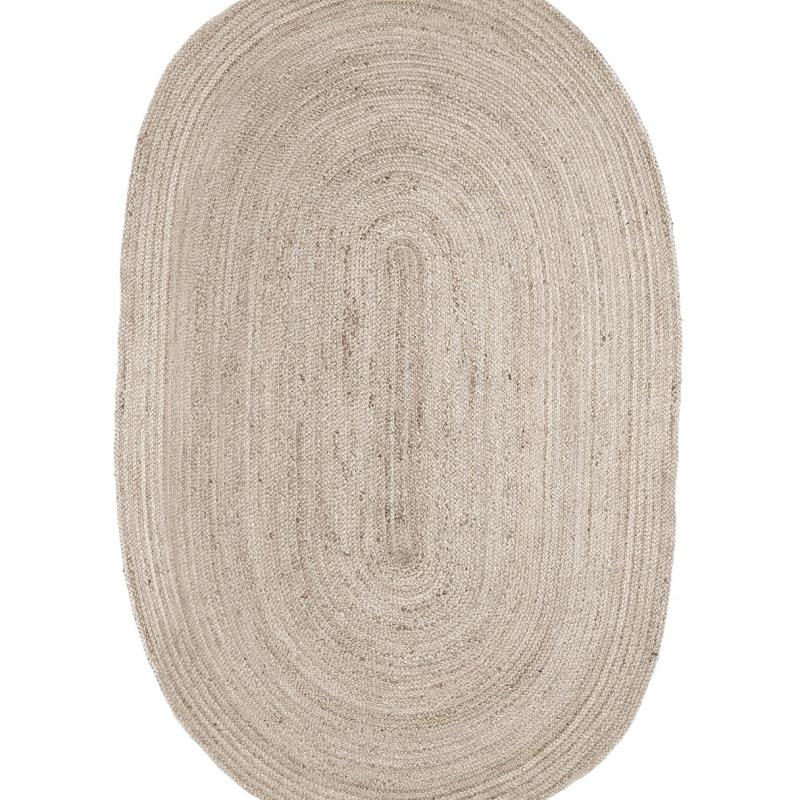 This Oval Jute Rug in Ivory is classic farmhouse style. The naturally uneven nature of the oval is a result of the fact that no two natural fiber rugs are the same, ensuring that your oval jute rug will be unique to your farmhouse interior. And because each of these rugs is custom made, you can get this rug in any size—or any shape—that your farmhouse styled room calls for. 
Neutral colors
Neutrals like white, beige, and tan are the primary color palette of the farmhouse aesthetic. These colors enhance any room's brightness, taking advantage of natural light while looking great doing so. White is a great choice for the walls, but we recommend sticking with lighter earthtones when it comes to neutral color area rugs. 
Amara Wool Rug
Farmhouse aesthetics are light, bright, and airy, and this Amara Wool Rug in Beach has all those qualities in abundance. One of the lightest area rugs in our collection, this one seems almost tailormade to be used in a farmhouse interior design project. The beige lines crossing the rug provide a sparse but effective dash of visual interest while keeping the overall appearance simple and neutral. 
Cambridge Wool Rug
A neutral color with a neutral style, the simplicity of this Cambridge Wool rug in Khaki will underscore the farmhouse aesthetic without making a big statement. And because it's made of wool, it will add a touch of softness that a traditional farmhouse interior might not provide but that modern feet expect, nonetheless. 
Bali Sisal Blend Rug Collection
This Bali Sisal Blend rug in Natural blends lighter and darker neutrals to create a texture that can add depth to your farmhouse style. The weave of this area rug is tighter than on other sisal rugs, combining natural sisal and synthetic polysilk, giving it a slightly more modern feel and construction, but its farmhouse roots are undeniable. 
Weathered, well-worn textures
In an actual farmhouse, there isn't much time for keeping up with interior design. That means once a wall is painted, whatever weathering happens to it becomes part of the style. This weathered look has a rough, easy charm that is easy to carry into your choice of area rug. 
Boucle Sisal Rug 
The lightly mottled coloring on this Boucle Sisal area rug in Gunflint makes it an ideal addition to any farmhouse inspired home. The shades of brown, gold, and beige mix together to create a natural, weathered look. But the look isn't artificial, sisal is a natural fiber that's durable, sustainable, and affordable.  
Hemp Grass Rug 
Very few materials make as classic and timeless an area rug as hemp grass. The rugged weave of this rug is an ideal choice for adding well-worn texture to your farmhouse styled room. And it's no surprise, because hemp grass is one of the oldest natural fibers used to make rugs, so it will be right at home in your farmhouse interior design. 
Seagrass Rug in Seabasket 
This Seagrass Rug in Seabasket, one of our chunkiest weaves, resembles a well-worn rope. The deep texture of this rug certainly appears rugged, but the natural softness of seagrass comes through even with such a thick weave but the thick basketweave has a softer underfoot feel. And as the rug is used and accumulates wear over time, the weathered look will only increase, making it an ideal choice for any farmhouse styled room. 
The farmhouse interior design style has been popular for years and shows no sign of slowing down. It's not hard to see why, considering the ample variety of styles within its seemingly simple parameters. Upgrade your farmhouse style with one of the rugs from this list, or find something that's more your style among our wide selection of custom area rugs. 

Sign Up and Save 10%
No, Thanks