How to Design Your Rental Apartment with Alex Kalita
In most cities, it's common for older buildings to have special requirements for apartment renters. From noise reduction to pet restrictions, lease agreements can restrict what renters can or cannot do to make their apartment feel more like a home.
One such apartment renter is Alex Kalita, interior designer and co-founder of Common Bond Design. We sat down recently with Alex to find out how she tackled the toughest stipulation of her Brooklyn apartment lease: covering up the hardwood floor.
An Ironclad Lease
Alex's railroad apartment has beautiful, wide plank hardwood floors from the early 20th or even late 19th century. The honey pine wood gave a warm, inviting feel to the long, narrow apartment. But when anyone set foot on those planks, they shouted back in creaks and groans. Thus inspiring the special caveat to her lease agreement.
"It broke my heart to have to cover them, but those beautiful floors were extremely creaky," Alex remembered. "My neighbors would have thought I was bowling."
Required by her lease to cover at least 80-90% of her hardwood floors and spare the ears of her neighbors, Alex needed to find a floor covering that would fit nearly her whole apartment. But with such a long and narrow railroad apartment, that proved to be a little difficult.
Balancing Size, Durability, and Style
Alex started her search by looking at a variety of rugs. Living in such a narrow and long space, she needed something that would fit well and not be mismatched with the size of the apartment. What's more is that it needed to have a large surface area to cover that 80-90% of her floors. A simple 6x9 rug wasn't going to cut it.
The rug also needed to be indestructible, handling messes from both puppies and parties. Thinking of her part-time house guest, an adorable Puggle she shares custody of, the rug had to endure paw scratches and prints. Not to mention the fact that the rug would be exposed to potential food stains in the kitchen and dining areas.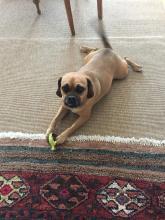 Pictured above: Hektor, Alex's puggle, happily destroying a tennis ball on Alex's new sisal rug.
Last but certainly not least, with her own interior design business, Alex needed a solution that would complement, not clash, with the little bit of hardwood she could show off.
With all of these considerations in mind, Alex set her sights on a custom sisal rug.
The Perfect Fit
Once placed in her apartment, Alex's custom Four Seasons sisal rug was the perfect solution. At 7'6"x17" the sisal rug has held up well in her home, surviving bolognese accidents and furry friends. Plus, because sisal doesn't demand a lot of attention, the rug helps highlight and draw wandering eyes to the wood floors and is the perfect complement to her décor.  She ended up choosing the color Belize Dune with matching Serging border.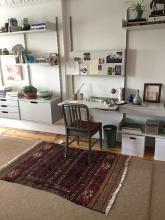 Pictured above: Alex's new sisal rug pairs well with the rest of her apartment.
As Alex said, "I was worried a coastal sisal rug might clash with my more engineered and architectural furniture, but it ended up providing a fun contrast. It also helps my home feel larger. With such narrow and long rooms, the sisal rug helps the space feel more like a home and less like a hallway."
Alex warned us that she wasn't a rug person before renting this new apartment. But we hope that since laying down her own custom sisal rug, we've helped change her mind.
For more makeover inspiration like Alex's, check out these three room makeovers from interior designers that are sure to inspire.
Save

Sign Up and Save 10%
No, Thanks