Restoring a Spanish Revival Home with Claire Brody
Pictured above: Claire Brody of Claire Brody Designs
Spanish Revival homes can be tricky to decorate given their unique, clear aesthetic and rustic charm. Claire Brody, (new) homeowner and accomplished interior designer, did not balk at the challenge. We were lucky enough to have the chance to sit down with Claire and discuss her feelings on home ownership, design, and her decorating tips and tricks for Spanish Revival homes and style. 
What are some of those tips and tricks? What's so special about Spanish Revival? Learn more from Claire by reading our discussion with her below.
Sisal Rugs: Looking at your recent Instagram stories, this project will be quite the undertaking. What led you to fall in love with this Spanish Revival home?
Claire: The terrain of the lot that the house sits on is what originally caught my attention. The house sits on a 40' cliff that overlooks miles and miles of beautiful Austin hill country. The house itself has a ton of charm and once I stepped inside I knew it had to be ours! It was off market, and while it took some convincing and negotiating, the sellers eventually agreed to sell to us!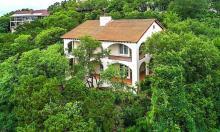 Pictured above: Claire's beautiful Spanish Revival home and surrounding property!
Sisal Rugs: Restorations require a balance of keeping the old and bringing in the new. How do you plan to approach this balance in your new home? In other words: what are you keeping, what are you going to make new, and why?
Claire: This is why I love old homes so much! You get that original charm but also get to freshen it up through thoughtful renovations. 
In our house, the arches, divided-lite wood windows, and doors are what make the space. We restored them but made a point to keep them original. The family room had vinyl flooring, and we are replacing that with amazing wall to wall sisal carpet. We also kept the original hardwood and plan on refinishing it. We also kept the library shelving and fireplaces. 
Two things we ended up gutting were the kitchen and bathrooms. They needed new layouts and some reworking in order to accommodate our family.
Sisal Rugs: Spanish revival is such a distinct, instantly recognizable style. How are you planning to decorate and furnish the home to complement the spanish elements?
Claire: I'm working to keep the original Spanish charm but also put my own twist on it. I have a rich color and textural palette for the house that, in my opinion, feels inspired by the Spanish Revival. I love a mix of all things — vintage and modern, high and low, etc., so the Spanish feel will be there, but with additional layers as well.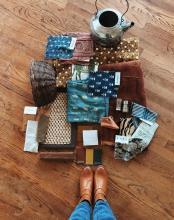 Sisal Rugs: We know you've already made at least one flooring decision for your new home. Why did you choose a sisal carpet for one of your bedrooms?
Claire: All 2,400 square feet of the home has original hardwood flooring... except one room that had gross vinyl flooring.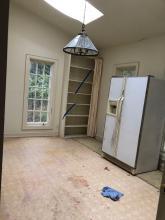 Pictured above: The room before Claire's renovation.
To update this room's flooring, I chose beautiful, natural sisal carpeting because I loved the idea of a textural change from the surrounding hardwood floors. (Claire chose our Sun Sisal in the Sunlight color — a 100% sisal carpet).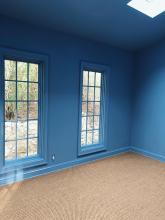 Pictured above: The room after Claire's new paint and flooring were added.
This room will be both our playroom and family room, so it needed a relaxed feel. That's another reason why I loved the idea of sisal in there. Easy to clean, soft on your feet. I have a feeling it's going to be our favorite room!
Sisal Rugs: What's next for the home? What are you most excited to work on next?
Claire: We are currently working to renovate the kitchen, master bathroom, and guest bathroom. We will be doing cosmetic changes like refinishing the hardwood floor and painting all walls, trim, windows and doors. We're also building a driveway because the house didn't have one! There are a lot of moving parts right now!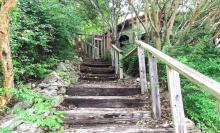 Pictured above: The only way to enter the house from the street. A driveway is a must!
See a Spanish Revival Restoration in Progress
Follow Claire's progress on her Spanish Revival restoration by following her on Instagram or visiting her website. 
If you like the look of the sisal carpet she selected, you can buy one for your own home by shopping our collection of Sun Sisal area rugs.

Sign Up and Save 10%
No, Thanks