Style Guide: Make Your Dining Room Stand Out With These 7 Ideas (including rug ideas)
Your dining room sees a lot of action when it comes to entertaining guests in your home, making it one of the most important rooms to style correctly. Serving as the hub for home cooked meals, holiday feasts, and fun dinner parties means your dining room needs to fit a lot of occasions as well. And while it's easy to simply select a nice table, lay down a rug, hang up some pictures, and call it a day, it isn't the best way to create a functional and beautiful space. This is where we can help.
Having worked with countless interior designers on many dining room projects, we know what makes a stand-out dining room really special. To help you create the perfect welcoming, memorable space for your family and friends, here are our favorite dining room design ideas we've gathered over the years, as well as dining room rug ideas.
1. Display a Collection
Personal items are amazing conversation pieces. If you can display a personal collection, gallery, or other unique yet authentic items, your dinner party will have an endless supply of things to talk about. A collection is visually interesting for your guests, but there's also a personal story behind it that makes it special. In addition, you can keep adding to it as the years go on to build out your arrangement and really fill out the space.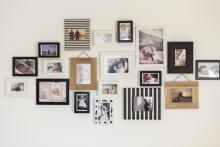 2. Use Slipcovers
Dining room chairs can either be ornate and beautiful, or just simply feel like another chair. If your dining room chairs are lacking a little flair, try using slipcovers to add more color and personality to the room. The best part is that slipcovers come in a variety of styles, colors, and patterns, allowing you to cycle through different designs depending on the function or theme of your dinner.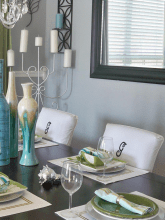 3. Create an Eye-Catching Ceiling
When you set out to design a room, it's natural to focus on the rooms four walls and the floor. But what about the fifth wall, a.k.a. the ceiling? It's the most forgotten surface of most rooms because it can be hard to visualize decorating beyond new light fixtures, soffits, or molding. While it can be a challenge to create a statement ceiling, the output is well worth it. Try covering your dining room's ceiling with embossed tin ceiling tiles, custom artwork, rustic beams, and more to catch eyes and create a sense of awe.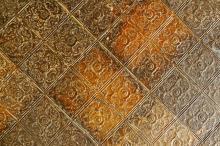 4. Dress Your Lamp Shades
Good lighting is essential for any space in your home in order to brighten any dark spaces, but lighting is also a great way to get creative with your home's interior design. For example, you can use fun decorative lamp shades to add new volume and shapes to your dining room chests, cabinets, or tables. Our favorite lamp shades have fun shapes that paint interesting patterns across the room.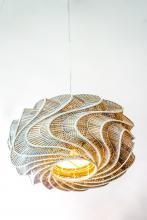 5. Go with Non-Traditional Seating
Often, homeowners gravitate towards dining room tables that are rectangular in shape for a traditional table. But these long tables aren't always the best for conversation. A great way around this is to go with a non-traditional dining room table and seating arrangement. For example, you can try using booths, benches, stools, and other different seating options to help make your dining room different and unique.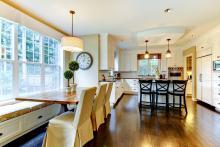 6. Mix and Match Patterns
To avoid creating a dining room that is just a table, chairs, and painted walls, use patterns to your advantage. Add patterns to your dining room through wallpaper or even your chair upholstery. To make the room even more visually interesting, try using a different pattern on each chair to create an array of fun colors and patterns that get guests excited to choose their seat.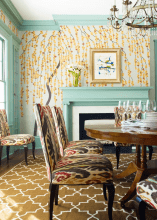 7. Lay Down a Beautiful Rug
We've covered the walls and even the ceiling of your dining room, but we can't neglect the floor. A great way to frame your dining space from the rest of the home and even frame the table is to lay down a custom area rug that fits the dining room space to perfection. As for the type of rug you should use in your dining room, custom sisal area rugs are easy to clean, beautiful natural fiber rugs that go with any design aesthetic thanks to their warm and neutral tones. But if you think a patterned rug might be a nice statement piece for the room, you can also get a patterned sisal rug that gets guests talking.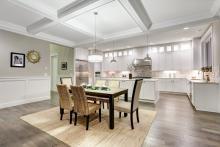 Want More Interior Design Tips?
Find the perfect area rug size for your home with our dining room rug size guide. For more advice on how to style other rooms in your home, check out our master bedroom style guide or our entryway style guide.

Sign Up and Save 10%
No, Thanks