5 Incredible Hotel Makeovers to Inspire Your Next Project
There's no place like home — but after a tiring flight, long taxi ride, and a much-needed shower, you're ready to settle into a comfy hotel bed and rest your eyes before embarking on whatever adventures await you in your new location. Hotels are responsible for providing guests a home away from home, but for a long time, hotels only provided the bare minimum. 
In keeping up with the times, many hotels and resorts have undergone extreme makeovers in order to provide guests an exceptional, one-of-a-kind experience. As a provider of premium, natural-fiber hotel and hospitality carpet, we love watching hotels transform their spaces to elevate guests' stays. Below, find five of our all-time favorite hotel makeovers. And if you're making over your own property, you'll find our recommendations for hospitality carpet as well.
1. The Atlantis
The Atlantis Hotel has long been a spectacle of entertainment and hospitality. In 2017, the famous hotel unveiled a breathtaking rebrand of The Coral at Atlantis, showing off a number of creative amenities to establish itself as a top vacation destination where fun, education, culture, and purpose merge. The newly designed space features ocean-themed rooms, bold patterns, and splashes of Living Coral around every corner.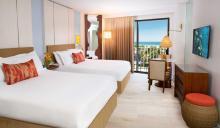 Image credit: LuxeGetaways.com 
Are you renovating your own coastal property? For ocean-front hospitality spaces, we recommend durable area rugs that can withstand heavy foot traffic and a little moisture. Our polypropylene and wool rugs are up for the challenge. And, our Tides Wool collection — available in conch, coral, manatee, oyster shell, and reef — is a fun, on-brand option that's just too cheeky to pass up.
2. Country Living Hotel, Bath
One of the oldest buildings in Bath, Somerset, UK, Country Living Hotel was in major need of a major makeover. Its old-time decor charmed guests for years, but in 2018, it was time to breathe new life into the 1770-style home. Although the entire hotel got a fresh new look, Country Living Hotel paid special attention to bathrooms and communal areas.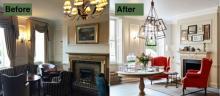 Image credit: CountryLiving.com 
Looking to upgrade the bathrooms or communal spaces in your hotel, too? It can be tough finding the right rugs. Communal areas see endless foot traffic, and bathroom floors are prone to puddles and spills. Luckily, our commercial nylon and natural-fiber rugs can help with both. Consider adding a runner rug in front of your hotel's front desk or beneath bathroom sinks to provide a little added comfort for your guests.
3. JW Marriott - Marco Island Resort
The JW Marriott Marco Island Beach Resort is situated off the coast of Naples, Florida, and encompasses 726 guest rooms. In early 2017, the luxury resort debuted a $320 million renovation, celebrating the resort's many spas, culinary destinations, and recreational events.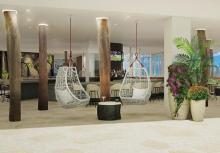 Image credit: Marriott.com 
The adult-only resort likely encounters fewer slips and spills than a kid-friendly space, but that doesn't mean a durable rug isn't worth investing in. With communal areas both indoors and out, a versatile polypropylene rug can help take luxury spaces like the JW Marriott to new heights. So, if you're renovating a resort or spa, consider adding an indoor-outdoor rug.
4. The Savoy
While the JW Marriott Resort highlights earthy elements and all-natural materials, the Savoy in London forges ahead in the opposite direction. Marble staircases, crystal chandeliers, and gold-plated decor greet guests at the Savoy after a $354 million renovation wrapped up in 2010. 
In addition to 38 new rooms, the Savoy also added a 325-square-meter Royal Suite overlooking the River Thames, the cost of which hovers around $13,200 a night.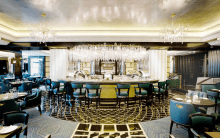 Image credit: Telgraph.co.uk 
In historic, sophisticated, and stylish spaces like the Savoy, a run-of-the-mill area rug just won't do. To continue impressing guests every step of the stay, you need a custom rug designed with your one-of-a-kind space in mind. Our wide selection of colors, borders, fabrics, and fibers will help you choose a look that's uniquely yours, so you can stand out from the competition.
5. The Watergate Hotel
Straight out of Mad Men, the newly remodeled Watergate Hotel is an aesthetic nod to the 1960s. With 336 rooms, 17,000 square feet of meeting space, and a 7,000-square-foot ballroom to gawk at, visiting the Watergate Hotel feels like a trip straight into Don Draper's world.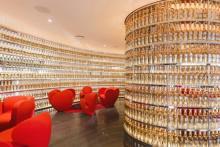 Image credit: ArchPaper.com 
At the Watergate Hotel, retro meets modern. And you can give your hospitality space the same look and feel. Try a neutral area rug, like our Prato sisal rug in tan, with a bright-colored border — like the bold red used at the Watergate's in-house whiskey bar. 
You can customize your natural-fiber area rug to fit any room, for any decade.
6. Your Hotel Name Here!
Whether your hotel is brand new and you're looking for a partner to provide premium, natural-fiber carpet, or you've been around as long as the Country Living Hotel in Bath and you're ready to renovate, the right carpet can help make your wildest hotel design dreams a reality. Our state-of-the-art production facility helps us guarantee that all hospitality carpet and area rugs ordered from us will fit your exact specifications. Contact us to get a quote.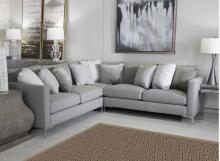 Upgrade your hotel lobby or bedroom suite with a patterned sisal rug.
Craving More Hotel Interior Design Inspiration?
You're in the right place. For more inspiration and information on all-things hospitality design, check out these articles: 

Sign Up and Save 10%
No, Thanks