5 DIY Tips for a Gorgeous Staircase Makeover From Deeply Southern Home
When you think of a space that needs some extra design love in your home, what do you think of? Is it your kitchen? Master bath? Perhaps the basement? 
If your staircase didn't come to mind right away, that's not surprising. We typically don't think of our staircases or hallways as design areas in our home since they aren't a part of a single room or aesthetic. But that doesn't mean they can't or shouldn't be given special design treatment. 
To unleash the design potential of these small spaces, we have some advice from Leslie of Deeply Southern Home, a DIY and home renovation expert. Below, Leslie shares her top five tips for creating the perfect staircase makeover that can turn a simple walkway into a major focal point.
1. Create a Clean Slate
Before any work can begin, Leslie recommends thoroughly cleaning the staircase. This is especially true if you want to paint the stairs or replace the carpet. 
When speaking of her own staircase makeover, Leslie says, "Once the carpet was removed, we could see it was going to take a good deal of work to get the stairs suitable for paint. While it was time-consuming, it was definitely worth the effort." 
To get your stairs clean of any excess wood, nails, or staples, Leslie suggests using a long-handled floor scraper. Then, fill in any holes you've left behind with caulk, leaving a smooth surface for you to work off of.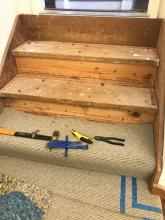 2. Fill in the Gaps with Molding and Shims
Once your stairs are down to the bare bones and original wood planks, you'll likely notice some gaps. Your home's contractor likely didn't leave all of the planks perfectly flush. To correct this, but also give your stairs some more character, Leslie uses molding and shims. Not only does this help cover larger gaps when wood filler or caulk isn't enough, but it also adds a new design element to the staircase.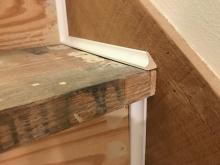 3. Get the Right Primer for a Durable Finish
Stairs are high-traffic areas in any home, making durability extremely important. With this in mind, Leslie is a big fan of using a paint and primer combo that will leave a durable finish that is also easy to scrub clean. On her own stairs, Leslie used the KILZ 2 Latex Primer. 
"KILZ 2® is my go-to primer because it is a water-based, fast-drying primer with low odor and terrific stain blocking power. As dirty as these stairs were under the carpet, a primer was an absolute necessity," she says. 
Homeowners should follow suit for their own staircase makeover projects to ensure that their finished stairs can stand up to tough stains like mud, food, or drink.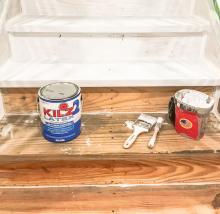 4. Double Up on Paint
With a good primer for a base, one coat of paint might look like enough on your stairs. But take Leslie's advice and do at least two coats. This will give you some additional peace of mind should a spill occur or the color start to fade. While one coat (with certain paints) may be enough on your home's walls, stairs see a lot more activity and contact. You certainly don't want to have to repaint your stairs earlier than necessary.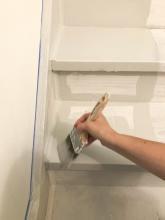 5. Install the Right Rug Runner
While you could leave your stairs bare and it would certainly be beautiful, it would also be very slippery and dangerous. So it's a good idea to install a stair runner to provide some much-needed traction, texture, and comfort. 
In her own home, Leslie came to us looking for a durable custom rug runner that would add both safety and style to her new stairs. This led her to select our Four Seasons outdoor sisal collection as they're extremely durable and easy to clean. And to contrast against the freshly painted white wood, Leslie went with our Domingo Slate rug color and our black, outdoor-rated binding.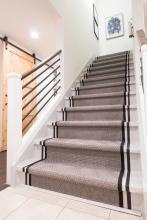 Pictured Above: Outdoor Sisal Rug in the Domingo Slate Color With a Black Outdoor Binding
Making Steps in Style
If you're looking for your next DIY project, keep your staircase in mind. A fresh staircase makeover is sure to leave a noticeable impact on your home given how often they're used. Just remember to start with a clean, smooth canvas, select a durable primer, load up on extra paint, and install the right rug runner. 
Not sure how to measure your stairs for a new rug runner? Let us walk you through it. Check out our guide on how to measure for a stair runner. 
For more DIY tips from Leslie, be sure to check out her blog, Deeply Southern Home, or follow her on Instagram.

Sign Up and Save 10%
No, Thanks