Choosing The Best Laundry Room Rug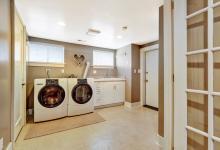 The laundry room is a functional space, one where you wash, dry and iron clothes. It's a room that requires a practical design – lavish decor and numerous accessories might just get in the way. That doesn't mean, however, that you can add style to your space. A rug is the perfect laundry room accessory because it adds beauty without affecting functionality. All you have to do is choose the right one. 
If your laundry room floor tends to get wet or damp at times, then natural-fiber rugs are not the right solution. Natural-fiber rugs are strong and can withstand high-traffic areas, making them a great solution for living rooms, bedrooms and dining rooms. When natural fibers get wet, however, they also get moldy. Polypropylene rugs are the perfect alternative when dealing with damp floors. The synthetic fiber is mold and mildew resistant, it comes in a variety of styles and it is still soft. 
Polypropylene rugs come in a wide range of shapes and sizes. You can even create a custom size to ensure the rug fits well in your room. Start browsing the large selection of beautiful indoor/outdoor rugs at Sisal Rugs today, and you'll find it's easy to add elegance and style in the laundry room. 

Sign Up and Save 10%
No, Thanks