Common Rug Mistakes: What NOT to Do With Your Area Rugs
Image credit: Kelly Elko
Area rugs keep your feet comfortable, protect your floors, tie the room together, and have a host of other benefits. But with so many options like size, color, material, and various accessories to choose from, finding the right area rug can quickly get out of hand.
In fact, many homeowners and designers make critical mistakes when choosing an area rug. This can lead to spaces that look mismatched or experience heavy wear and tear. 
To help you make sure you're not making those same mistakes and are able to find the perfect area rug everytime, here are the most common area rug mistakes and how to fix them. 
1. Buying the Wrong Size Rug
The easiest mistake to make when it comes to finding an area rug is purchasing the wrong size. Too often, homeowners "guesstimate" the size they need instead of actually measuring out the dimensions. This leads to lots of vacant space or too much covering that is hard to decorate around. 
How can you fix it? The easiest fix is to take the time and measure out the exact dimensions that you need. With the exact dimensions on hand, you can purchase a custom area rug for the perfect fit. We can make rugs in any shape or size for a truly custom solution. This helps ensure that you have the perfect rug around your fireplace, along angled walls, and more. However, if a custom rug sounds too involved, go with the closest standard size.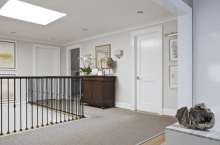 Still not sure what size is best? Follow our guide on how to choose the right rug size room by room.
2. Forgetting to Purchase a Rug Pad
Area rugs, while pretty and durable, also provide comfort for your feet and back. However, without a rug pad, that comfort may be lacking. Rug pads offer additional support and padding under rugs, preventing slippage and extending the life of your area rugs. Without a rug pad, your rug is free to bunch up, move, and slide around on your floors.
How can you fix it? The solution is simple — get a rug pad for your indoor and outdoor rugs. This not only adds cushioning under your feet, but also prevents your rug from moving around too much, leading to additional wear and tear.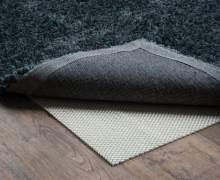 3. Going With the Wrong Material
The material you select for your area rug is very important. Some fibers — wool, sisal, jute — are great for living rooms and family rooms. Whereas other fibers (e.g. seagrass and polypropylene) are ideal for kitchen area rugs. 
How a rug performs in a certain area is also dependent on its pile. Thick pile rugs are more comfortable, whereas thin pile rugs are easier to clean. As a result, it's critical that you think of how your rug needs to function before you make your decision. 
How can you fix it? A good rule to follow is that if you need a durable, easy to clean area rug, polypropylene should be your first choice. As a synthetic, sisal look alike, polypropylene rugs are ideal for kitchens, outdoor spaces, and in high traffic areas. They can be washed with a hose if they get messy and are extremely durable, meaning they can take a beating.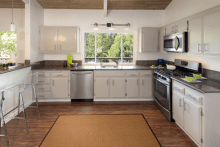 Pictured above: Our All Weather Polypropylene Rugs Collection in Fuji Mahogany with a Chocolate Narrow Cotton binding.
4. Ignoring Cleaning Instructions
Speaking of washing your rugs, don't assume you can clean every rug with traditional soap and water. Many homeowners aren't aware of the water weakness in most natural fiber area rugs, however, leading to harmful rug damage. So, pay attention to your rug's care instructions before making your purchase. 
How can you fix it? NEVER use water to wash your natural fiber area rugs. Instead, use a Host Dry Carpet Cleaning Kit, vacuum, or soft bristle brushes to do the heavy lifting. It's also a good idea to check out our rug care and cleaning guides for detailed steps on what to do and what not to do with your natural fiber rugs.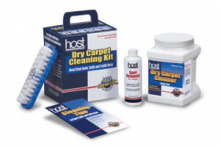 5. Choosing the Wrong Binding or Color
A picture is worth a thousand words. But when that picture is for online shopping, it's hard to tell if it's entirely accurate. And what looks good on your computer screen doesn't always translate into real life. Because of this, many homeowners and designers choose the wrong binding or color for their area rugs. This leads to a mismatched look where the rug material and binding clash against each other, which isn't pleasing to look at. 
How can you fix it? Pay attention to the recommended binding pairings for the area rug you want. For example, on our website, we recommend different color bindings based on the pattern, material, and color you've chosen. This ensures that you always receive a binding that complements your rug choice.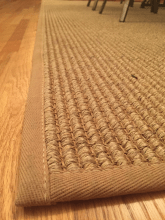 Pictured above: Beachwood Santiago Sisal Rug with a Granola Narrow Cotton binding.
Not confident in your rug's color? Use our guide on how to choose the right rug color.
6. Choosing Price Over Quality
The old saying is true: you get what you pay for. Pay a lesser price, get a lesser rug, right? 
Well, that's mostly true. When looking for a new rug, quality of manufacturing is only one thing to consider before price. You should also pay close attention to other qualities, like how durable the rug is compared to how durable you need it to be. Same goes for softness, ease of cleaning, resistance to mold or fire, and whatever other qualities are important to you in a new rug. 
The opposite can also be true: the most expensive rug won't always be the right rug for the job. You can spend a lot of money on a beautiful, luxurious, high quality wool rug. But if you're buying it to put in a high traffic area, you're probably better off spending significantly less on a sisal—or even better, seagrass—rug. 
In short: start with the qualities you're looking for, then take a look at the price. 
7. Placing it in direct sunlight
We get it, you have a beautiful new rug and you want to make sure everyone can see it. But placing your rug in direct sunlight, in most cases, will lead to sun damage. 
But sometimes one person's damage is another person's rugged, weathered charm. Sisal, jute, and seagrass rugs will fade with sun exposure, but due to their organic colors, this fading gives them an attractive, well worn quality as opposed to the appearance of damage. If you're going to sun bleach your rug, just remember: make sure it's getting even exposure to sunlight across the entire rug, or you'll eventually be left with a two-tone rug. 
If you just can't help giving your rug the solar spotlight, consider an indoor/outdoor polypropylene rug. The synthetic fibers of these rugs are built to stand up to the sun's rays and will stay vibrant over many sundrenched outdoor summers. 
8. Having Only One Layer
Just one rug? Technically this is a mistake you can eventually learn to live with. But why would you? 
Using a single area rug without layering additional rugs on top of it is like painting a wall and then opting to leave it empty. No clock, no artwork, no decorative hanging rugs. Sure it's doing its job, but that's all it's doing. The decorative options of rug layering are vast and exciting. If you're still a one rug household, take a look at our tips for rug layering right now. 
9. Being Afraid to Try Something Bold
Rugs are often placed under furniture and considered for their practical qualities. But as you consider your rug landscape, don't let this vital piece of decor fade into the background. From minimalism to maximalism, a bold color is always in style, and a rug is an often overlooked venue for such a choice.
If a whole rug of boldness is not your style, consider switching up the border color. Our custom rugs come with dozens of different border color options, which will cut a very bold and distinctive line through any style.  
10. Skipping a Rug Entirely
If your level of concern about rug mistakes has taken you to the tenth item on this list, we can be pretty sure this is not a mistake you're making. But if it is, we've got you covered (literally). You can start by using our guide on how to choose the perfect area rug to make sure you avoid the above mistakes from the get-go. 
Make No Mistake About It
It's easy to get lost in all of the area rug options out there. But with proper planning and research, you can avoid the common area rug mistakes above and add one of our wide selection of custom rugs to your home. 

Sign Up and Save 10%
No, Thanks